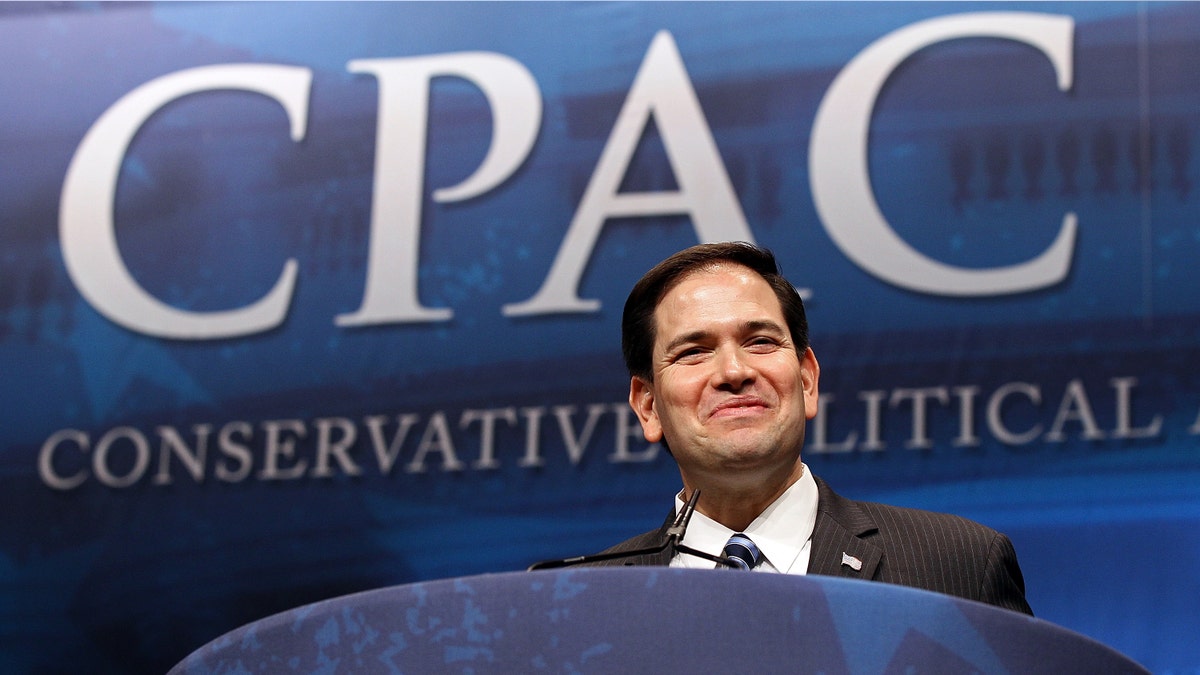 For conservatives aspiring to higher office, it is the annual command performance.
GOP presidential hopefuls at this year's Conservative Political Action Conference (CPAC), essentially the gathering for those on the far right of the Republican party, will be delivering speeches that will be dissected among the crowd there for indications about how committed they are to conservative principles.
And as there is every year, there will a CPAC straw poll of potential GOP presidential nominees at the end of the gathering this week.
Sen. Marco Rubio, once a Tea Party favorite, came in at a dismal seventh in last year's CPAC straw poll, not too surprising given his risky move to play a central role in the 2013 bipartisan comprehensive immigration reform bill.
Rubio virtually become the face of the bipartisan effort, giving TV interviews and sending out daily press releases touting the bill, which included the very unpopular – among conservatives – provision that provided a path to legal status for undocumented immigrants.
Now, with the next presidential election about 18 months away, The Hill notes, Rubio, who has been reclaiming his conservative bona fides by persistently assailing President Barack Obama for being soft on foreign policy, will get his big shot at full redemption in the eyes of conservatives when he delivers his speech at CPAC on Friday morning.
With foreign policy his pet issue these days, Rubio is expected to call for a tougher U.S. response to the Islamic State in Iraq and Syria, or ISIS, and to condemn Obama's restoration of diplomatic ties with Cuba, whose president, Raul Castro, has made no promise to allow democratic reforms.
A hawkish approach to foreign policy, particularly where strongmen are concerned, would contrast him with Sen. Rand Paul, the Kentucky Republican who won last year's straw poll.
Paul often has championed a restrained U.S. response to overseas crises, earning the reputation of being an isolationist. That may come across as detrimental now, when Americans have seen video after video of ISIS's beheading and burned-alive victims, and attacks by lone terrorists elsewhere.
Paul has tried to downplay his past non-interventionist comments.
"I've said all along that I'm not for 'no interventions,'" Paul said in an interview in 2014 with the conservative online publication the Federalist. "I'm not for saying, 'We never intervene.'"
Roll Call noted that in 2011, however, Paul pushed for "a more restrained foreign policy is the true conservative foreign policy," in 2014 said "the No. 1 threat to our national security is our debt."
Conservatives, who wield enormous influence in GOP presidential primaries, invariably will be comparing Rubio to former Florida Gov. Jeb Bush. Both men have indicated that they are weighing a 2016 run for the White House. Bush is scheduled to speak at CPAC on Friday afternoon.
Roll Call predicts that "the crowd could respond more positively to Rubio than Bush," whose views on immigration and education are more moderate than that of the party's conservative base.
The stakes, indeed, are high for Bush, given that, as Politico notes, "CPAC also represents a major test for those in the GOP's establishment wing. It's Jeb Bush's first real engagement with the grassroots."
Sen. Ted Cruz of Texas, who came in a distant second in last year's CPAC straw poll, is scheduled to speak Thursday afternoon.
Political observers expect Cruz to do well with an audience with which he feels at home.
Politico said: "This should be his crowd, and he's more talented than probably anyone else in the 2016 field at feeding red meat to the base."
"If he cannot win over the CPAC audience, and significantly expand his vote share in the straw poll, it will signal that activists really love him but don't yet see him as presidential."
Other speakers include Sen. Rick Santorum of Pennsylvania, former Alaska Gov. Sarah Palin, Wisconsin Gov. Scott Walker, and Louisiana Gov. Bobby Jindal.
Follow us on twitter.com/foxnewslatino
Like us at facebook.com/foxnewslatino