'Cowboy Hat Hero' Carlos Arredondo Invited By Michelle Obama To State Of The Union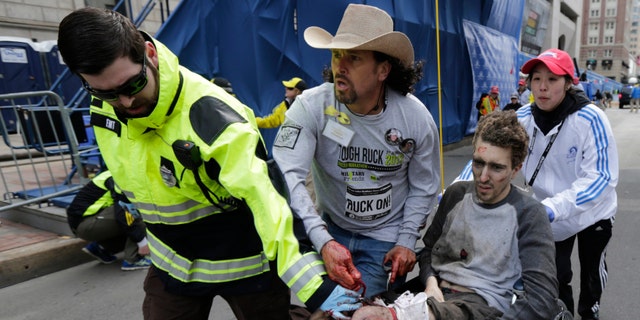 The photo of the cowboy hat-wearing hero coming to the aid of a man who lost his legs in the Boston Marathon bombing last April became an icon of the tragedy.
Now that hero, Carlos Arredondo, and the man he helped, Jeff Bauman, will be among First Lady Michelle Obama's personally invited guests on Tuesday when President Barack Obama delivers the annual State of the Union address.
The first lady's guests are often chosen because they symbolize an issue or policy the president is promoting. The White House announced six guests on Monday, with other names to be released ahead of Obama's address.
The guests announced so far are:
— Arredondo and Bauman, Boston: The iconic photo captured Arredondo rushing a badly injured Bauman away from the scene of the attack. Bauman, who lost both legs in the attack, played a crucial role in identifying the bombers while he was in the hospital recovering. The two men have become close friends, the White House said.
— Gary Bird, Moore, Okla.: Bird is the fire chief in Moore, Okla., which was hit by a massive tornado in May 2013. The tornado killed 25 people and destroyed more than 1,000 homes and businesses. The White House said Bird and his team worked through the path of the storm to rescue survivors.
— Jason Collins, Los Angeles: In April, 35-year-old Collins became the first active male athlete on a major American sports team to come out as openly gay. Collins played 12 years in the NBA, going to the playoffs nine times and making the league finals twice. The president has said Collins' announcement marked a point of progress for the gay community.
— Joey Hudy, Anthem, Ariz.: Hudy was a participant in a 2012 science fair at the White House, where he helped the president use his invention, the "extreme marshmallow cannon." Now 16, Hudy is interning at Intel and is a proponent of science, technology, engineering and math education.
— Kathy Hollowell-Makle, Washington: Hollowell-Makle was the 2013 teacher of the year in the District of Columbia public school system. A former Teach for America corps member, Hollowell-Makle teaches at Abram Simon Elementary, where 90 percent of her students demonstrated early literacy at proficient or advanced levels.
Based on reporting by The Associated Press.
Follow us on twitter.com/foxnewslatino
Like us at facebook.com/foxnewslatino