Cornyn Accuses Kagan of Pushing 'Separate but Equal' Policy Toward Military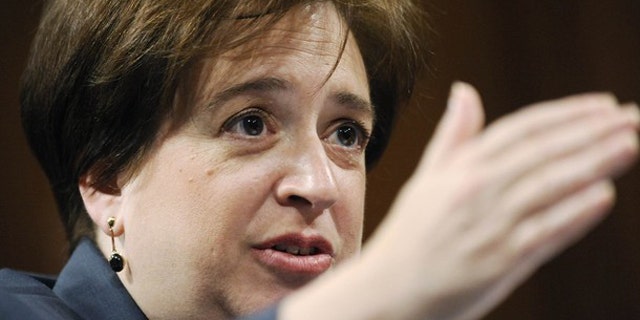 In a heated exchange on an otherwise collegial day of questioning, Sen. John Cornyn accused Supreme Court nominee Elena Kagan of pushing a "separate but equal" policy toward the military while she was dean of Harvard Law School.
The Texas Republican was taking issue, as several GOP colleagues have, with Kagan's attempt to restrict military recruiters' access to campus. Kagan at the time cited concerns about the military's "don't ask, don't tell" policy barring gays from serving openly in the military -- the standoff has attracted more attention from critics than just about any other issue in her record.
Cornyn on Wednesday questioned whether the policy could have served any other purpose than to "stigmatize" the military.
"In effect, you provided a separate-but-equal means of providing access to students on the campus," he said.
As she did under questioning Tuesday, Kagan denied trying to hamper the efforts of the military.
"I think the purpose of the policy was something different. It was certainly not to stigmatize the military. The purpose of the policy was to express support for our students who were being discriminated against," she said.
So far, the hearing has been free of any apparent gaffes or bombshells, though Republicans and Democrats alike have tested her to see how much she will reveal about her personal views. On the third day of her confirmation hearing before the Senate Judiciary Committee, Kagan fielded hours of questions on other topics, ranging from abortion to campaign finance to her general view of the judicial branch.
The nominee on Wednesday continued her pledge to defer to Congress. Having never served on the bench before, some senators are wary of how she would approach the job, but Kagan for three days has insisted that the job of a Supreme Court judge is to follow precedent and show restraint, rather than forge a new course for the law. She said Wednesday that any judge making decisions based on a desired outcome is "the worst kind of judge you can be."
Under questioning by Sen. Amy Klobuchar, D-Minn., Kagan said the most important judicial role is "policing the constitutional boundaries of our system" to make sure other bodies of government don't "overstep." She described that role, though, as a "limited" one.
"Judges should realize that they're not the most important people in our democratic system of government," she said. Kagan cited the "policymakers" as a greater force.
Kagan also declined an invitation, made by Sen. Sheldon Whitehouse, D-R.I., to criticize the current Supreme Court, saying "I'm sure everyone up there is acting in good faith." In a lengthy exchange with Whitehouse, Kagan said pointedly she didn't agree with the Democrat's analysis that justices appointed by Republican presidents were "driving the law in a new direction by the narrowest possible margins" in a series of 5-4 rulings.
Barring unexpected missteps, Kagan was expected to win approval of the Democrat-dominated committee and then the full Senate before the top U.S. court opens its next session later this year.
Senate Judiciary Committee Chairman Patrick Leahy, D-Vt., said as much Wednesday.
Kagan would replace Justice John Paul Stevens, a liberal voice on the divided court, who has retired.
Kagan would be Obama's second selection for a life term on the top court. Last summer Sonia Sotomayor became the first Hispanic U.S. Supreme Court justice.
The Associated Press contributed to this report.