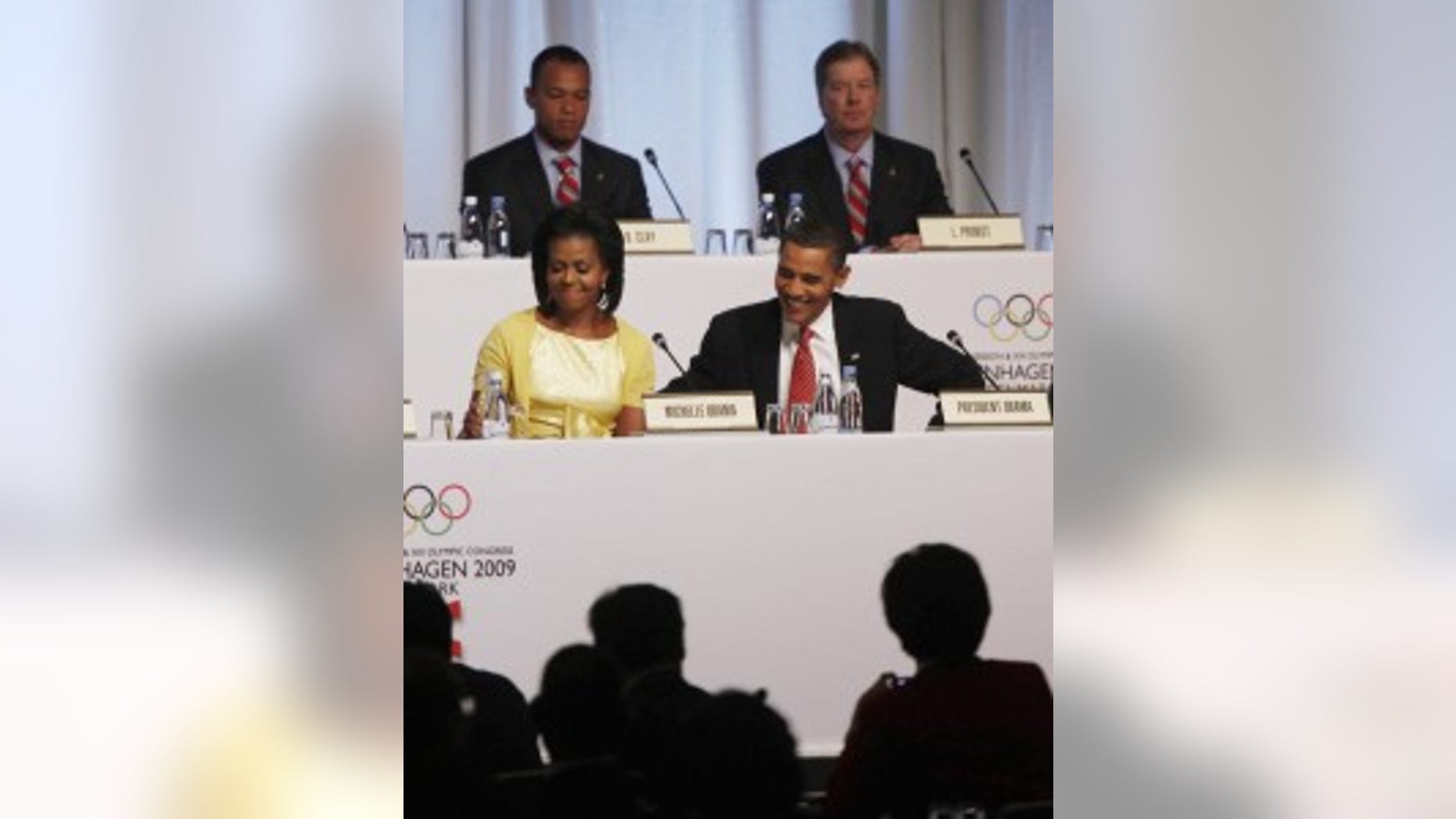 President Barack Obama traveled to Copenhagen, Denmark for just under four hours, making a big time pitch to the International Olympic committee to select his adopted hometown of Chicago for the 2016 Olympic Games.
Obama joined his wife in Copenhagen, and they were both part the 10 person presentation made by the city of Chicago to the IOC members.
The presentation consisted of video montages and speeches by various members of the Chicago 2016 committee, but the President and First Lady made sure to make their pitches of the more personal nature.
"I've come here today to urge you to choose Chicago for the same reasons I chose Chicago nearly twenty-five years ago – the reasons I fell in love with the city I still call home," Obama told the IOC members.
The President went on to discuss his early childhood, and how the fact that his family moved around a lot left him without roots.
"Then I came to Chicago. And on those Chicago streets, I worked alongside men and women who were black and white; Latino and Asian; people of every class and nationality and religion," Obama said. "I came to discover that Chicago is that most American of American cities, but one where citizens from more than 130 nations inhabit a rich tapestry of distinctive neighborhoods."
For her part, Mrs. Obama, who was raised in Chicago, spoke about her father, who had multiple sclerosis, but still found a way to play with his kids, teaching the First Lady to throw a ball and a right hook. And the First Lady went on to tell the IOC members, her dad still inspires her today.
"My dad taught us the fundamental rules of the game, rules that continue to guide our lives today: to engage with honor, with dignity, and fair play. My dad was my hero," she said. And even though she got a little choked up with emotion, Mrs. Obama continued. "And when I think of what these Games can mean to people all over the world, I think about people like my dad. People who face seemingly insurmountable challenges, but never let go. They work a little harder, but they never give up."
While it appeared on television that the IOC members were un-moved by the comments by the President and First Lady, they had been urged to stay silent during all the city presentations. At one point, members broke that rule, and began applauding for the President when he got up to speak. As he began speaking, camera phones and mini-recorders began lighting up the room
Chicago's pitch was the first of the day for the IOC members. There are four cities vying for the 2016 games. Tokyo, Japan, Madrid, Spain, Rio de Janeiro, Brazil and Chicago. The announcement by the IOC on which city is awarded the games will be on Friday evening in Copenhagen. The President will already be in the air, flying back to the United States.