Connecticut Dems strip Jefferson, Jackson names from fundraising dinner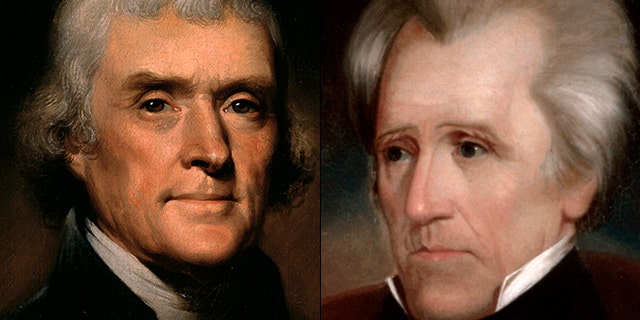 NEWYou can now listen to Fox News articles!
Connecticut state Democrats voted Wednesday to remove the names of former presidents Thomas Jefferson and Andrew Jackson from their annual fundraising dinner, reportedly because of their ties to slavery.
According to the Hartford Courant, it only took two minutes for the Connecticut Democratic State Central Committee to unanimously pass a resolution stripping both names from the title of the Jefferson-Jackson-Bailey Dinner.
Party Chairman Nick Balletto proposed the change. He told the Daily Caller the decision, which apparently came under pressure from the NAACP, was about party identity.
"Democrats are the party of inclusion. And in my opinion, the time has come to reevaluate the name of the JJB [the dinner] to reflect the diverse makeup and forward-looking vision of our party," he said. He and other Democrats also cited Jackson's treatment of Native Americans.
The decision comes as officials across the country debate removing Confederate symbols on state grounds -- but the move to reach even further back and scrub references to one of the nation's most admired founding fathers was seen by some as a step too far.
Connecticut Republican Party Chairman JR Romano called the move a liberal distraction, and noted his party ended slavery.
"The Confederate flag should've never been on buildings, but the legacy and the history of the Democratic Party is tied to racism, segregation, and they're trying to rewrite history. They can't deny their roots," he told FoxNews.com. He said it was a shame that Democrats tout a dinner name change while Connecticut middle class families suffer.
While Jefferson owned slaves, his views on and history with slavery are not clear-cut. This December is the 150th anniversary of the 13th Amendment, which abolished slavery. According to University of Virginia School of Law professor Robert Turner, that in itself reflects Jefferson's efforts to end slavery.
"The authors of that amendment purposely chose language drafted by Jefferson in an unsuccessful effort to outlaw slavery in the Northwest Territories as a means of honoring Jefferson's struggle against slavery," he told the Connecticut Post. "If Democrats understood Jefferson's lifelong opposition to slavery, they would have reached a different conclusion."
Despite owning slaves, Jefferson advocated for slavery's abolition. He even tried to use foreign export companies to transport freed Virginia slaves back to Africa. Jackson's beliefs aren't as clear.
The name change reportedly came under pressure from the NAACP. "Democrats have a deeply rooted history with slavery," chapter President Scot X. Esdaile told the Courant. "You can't right all the wrongs, but I think it's a symbolic gesture of our support for their party."
The party's decision comes in the aftermath of last month's shooting massacre in South Carolina, which touched off a national debate about Confederate symbols. The Confederate flag was taken down from outside the Statehouse in Columbia, S.C., and lawmakers in several other states have considered removing other controversial symbols.
The Connecticut Democrats' dinner celebrated its 67th anniversary in June. A new name will be chosen this fall.
FoxNews.com's Matt Fossen contributed to this report.