Congressional Calendar September 29, 2010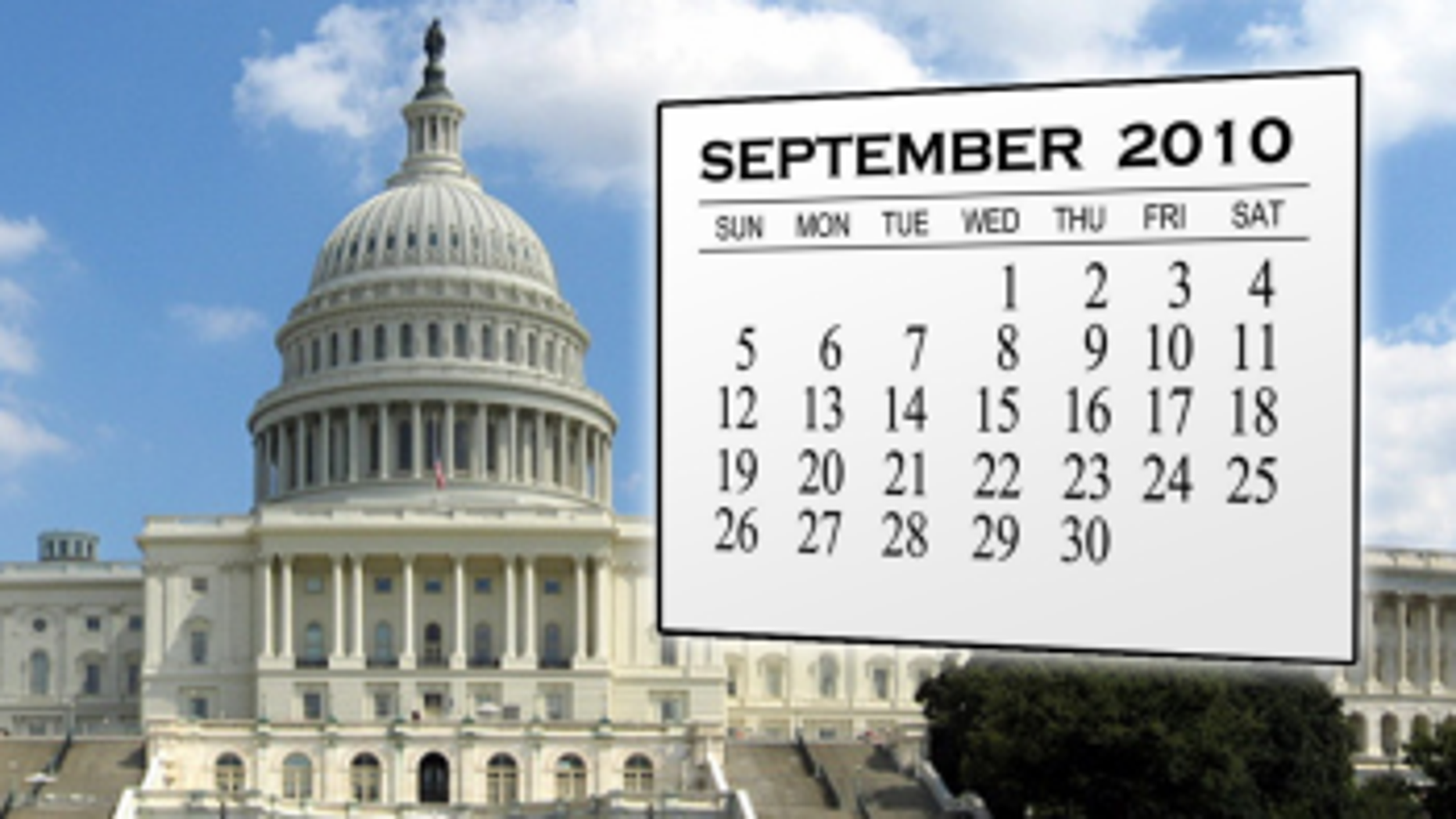 The Senate could take actions to file and pass a continuing resolution, or CR, to fund the government at 2010 levels through December 3. Congress has failed to complete its work on any of the 12 appropriations bills for fiscal year 2011 and needs to pass the CR before the end of the month in order to keep the government running.
The House is expected to take up the 9/11 Health and Compensation Act. The legislation provides medical monitoring, treatment, and economic compensation for first responders and workers who were sickened by the toxic debris cloud at the Ground Zero site. A vote on the measure under suspension rules, which require a two-thirds majority, failed in July amidst a bitter partisan fight. The bill should be able to get the 218 votes necessary for passage under regular order.
The president's bipartisan debt commission will have a public meeting on the Hill at 9:30 a.m. ET. They'll be discussing ways to reduce the deficit, but much of the media attention could focus on commission member Andy Stern, the former union boss under investigation by the FBI and the Department of Labor as part of a corruption probe.
A trio of influential lawmakers head off campus to deliver policy speeches on domestic and foreign affairs.
The "Benator," Sen. Ben Nelson, D-Neb., will present his case for extending the 2001 and 2003 Bush tax cuts at the Heritage Foundation, a conservative think tank. Nelson says raising taxes could impair what has been a sluggish recovery.
Sen. Joe Lieberman, I-Conn., will deliver what his aides call a "major policy speech" on Iran to the Council on Foreign Relations at 12:30 p.m. ET. According to excerpts obtained by Fox, Lieberman says that military action against the rogue regime should remain on the table if Iran refuses to halt its pursuit of nuclear weapons.
Rep Darrell Issa, R-Calif., ranking member on the House Committee on Oversight and Government Reform Committee holds a discussion on the challenges to reforming "broken government" at the Heritage Foundation at 12:00 p.m. ET.
Senate leaders hold their weekly policy luncheons and press conferences in the afternoon. They were postponed from their usual Tuesday time slot so that members could attend the funeral of the late Sen. Ted Stevens, R-Alaska, who died in a plane crash in August.
House GOP leaders hold a media availability at 10:00 a.m. ET after their weekly caucus meeting. House Democrats will hold a caucus later in the afternoon at 2:00 p.m. ET with a stakeout to follow.
We'll be covering all these stories and more, so stay with Fox News for all the latest.