Congressional Calendar December 8, 2010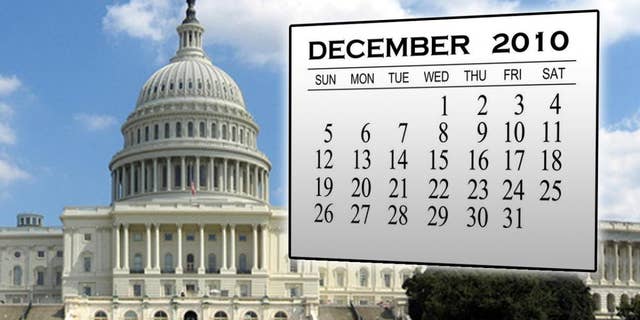 Congressional Democrats continue their deliberations on President Obama's tax deal with the GOP.
House Dems have major issues with the estate tax provisions in the proposed compromise. Many liberal legislators feel that the $5 million threshold for taxation is too high and that the thirty five percent tax rate is too low. Whether they will be able to negotiate for a change will be a hot topic in the days ahead.
Senate Democrats are far from unanimous in their support for the grand bargain as well. Senate Majority Leader Harry Reid, D-Nev., told reporters Tuesday that some in his caucus still have "concerns" about the measure. He'll meet with his troops behind closed doors at 12:30 p.m. ET.
After the meeting, Reid intends to file a series of cloture motions to attempt to begin debate on a series of legislative vehicles.
The most controversial item on the list is the DREAM Act, a bill that would allow some illegal immigrants to earn a shot at citizenship after completing two years of college education or military service. Supporters say that it would help boost the economy and military recruitment, but critics contend that it is a back channel amnesty for illegal immigrants. It is unclear whether the bill has the 60 votes required to overcome a filibuster.
House Republicans select their committee chairs for the 112th Congress. The House Republican Steering Committee submitted a slate of recommended heads to the GOP conference Tuesday night. The full Republican conference will vote on those recommendations Wednesday morning.
The Senate will conduct another live quorum at 9:30 a.m. ET to consider the articles of impeachment against Judge Thomas Porteous. He is accused of perjury and soliciting bribes from lawyers who had cases before his bench. We'll be covering all these stories and more, so be sure to stay with Fox News for all the latest.