Congressional Calendar December 2, 2010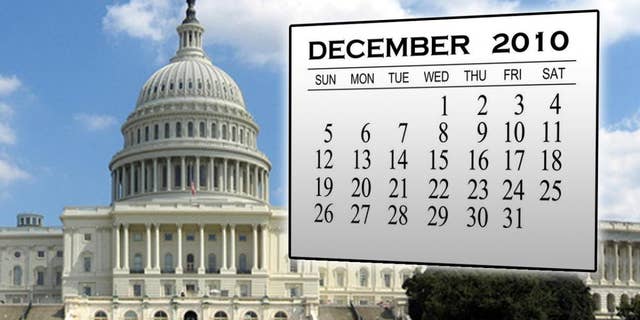 The bipartisan, bicameral tax cuts working group will meet again in the Capitol with Treasury Secretary Timothy Geithner and Office of Management and Budget Director Jack Lew. Members of the group told the press Wednesday that they were making solid progress towards a compromise measure.
Throwing a wrench into that comity may be a House floor vote on extending the Bush tax cuts for those making under $250,000. The bill does not have enough votes for passage, but will be sure to generate plenty of heated debate.
At 1:00 p.m. ET on the other side of the Capitol, Sen. Jim DeMint, R-S.C., and Rep. Mike Pence, R-Ind., will discuss legislation they have introduced to make all of the Bush tax cuts permanent. This legislation, like the House vote, does not have enough votes for final passage.
Sens. Tom Coburn, R-Okla., and Mike Crapo, R-Id., two members of President Obama's Debt Commission, headed by former Sen. Alan Simpson, R-Wy., and Erskine Bowles, former Chief of Staff to President Clinton, plan to announce their decision on the panel's final report. The plan must get 14 yea votes in order to be considered in Congress. So far seven members have come out in favor of the group's debt cutting plan.
The Senate Armed Services Committee holds a hearing on the military's review of its "Don't Ask, Don't Tell" sexual orientation policy at 9:00 a.m. ET. Defense Secretary Robert Gates and Joint Chiefs of Staff Chairman Adm. Michael Mullen testify, along with the co-chairs of the review Jeb Johnson, Defense Department general counsel, and Gen. Carter Ham, the head of the Army's European operations.
Rep. Charlie Rangel, D-N.Y., has his day of reckoning for his 11 ethics violations. The House Ethics Committee recommended that he be censured, and the House will vote Thursday afternoon to determine whether that is the appropriate punishment. Rangel will have to stand in the well of the House Chamber while his misdeeds are read aloud and entered into the Congressional Record.
House Speaker-designate John Boehner, R-Ohio, holds a press conference with members of he GOP transition team at 11:45 a.m. ET.
We'll be covering all these stories and more, so stay with Fox News for all the latest.