Colleges using coffers for financial aid to illegal immigrants stirs debate on immigration reform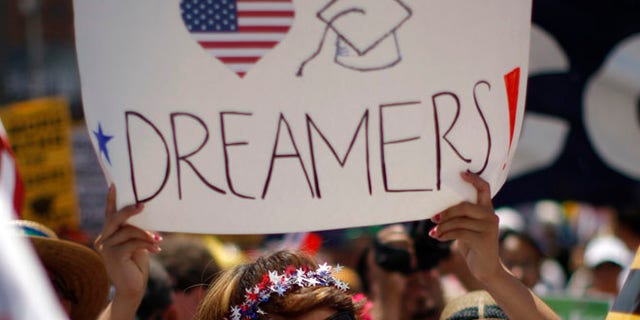 NEWYou can now listen to Fox News articles!
Several U.S. colleges are giving financial aid directly to students who are young illegal immigrants, extending the debate about helping people in the United States illegally at the expense of Americans who are in need of similar opportunities.
Such opportunities have opened up since President Obama's 2012 executive action that deferred deportation to millions of young people brought to the U.S. illegally by their parents. However, they still are largely ineligible for state or federal student aid.
New York University -- which receives federal, state and city money -- says the aid given to illegal immigrants is not at the expense of American students.
"This is not taking away from anybody," MJ Knoll-Finn, an N.Y.U. admissions officer, told The New York Times, which first reported the story. "This is a formalized way of making sure these students know they're welcome."
However, others disagree.
"This policy not only encourages new illegal immigration, but comes at the expense of the college dreams of young Americans," Stephen Miller, spokesman for Alabama GOP Sen. Jeff Sessions, chairman of the Senate subcommittee on immigration and the national interest, told FoxNews.com on Saturday.
Steven Camarota, research director for the Center for Immigration Studies, told The Times that such funding has a "zero-sum aspect to it."
"The fact is, there is not an unlimited pot of money to help needy students or high-achieving low-income students. And there is a certain one-for-one, a crowding-out effect," he said.
NYU received at least $310 million in federal money in 2012, in addition to state and city grants, according to the school's website.
In addition, school President John Sexton has put the NYU community's support behind a budget proposal by Democratic Gov. Andrew Cuomo to give financial aid to illegal immigrants.
"Expanding educational opportunities for immigrant youth not only helps individual students," Sexton wrote Cuomo in a Feb. 7 letter. "It helps entire communities, states and the nation as a whole."
The New York legislature on Thursday pass a so-called DREAM Act, which would make illegal immigrants eligible for state tuition breaks and college savings plan. But the measure will face strong opposition from state Senate Republicans in the budget negotiations.
The battle is similar to those in Washington and across the county.
Congressional Republicans nearly shut down the Department of Homeland Security this week by trying to tie a funding bill to efforts to roll back Obama's executive actions on immigration.
Congress late Friday passed a last-minute bill, signed by the president, to fund the agency. But the funding is for just seven days, and the battle will resume next week.
Meanwhile, a federal judge in Texas earlier this month temporarily halted the executive actions. The judge declined a Justice Department request to lift the stay by Wednesday. He is expected by Monday to make a decision on the request, but the administration will likely attempt to take the issue to a federal appeals court.
Other colleges reportedly acknowledge that the financial aid for illegal immigrant students comes from the same coffers that help American students but argue that diversity is always an admissions' challenge and that illegal immigrant students bring a unique perspective to the campus community.
Franklin and Marshall College in Pennsylvania is among the other colleges that are giving financial aid to illegal immigrant students.
President Daniel R. Porterfield said the school has been offering more of such aid as a result of the 2012 executive action, known as DACA, or Deferred Action for Childhood Arrivals.
"It now gives those students the legal right to be more out of the shadows than they had been when they were simply undocumented," he told The Times.
Illegal immigrants in some states, including California and Texas, are eligible for state financial-aid programs. And more than a dozen reportedly allow illegal immigrant students who have attended public high schools to pay in-state college tuition.