Clinton vows to take up immigration reform in first 100 days of presidency if elected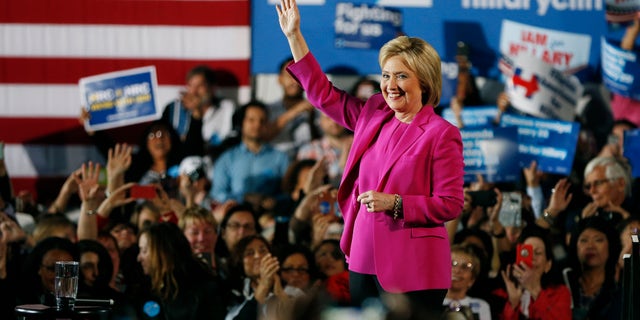 As both Democratic candidates vie to win over the crucial Latino voting bloc in Nevada, Hillary Clinton made a vow on Thursday she'd previously refused to make — to take up immigration reform in the first 100 days of her presidency if elected.
In a town hall meeting Thursday night in Las Vegas, both Clinton and Vermont Sen. Bernie Sanders promised to make reforming the country's immigration system a top priority of their administrations, should either win the White House.
Clinton is hoping to use a win in Nevada as a springboard into races in South Carolina on Feb. 27 and a slate of Southern primaries on Super Tuesday on March 1, where she's favored because of her strength among African-Americans. In recent days, she's rolled out numerous black and Latino leaders to make her case to minority voters, who play a far big role in those primaries than in past contests in Iowa and New Hampshire.
Earlier in the day, as Clinton and her husband wooed workers in the backrooms of casinos, some of her top Latino backers raised questions about Sanders' advocacy for immigrants, saying the Vermont senator repeatedly voted against immigration legislation.
"Bernie, where have you been?" said Dolores Huerta, a civil rights advocate, on a conference call with reporters. "He's coming to the Latino community now that he needs the votes."
Sanders dismissed those charges as a "reflection of a campaign in disarray."
"Suddenly they're finding people being actually involved,"he said. "They're in trouble and they're saying a lot of things which are just incorrect."
"I don't want to be lectured on my support for civil rights. When I was a young man, I was there and I have been there for my entire life," Sanders said.
Clinton's campaign has long argued that Sanders appeal is limited to white liberals, a relatively limited portion of the Democratic party. A victory on Saturday would show that the breath of his support is more like the coalition that twice boosted Obama to the White House — and helped the then-Illinois senator beat Clinton in the Democratic primary eight years ago.
"We are doing well with young people, we are doing increasingly well with young African Americans, young Latinos," Sanders said. "This is the future of the Democratic Party."
Immigration wasn't the only issue up for debate on Thursday night, as Clinton also laid into Sanders for his apparent lack of devotion to the Democratic party.
Clinton accused Sanders of attacking the two most recent Democratic presidents — President Barack Obama and her husband, former President Bill Clinton — both of whom remain popular political figures among Democratic voters.
"I just don't know where all this comes from," she said, at a televised town hall meeting hosted by MSNBC in Las Vegas on Thursday night. "Maybe it's that Sen. Sanders wasn't really a Democrat until he decided to run for office."
"Well, it's true. It's true," she exclaimed, amid a sprinkling of boos from the audience.
Speaking to reporters on his campaign plane on Thursday afternoon, Sanders described some of President Bill Clinton's biggest achievements, the NAFTA trade agreement and welfare overhaul, as "disastrous." A few hours later, during his separate appearance at the town hall meeting, he said that his critique was prompted by a question from a reporter and that a member of Congress can disagree with a president from his own party
"I was asked to comment on Bill Clinton's very strong criticisms of me," Sanders told the 350-person audience. "I didn't go around attacking Bill Clinton."
And he noted, drawing some audience grumbling of his own, that only one candidate in the Democratic race ran against Obama, before offering a strident defense of the president, saying that much of the Republican opposition to his administration was driven by racism.
"No one asks me whether I'm a citizen or not ... my father came from Poland," he said. "What's the difference? Gee, maybe the color of our skin."
Based on reporting by The Associated Press.