Clinton to Convey Administration Criticism of Settlements in Talks With Netanyahu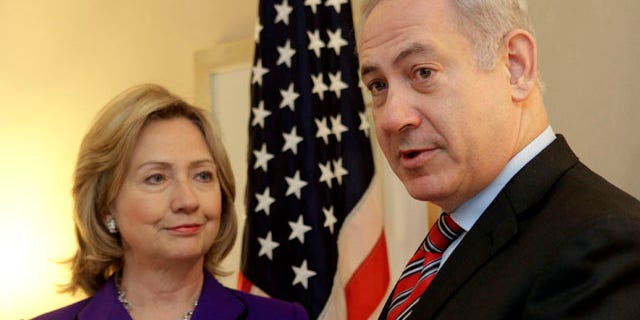 Secretary of State Hillary Clinton did not repeat U.S. criticism of Israel's decision to resume housing construction areas of Jerusalem that Palestinians want to claim for a new capital, but said she will be "talking about everything" with Israeli Prime Minister Benjamin Netanyahu during discussions Thursday in New York.
Speaking before their meeting, Clinton said she and Netanyahu will be "talking about everything" during their sit-down, intended to re-ignite peace consultations with Palestinians. She said she would save her commentary for the prime minister.
"I'm very pleased to be here and to have this opportunity to discuss with him how we're going to move forward in the process," Clinton said when asked why construction is a problem now, 40 years of after Israel captured east Jerusalem in the 1967 Six-Day War.
On Wednesday, Clinton criticized Israel's proposal to build 1,300 apartments in eastern Jerusalem, which the Palestinians want in their future independent state. The construction has been an ongoing wrench in Israeli-Palestinian peace talks, which resumed in September after an interruption of nearly two years.
Netanyahu said Israel is "quite serious" about reaching a final peace deal with the Palestinians, and hopes to broaden the process to include other Arab countries.
"We've been talking and will talk today about how to resume them to continue this process to get the historic agreement with peace and security between us and the Palestinians," Netanyahu said.
"I would like to add that we also hope to broaden it to many other Arab countries. So this is our common goal. We're quite serious about doing it and we want to get on with it."
But Netanyahu said earlier this week that opposition to the construction is merely a means to delay talks, which the Palestinians refuse to engage in until Israel halts construction in Jewish settlements.
While Netanyahu is in New York, he also met with presumptive House Majority Leader Eric Cantor, the highest ranking Jewish member of the House. The conversation lasted over an hour and covered a range of topics, including Iran, the United Nations and the recent U.S. election.
Cantor stressed that the new Republican majority will serve as a check on the Obama administration and what he said has been up until this point one-party rule in Washington.
He made clear that the Republican majority understands the special relationship between Israel and the United States, and that the security of each nation is reliant upon the other.
As to peace talks, Cantor said he believes compromise can only be achieved through direct negotiations between the parties and urged Palestinians not to pursue through the United Nations a unilateral declaration of statehood.
He said the administration should make it absolutely clear that the U.S. will veto any effort by the Palestinians to act in such a manner.