Clinton pitbull, media attack Kelly after Gold Star general defends Trump condolence call
For a stunning and emotional 18 minutes on Thursday, White House Chief of Staff John Kelly cut through a nasty debate over condolence calls to Gold Star families, appealing to the political class to allow at least this one thing to remain "sacred."
Instead, Democratic lawmakers and operatives and allies in the media immediately turned on Kelly – himself a Gold Star father – branding him a liar and an "enabler" of President Trump, even suggesting his criticism of a black Democrat who publicized one of those calls was racist.
"Kelly isnt just an enabler of Trump. He's a believer in him. That makes him as odious as the rest. Dont be distracted by the uniform," Hillary Clinton's former spokesman and CNN contributor Brian Fallon tweeted.
"I am stunned by John Kelley's lies about a black woman who he called an 'empty barrel,'" MSNBC's Lawrence O'Donnell tweeted.
During his appearance in the White House briefing room on Thursday, Kelly tried to reset – and resolve – the unseemly weeklong political war over presidential calls to families of dead American soldiers.
President Trump effectively started that debate after questioning earlier this week whether former President Barack Obama made those phone calls. But Rep. Frederica Wilson, D-Fla., escalated the fight when she criticized Trump's call to the widow of a soldier killed earlier this month in Niger.
Ironically, Kelly seemed to back up a portion of her account – that Trump told the widow that Sgt. La David Johnson "knew what he signed up for." But Kelly defended Trump's call and sought to put his words in context – they were a version of what Gen. Joseph Dunford told the retired general when his own son was killed in Afghanistan – and condemned Wilson for both listening to that phone call and talking about it to the press.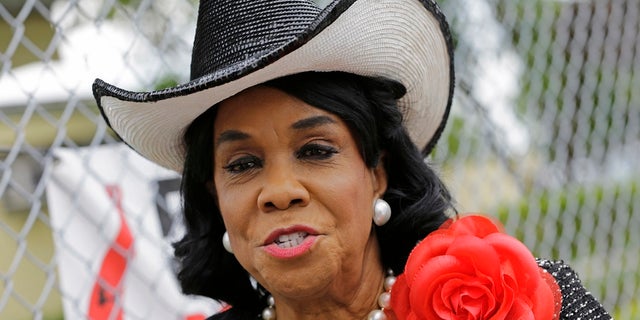 Kelly said he was "stunned" and "brokenhearted" that Wilson would do that, adding: "I thought at least that was sacred."
In response, Wilson said Kelly was just trying to save his job – and joked that she'd have to tell her kids she's a "rock star" given how much the White House is paying attention to her.
Even after Wilson's office said they would not be making any further comment "because the focus should be on helping a grieving widow and family heal, not on her or Donald Trump," the congresswoman appeared on CNN's "New Day" to accuse Kelly of lying about her.
"It's a lie," she said Friday, referring to his criticism of Wilson in 2015 allegedly boasting about getting the funding for an FBI building dedicated to fallen agents. (Wilson said she wasn't in Congress when that was secured, though she was in Congress for and attended the 2015 dedication. Video of that event released Friday by a Florida newspaper shows Wilson did not talk about the building's funding, but did talk up her own efforts getting legislation passed naming the building after the fallen agents.)
Further, Wilson claimed that one of Kelly's terms for her – an empty barrel – was "racist," even though she also said she hadn't heard of an empty barrel before.
Kelly has used the term before for other lawmakers.
Meanwhile, Trump lashed out overnight at Wilson again.
"The Fake News is going crazy with wacky Congresswoman Wilson(D), who was SECRETLY on a very personal call, and gave a total lie on content!" he tweeted.
And former Milwaukee sheriff David Clarke, highlighting a photo of Wilson in one of her trademark, shiny cowboy hats, tweeted: ".@realDonaldTrump calling Frederica Wilson 'whacky' is putting it mildly. The woman is a buffoon. Look at her."
Kelly, as he left the podium on Thursday, left the media and the public with these words:
"As I walk off the stage, understand there's tens of thousands of American kids, mostly, doing the nation's bidding all around the world. They don't have to be in uniform. … These young people today, they don't do it for any other reason than their selfless sense of selfless devotion to this great nation."