Clinton: North Korea Engaging in 'War of Words' With South Korea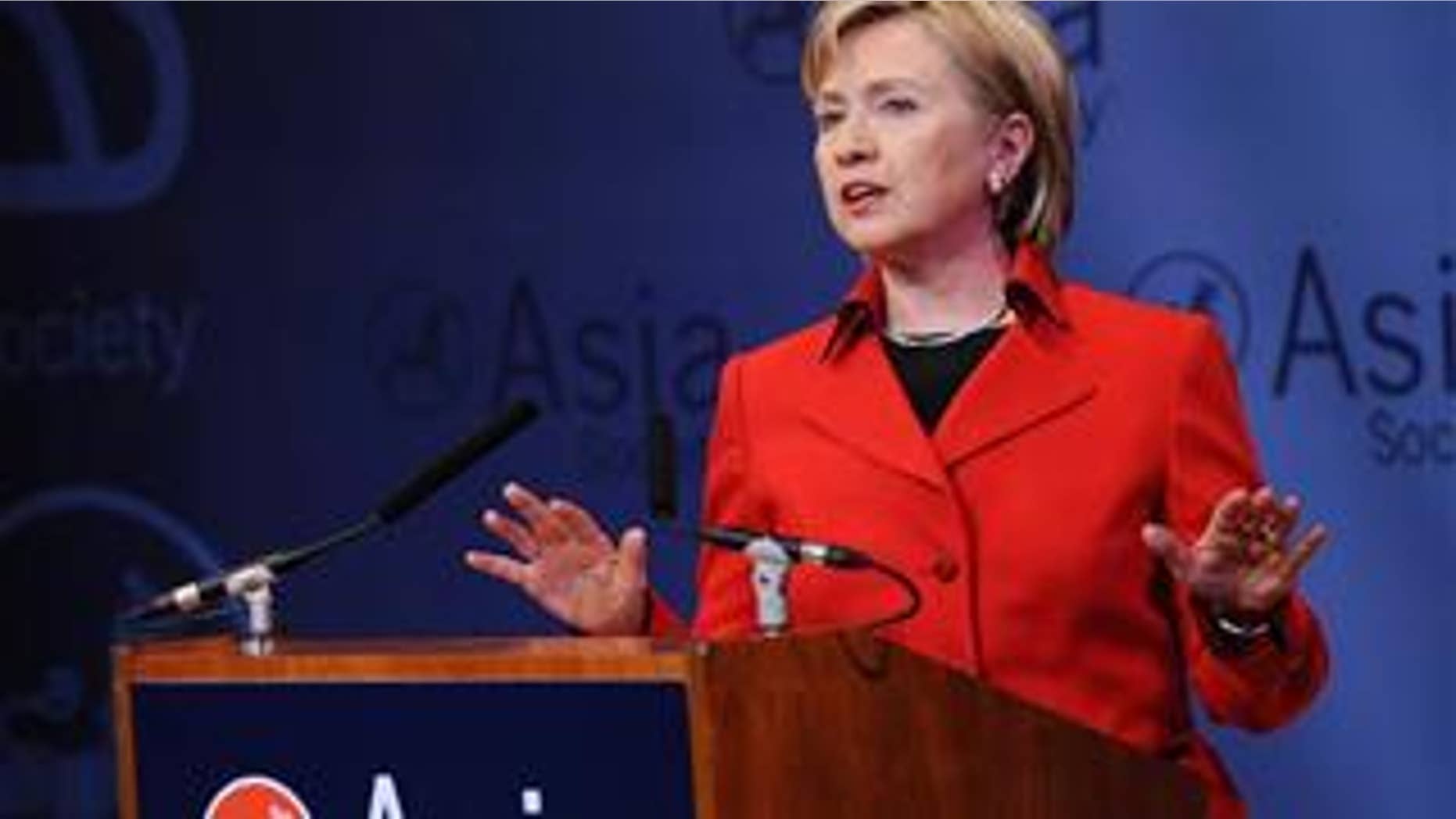 SEOUL, South Korea -- While issuing a fresh warning to North Korea not to proceed with its planned test-launch of a ballistic missile, Secretary of State Hillary Clinton also announced the appointment of a special envoy to oversee the Obama administration's diplomacy relating to the country.
At a news conference with her South Korean counterpart at the foreign ministry in Seoul, Clinton named Stephen Bosworth, a former ambassador to South Korea during the Clinton presidency, as a "special representative to North Korea policy."
Bosworth, who also served as ambassador to Tunisia and the Philippines and is now the dean of Tufts University's Fletcher School, will be the administration's point man on the Six-Party talks, the multilateral negotiations aimed at persuading the North to dismantle its nuclear programs. Assistant Secretary of State Christopher Hill, who has held a similar role since 2005, has been named U.S. ambassador to Iraq.
The appointment of Bosworth marks the third special envoy the Obama administration has appointed since taking office in late January. Former Senate Majority Leader George Mitchell is handling Mideast policy, while former U.N. ambassador Richard Holbrooke is coordinating U.S. policy on Afghanistan and Pakistan. Both men wasted little time after their appointments before traveling to their respective regions.
Yet even as she took this step to improve relations between the U.S. and North Korea, Secretary Clinton reproached the Stalinist state for engaging in a "war of words" with its democratic neighbor to the south.
"North Korea is not going to get a different relationship with the United States while insulting and refusing dialogue with the Republic of Korea," Clinton said in Seoul. The North recently suspended its compliance with all treaties it has signed with South Korea, and accused the government of President Lee Myung-Bak, in a typical rhetorical blast, of conspiring with the United States to wage war on the North.
Clinton also cited U.N. Security Council Resolution No. 1718, adopted in October 2006 after the North detonated a low-yield nuclear weapon, to admonish Pyongyang not to follow through on its recent threats to test-launch a long-range missile.
"North Korea is required to suspend all activities related to its ballistic missile program," Clinton said. "The North should refrain from violating this resolution, and also from any and all provocative actions that could harm the Six-Party talks and aggravate tensions in the region."
While conducting her first foreign trip as secretary of state -- a weeklong tour of Asian capitals -- Clinton has spoken in unusually frank terms about the preparations the U.S. and its regional allies are making to contend with a possible transfer of power in North Korea.
The country's erratic and reclusive ruler, Kim Jong Il, is believed to have suffered a stroke and undergone brain surgery last year. The 68-year-old Kim has not been seen in public in some time, fueling speculation that his illness has triggered an internal power struggle inside the communist regime.
"There is certainly evidence that there is a jockeying for position in that government," Clinton told ABC News in Tokyo on Tuesday.
Aboard her plane en route to Seoul Thursday night, Clinton told reporters "the whole leadership situation [in North Korea] is somewhat unclear" and that the U.S. and its allies are grappling with "the uncertainties that come from questions about potential succession."
"If there is a succession -- even if it is a peaceful succession -- you know, that creates more uncertainty," Clinton said. "It also may encourage behaviors that are even more provocative, as a way to consolidate power within the society."
Standing alongside South Korean Foreign Minister Yu Myung-hwan on Friday, Clinton downplayed any hint of an immediate crisis of succession in the North, and suggested she was only engaged in routine "contingency planning" based on widespread reporting about Kim's health. "The open press is filled with such conversations," Clinton said.
"This is not some kind of classified matter that is not being discussed in many circles....When you are thinking about the future dealings with a government that doesn't have any clear succession -- they [the North Koreans] don't have a vice president, they don't have a prime minister -- then it is something you have to think about."
But the secretary added that the U.S. and other countries involved in the Six-Party dialogue with the North -- South Korea, China, Japan, and Russia -- "deal with the government that's in place right now."
North Korea, which is believed to possess enough reprocessed plutonium to support an arsenal of six to ten nuclear weapons, agreed in 2005 to dismantle its nuclear programs in exchange for large shipments of heavy fuel oil and other concessions from the six-party nations.
But the accord has repeatedly stalled when North Korea has balked at fulfilling its obligations, including the submission of a declaration of its nuclear activities that came in late and incomplete, and its refusal to agree to a comprehensive verification protocol that would help nuclear inspectors determine the scope and progress of the country's plutonium reprocessing and uranium enrichment activities.