Clinton has health 'episode' at 9/11 memorial, doctor says she has pneumonia
Hillary Clinton appeared to stagger and faint in footage showing her early exit from a 9/11 commemoration ceremony on Sunday, though Clinton's doctor said the episode was a result of heat and dehydration -- and revealed she had been diagnosed with pneumonia two days prior.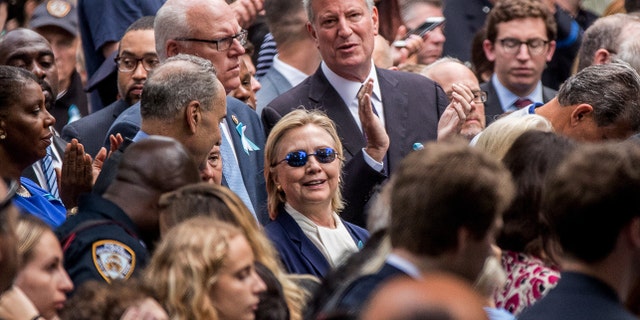 The Democratic presidential nominee fell on her way into her van and had to be helped by her security, according to witnesses and video of her leaving. She was "clearly having some type of medical episode," a law enforcement source told Fox News.
After more than an hour of radio silence, Clinton's campaign issued a statement saying the former Secretary of State "felt overheated," and later Sunday issued another release blaming the episode on pneumonia and dehydration.
"Secretary Clinton has been experiencing a cough related to allergies," Dr. Lisa R. Bardack said in the statement. "On Friday, during follow up evaluation of her prolonged cough, she was diagnosed with pneumonia. She was put on antibiotics, and advised to rest and modify her schedule. While at this morning's event, she became overheated and dehydrated. I have just examined her and she is now re-hydrated and recovering nicely."
But a witness told Fox News that Clinton stumbled off the curb, her "knees buckled" and she lost a shoe as she was helped into a van during her "unexpected early departure."
MORE ON #HILLARY per witness: "unexpected early departure"; she stumbled off curb, "knees buckled", lost a shoe as she was helped into van

— RickLeventhalFoxNews (@RickLeventhal) September 11, 2016
The NYPD was sent to retrieve Clinton's shoe, NBC reported.
An unverified video of the episode appeared to show Clinton collapsing as she was helped into the van.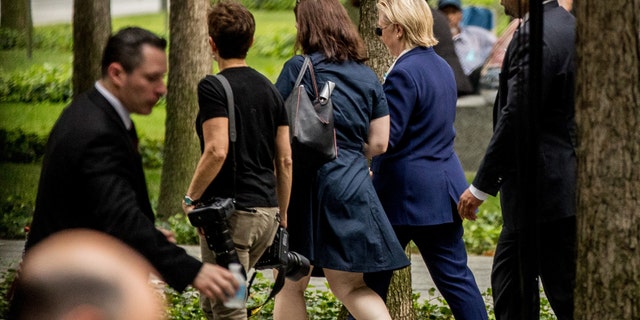 The New Jersey resident who took the video, Zdenek Gazda, told Foxnews.com he had been a fireman in the Czech Republic and came to the 9/11 ceremony to pay his respects.
"Everything was fine, everything was good before," said Gazda, who snapped several shots of Clinton before taking the video. "I take a lot of pictures of her. She looked very nice and everything, and I don't know what happened to her."
After Clinton left the ceremony, the reporters following her on the campaign trail were prevented from leaving the media area for a period of time.
FACT CHECK: At no time did @SecretService personnel violate security protocols during the early departure of one of our protectees.

— U.S. Secret Service (@SecretService) September 11, 2016
Clinton emerged from Chelsea Clinton's apartment just before noon and said she was "feeling great."
"It's a beautiful day in New York," Clinton yelled to press waiting across the street.
She bent down to take a photo with a young girl and said "thanks everybody" to a nearby crowd cheering her. Asked again about her health, Clinton said she was "great, feeling great" and then got into her van. A spokesperson said she was headed to her house in Chappaqua, where former President Bill Clinton, who did not attend the 9/11 ceremony, was waiting. She was examined by her doctor after arriving in Chappaqua.
"I am glad to learn that Secretary Clinton is already feeling better and I wish her a speedy recovery," said DNC Interim Chair Donna Brazile in a statement. "I look forward to seeing her back out on the campaign trail and continuing on the path to victory."
Clinton campaign spokesman Nick Merrill said late Sunday that Clinton will not be making the trip to California Monday or Tuesday and will instead be resting in Chappaqua.
Asked about Clinton's early exit, Republican presidential nominee Donald Trump said he didn't know anything about it. But Rep. Peter King told The Washington Post that during the ceremony it was Trump who informed King of Clinton's health issue.
"It was actually Trump who told me what was going on," King told a Washington Post reporter. "He leaned over and told me that 'Hillary wasn't feeling well.' I said, 'Really?'"
Clinton was in New York for Sunday's ceremony commemorating 15 years since the 9/11 terror attacks.
Clinton and Trump earlier greeted supporters as they entered the downtown Manhattan 9/11 memorial. Both had promised to suspend campaign activities to mark the 15th anniversary of the attacks.
Questions surrounding Clinton's health have emerged in recent weeks, and calls for the candidate to release her full medical records may intensify after Sunday's incident.
Clinton previously sustained a concussion in December 2012 after fainting, an episode her doctor attributed to a stomach virus and dehydration.
Clinton's doctor reported she is fully recovered from the concussion, which led to temporary double vision and discovery of a blood clot in a vein in the space between her brain and skull. Clinton also has experienced deep vein thrombosis, a clot usually in the leg, and takes the blood thinner Coumadin to prevent new clots.
Fox News' Rick Leventhal and The Associated Press contributed to this report.