Clinton confidant, Stormy Daniels lawyer team up for high-volume protest outside White House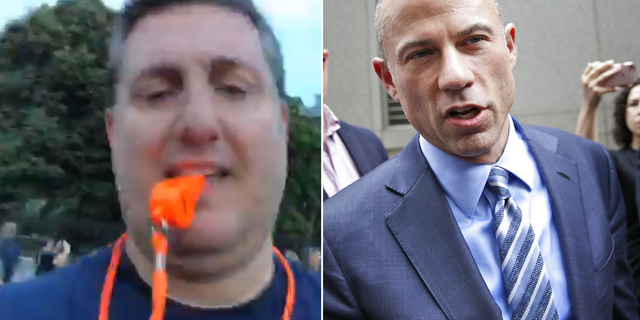 It's an unlikely pairing -- Hillary Clinton fixer Philippe Reines and Stormy Daniels lawyer Michael Avenatti. Nonetheless, the two are teaming up Tuesday night for a second night of White House protests, saying they plan to bring out not only "whistles," but also high-capacity "air horns."
Protesters are also free to "bang pots & pans" until 4 a.m. EST, Reines wrote on Twitter.
Reines said Tuesday that the first day of the so-called "Occupy Lafayette Park" demonstrations on Monday night had successfully kept President Trump awake. Lafayette Park is just north of the White House grounds.
"No way the traitor didn't try to drown us out with pillows," the longtime liberal political consultant wrote. "We are in his head."
Reines was joined on Monday night by Rep. Joaquin Castro, D-Texas, who fired up the crowd that had gathered after a call to action on social media by another Clinton adviser, Adam Parkhomenko.
But Reines, armed with an orange whistle and an air horn, posted several profanity-laced videos from outside the White House that made it clear he didn't want to bombard Trump with words alone.
"Hey @realDonaldTrump I'm the guy outside your window blaring this at your window," the Clinton confidant wrote. "I'm gonna wait I a bit to let you start dozing off. Then the air horns come out. I've got two canisters. That's 24 1-second bursts or 8 3-second bursts. Any preference?"
When he did not receive a reply from Trump, Reines posted, "Dealer's choice it is!"
Reines wrote that Trump was probably "jet lagged" after returning from his summit in Helsinki, Finland, with Russian President Vladimir Putin, making it even less likely that he could sleep soundly.
He also noted that he'd brought nearly 130 sets of ear plugs to protect fellow protesters -- they were chanting "traitor" and other slogans -- from the aural assault.
CLINTON FIXER PHILIPPE REINES POSTS CONTACT INFO OF BOOKSTORE OWNER WHO PROTECTED STEVE BANNON
For Tuesday night, Avenatti suggested Trump could expect more of the same.
"Tonight we demand accountability," Avenatti wrote on Twitter. "7 pm across from the new Kremlin Annex. Be there."
Trump has taken bipartisan criticism since seeming to dismiss allegations of Russian meddling in the 2016 elections during his Monday summit with Putin in Finland.
The president said Tuesday that he'd misspoke, and had intended to say that he did not see any reason why Russia wouldn't have been behind the meddling.