Clinton attack dog lashes out at Gillibrand for criticism of Bill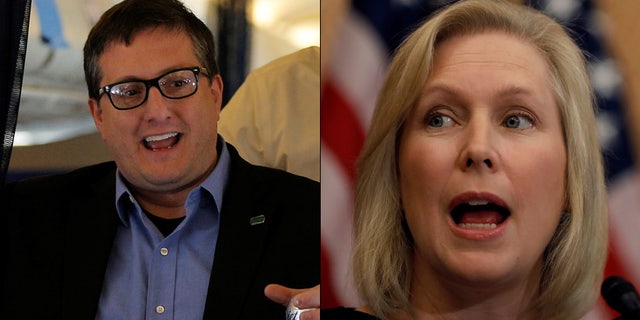 One of the Clinton family's most aggressive defenders lashed out overnight at a Democratic senator who said Bill Clinton should have resigned the presidency over his affair with Monica Lewinsky.
"Ken Starr spent $70 million on a consensual blowjob. Senate voted to keep POTUS WJC. But not enough for you @SenGillibrand? Over 20 yrs you took the Clintons' endorsements, money, and seat. Hypocrite," former Hillary Clinton adviser Philippe Reines tweeted late Thursday, at Sen. Kirsten Gillibrand, D-N.Y.
The graphic jab came after Gillibrand leveled some of the highest-level criticism yet at former President Clinton.
"Yes, I think that is the appropriate response," Gillibrand told the New York Times, when asked if Clinton should have left the White House amid the Monica scandal.
Reines has been by Hillary Clinton's side as an adviser for years, at the State Department and during her presidential campaign.
The criticism is striking considering Gillibrand filled Clinton's New York Senate seat after she was appointed as secretary of state under the Obama administration, and the two have been close ever since. Gillibrand campaigned with Bill Clinton last year in support of Hillary Clinton's presidential campaign.
Liberal writers and commentators, though, have in recent days sought to revisit the claims of sexual misconduct against Bill Clinton, as numerous figures in the media and entertainment and politics face sexual harassment and assault allegations. The latest was Sen. Al Franken, D-Minn., who was accused Thursday of groping a woman during a USO tour more than a decade ago. Gillibrand and other Democrats condemned Franken, who apologized for his actions.
Gillibrand's comments Thursday made her the most prominent Democrat to link this year's increasingly low tolerance for mistreatment of women to the Clinton years. The senator added that perhaps President Trump's past behavior and comments about women also deserve more scrutiny.
"And I think in light of this conversation, we should have a very different conversation about President Trump, and a very different conversation about allegations against him," she said.