Christie pic furor is just the beginning: States enter summer of budget pain
A photograph of New Jersey Gov. Chris Christie sunbathing Sunday on a state beach he closed amid a budget standoff drew national attention to the state's financial woes, but it was a mere snapshot of the budget battles being waged across the country.
Nearly a dozen other states also started the fiscal year on Saturday without a new budget.
The Republican governors of New Jersey and Maine both ordered a shutdown of nonessential state services over the impasse.
In New Jersey, Christie's order covered the closure of state parks and motor vehicles offices after he and the Democrat-controlled legislature failed to agree on his nearly $35 billion budget proposal.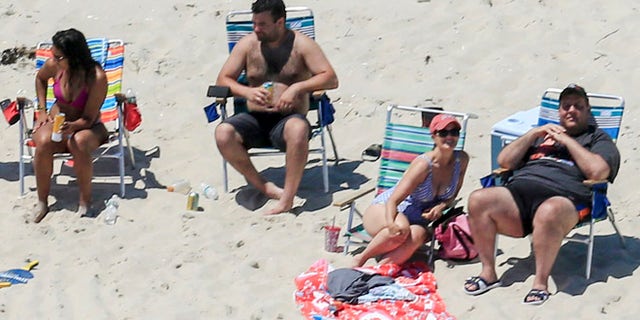 The governor said Monday he wants to end the shutdown before the July 4 holiday but remains deadlocked with state lawmakers over the budget.
While Christie suggested Sunday that he's open to a Democratic proposal, he appears steadfast that the legislature either approve a state Senate-approved plan to overhaul New Jersey's biggest health insurer, Horizon Blue Cross Blue Shield, or face his line-item veto of about $350 million in Democratic priorities.
"Send me a budget," Christie said, referring to himself as 'Mr. Reasonable' on the issues. "I'm ready to work, but I can't work if I don't have any money. These guys have to get their act together."
The governor also fended off criticism of his family's beach photo, while tweeting repeatedly Monday that most local beaches remain open.
"NJ beaches are open in 119 of our our 130 miles of coastline. Come and enjoy them--but use sunscreen and hydrate!" he wrote.
While Beachgate garnered the most headlines of all the budget battles nationally, Illinois appears to be the state with the most to lose right now.
The state is now running an estimated $6 billion deficit, and Saturday marked the start of the third fiscal year in Illinois without a budget.
The state's longstanding fiscal issues worsened in 2015, when a four-year tax hike ended and Republican Gov. Bruce Rauner took office. In the governor's first budget year, Democrats ignored Rauner's demands to cut spending, and the state kept the same funding plan it had when it was collecting the extra $7 billion a year in taxes.
Amid the impasse over the weekend, the state lottery had to suspend Powerball and Mega Millions sales. But much bigger problems loom if ratings agencies follow through on threats to downgrade Illinois' credit rating to "junk" status.
On Monday, the state Senate began considering a budget measure that the House approved Sunday to increase income taxes by 32 percent. However, Rauner has vowed to veto the measure.
In Maine, state lawmakers are working to try and bring the government back online after a partial shutdown ordered over the weekend.
Legislators were drafting a two-year, $7.1 billion budget, but GOP Gov. Paul LePage said he couldn't accept it without his income tax cuts. Unlike other states engaged in a bipartisan budget standoff, Maine Democrats and Republicans appear to be working together more closely.
Other states with budget problems include Wisconsin and Oregon.
Dwindling revenue from Wisconsin's gas tax and vehicle registration fees have left a $1 billion hole in the two-year, $76 billion spending plan that Wisconsin was supposed to have in place Friday.
Republican Gov. Scott Walker wants to borrow $500 million and delay some projects to save money.
Some fellow Republicans want to borrow even more, and the GOP discussed a new heavy truck fee to raise $250 million. But that appears to be dead along with any discussion of raising the gas tax with Walker considering running for a third term next year.
In Oregon, the drama started when Gov. Kate Brown and fellow Democrats called for changes in the way the state taxes businesses. But as June started with no deal over the state budget, separated into several spending plans, Brown relented.
Additional revenue helped Democrats and Republicans reach a deal.
But there could still be some spending disputes. In jeopardy are $670 million in taxes for health care as a Republican Rep. Julie Parrish said she will push to get 58,000 signatures in 90 days to take advantage of Oregon's law that allows voters to delay implementation of a law through a special election.
The Associated Press contributed to this report.