Christie critics add Texas-sized issue to their list, ahead of potential 2016 presidential run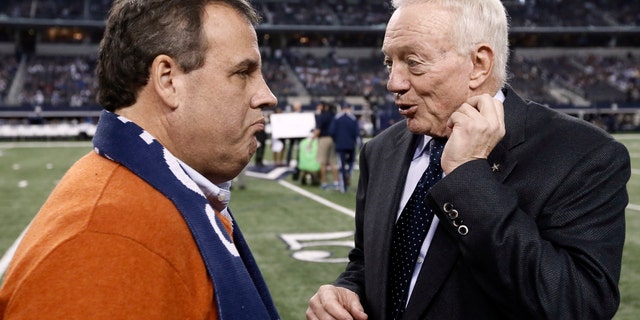 NEWYou can now listen to Fox News articles!
Any hopes New Jersey Gov. Chris Christie might have had about home-state controversies fading into the past now seem dashed by a new, Texas-sized headache.
Christie, a potential 2016 GOP presidential candidate, is facing criticism about him and family members attending several Dallas Cowboy football games as a guest of team owner Jerry Jones.
Beyond ethics questions about an elected official accepting free tickets, New Jersey residents are giving Christie a giant raspberry for rooting against local favorites the Philadelphia Eagles and New York Giants, who play home games in the Garden State.
The new controversy follows a list of grievances about Christie's efforts at home while he keeps an ambitious travel schedule, which last year as chairman of the Republican Governors Association included several trips to Iowa, host of the first presidential caucus.
Records show the second-term governor in 2014 spent 152 days outside of the state, or about 40 percent of the year.
During that period, investor services companies downgraded the state's credit rating three times and a total of eight times during Christie's administration.
"It's an issue," Republican strategist Bradley Blakeman recently told Fox News. "The people elected him to run New Jersey, not to run the Republican Governors Association ... and not to dip his toe in the presidential waters."
As a Republican who could win elected office in the Northeast, Christie captured the full attention of the Republican establishment and others in the national political scene after winning the governorship in 2009.
Before long, the tough-talking Christie was being mentioned as a potential presidential candidate. His efforts in the aftermath of devastating SuperStorm Sandy only added to his popularity, with supporters and critics alike lauding him for putting New Jersey residents before politics when worked along side Obama on the recovery effort.
However, some of that political currency was lost in the so-called bridge scandal, in which administration staffers in 2013 orchestrated the closure of George Washington Bridge access lanes, in apparently retribution against a mayor who didn't support Christie's re-election.
Much has been made about Christie's approval rating falling after the bridge incident and revelations in late-2013, early 2014 linking it to his administration.
Too be sure, his record-high rating of roughly 70 percent in the months after the Sept. 2012 storm has now dropped by roughly 20 percentage points.
Still, Christie's approval rating is just below 50 percent in a politically divided state, according to most polls.
Critics also point out that New Jersey has been especially slow to recover from the recession, particularly in the southern region.
The state's unemployment rate is at 6.4 percent, compared to the national rate of 5.8 percent. And now, Mercedes-Benz USA appears ready to move its North American headquarters from New Jersey to Atlanta, taking with it as many as 1,000 jobs.
"Is he for the middle class and shoring them up?" Democratic strategist David Mercer asked. "It's hard to run on a record like that if you're in the presidential hunt."
However, Blakeman argues that New Jersey has in fact recovered from the recession better than neighboring states.
Former Pennsylvania Gov. Ed Rendell, a Democrat, has suggested that Christie's support for the Cowboys is "pathetic," to which Christie reportedly replied: "I remember Ed Rendell when he used to be somebody."
Christie's office could not be reached Saturday for comment.
Other Christie complaints include him and New York Gov. Andrew Cuomo, a Democrat, recently vetoing a popular bill to overhaul the Port Authority.
Earlier this week, the American Democratic Legal Fund filed an ethics complaint against Christie claiming he broke the state's rules by accepting football tickets as a gift.
The liberal-leaning watchdog group reportedly is raising concerns about a $875 million contract that a Jones-related business has with the Port Authority. And at least two other groups have raised similar concerns.
Still, Christie appears to be forging ahead, attending the inauguration this week of Florida GOP Gov. Rick Scott and planning to attend the Cowboys vs. Green Bay Packers game this weekend in Wisconsin. Christie is also scheduled to be in Iowa on Jan. 24 for GOP Rep. Steve King and Citizens United's annual Freedom Summit.