Cattle (Industry) Prod: USDA meat-labeling rules stir backlash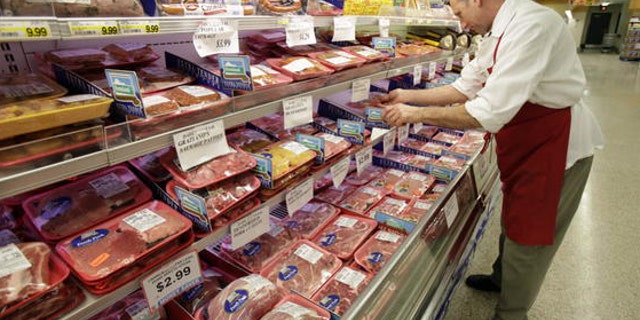 NEWYou can now listen to Fox News articles!
WASHINGTON – The U.S. Department of Agriculture is facing a backlash from small livestock producers and others over its move to tighten meat-labeling regulations, which would force them to separate animals based on where they were born, raised and slaughtered.
The step is being billed as a way to bring the U.S. into compliance with World Trade Organization agreements, but there are a growing number in the industry who argue it will alienate the country's trading partners and force small American meat farms out of business.
"Only the government could take a costly, cumbersome rule like mandatory country-of-origin labeling (COOL) and make it worse even as it claims to 'fix it,'' said American Meat Institute President J. Patrick Boyle.
Boyle believes the proposed rule will make the current requirements even more expensive, onerous and disruptive.
The Department of Agriculture recently proposed the new rule for labeling muscle cuts of meat. That means beef, veal, lamb, pork, goat and chicken -- which are now labeled as simply a product of one country or more -- will have to include additional details including where each animal was born, raised and slaughtered.
The new labeling regulations would force thousands of meat processors and retailers to change the way they label products. The USDA estimates the initial cost would range between $17 million and $48 million.
The USDA's Agriculture Marketing Service began working on a rule change after the U.S. partially lost a WTO appeal in 2012. "The USDA expects that these changes will improve the overall operation of the program and also bring the current mandatory (country of origin labeling) requirements into compliance with the U.S. international trade obligations," USDA Secretary Tom Vilsack said in a statement.
The National Farmers Union praised the rule change as an "excellent response."
"By requiring further clarity in labels and stronger record-keeping, the set of rules released are a win-win for farmers, ranchers and consumers," NFU President Roger Johnson said.
But not everyone agrees, including officials on the northern side of the border with whom the U.S. does considerable business.
"The proposed changes will increase the discrimination against exports of cattle and hogs from Canada and increase damages to Canadian industry," Canada's Agriculture Minister Gerry Ritz said in a statement.
Many U.S. meat-packing plants, especially those near the U.S.-Canada border, have stopped accepting Canadian livestock or bought less due to the increased costs of segregating animals by domestic and foreign origin.
U.S. companies that have been big buyers of Canadian animals and would be the most affected by the rule change are Tyson Foods, Cargill Inc. and Smithfield Foods.
The United States has until May 23 to redesign its country-of-origin rules to satisfy the WTO ruling. The USDA is encouraging public feedback and has a section of their site dedicated to hearing what the public says. After the comment period for the proposed rule closes on April 11, the USDA will review all comments before proceeding with a final rule.
Both Canada and Mexico successfully argued the 2008 labeling law discriminated against their livestock and meat exports. The Obama administration said it would comply with the trade ruling.
In a statement late Friday, Canadian Agriculture Minister Gerry Ritz said his government was "extremely disappointed" with the U.S. proposal.
"We do not believe that the proposed changes will bring the United States into compliance with its WTO obligations," Ritz said.
Country of origin labels, referred to as COOL, became mandatory in March 2009 after years of debate. Some U.S. farm and consumer groups said the labels would help shoppers make informed decisions, but meat packers and livestock groups termed the labels a costly paperwork headache.