Bush Defends Handling of Economy, Gitmo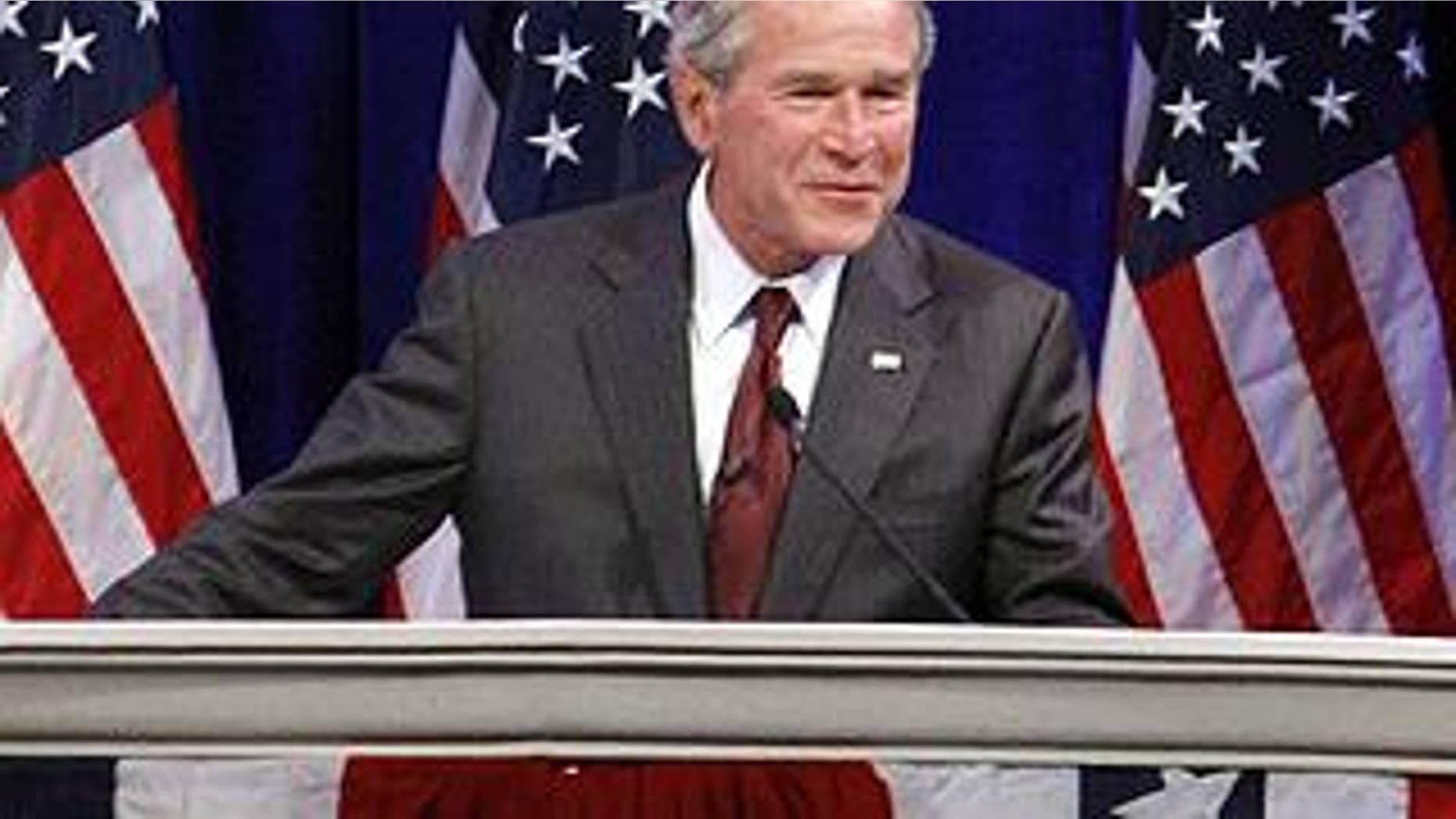 Former President George W. Bush fired a salvo at President Obama on Wednesday, asserting his administration's interrogation policies were within the law, declaring the private sector, not government, will fix the economy and rejecting the nationalization of health care, the Washington Times reported.
"I know it's going to be the private sector that leads this country out of the current economic times we're in," the former president said to applause in Erie, Pa. "You can spend your money better than the government can spend your money."
Repeatedly in his hourlong speech and question-and-answer session, Bush said he would not directly criticize the new president, who has moved to take over financial institutions and several large corporations, the paper reported. Several times, however, he took direct aim at Obama policies as he defended his own during eight years in office.
Continue reading at the Washington Times
"Government does not create wealth. The major role for the government is to create an environment where people take risks to expand the job rate in the United States," the Times quoted him as saying to huge cheers.
Bush weighed in on some of the most pressing issues of the day: the election in Iran, the closing of the Guantanamo Bay detention center in Cuba, and his administration's interrogation policies of terrorists held there and elsewhere. The former president has not commented on Obama's decision to ban "enhanced interrogation techniques" such as waterboarding, which the current president has called "off course" and "based on fear."
"The way I decided to address the problem was twofold: One, use every technique and tool within the law to bring terrorists to justice before they strike again," the newspaper quoted him as saying, adding that the country needs to remain on offense.
"I told you I'm not going to criticize my successor," Bush said. "I'll just tell you that there are people at Gitmo that will kill American people at a drop of a hat and I don't believe that persuasion isn't going to work. Therapy isn't going to cause terrorists to change their mind."
The country's 43rd president has made just a few public appearances since leaving office in January, though his speech Wednesday night at a dinner of the Manufacturer & Business Association touched on familiar themes in reviewing his two terms in the White House.
But he started his hour-long appearance by talking about his father, former President George H.W. Bush, who celebrated his 85th birthday last weekend by parachute-jumping out of an airplane near the elder Bush's home in Kennebunkport, Maine.
"So this weekend I had an amazing experience: I watched an 85-year-old jump out of an airplane, and it wasn't about to crash," Bush said, snickering while the crowd laughed.
Then, comparing his father to Penn State football coach Joe Paterno, who's 82, he said, "These are two people who could have easily taken out the Airstream (trailer) and traveled to some camping ground ... but, no, these guys are going to live life to the fullest."
Bush again offered humorous tidbits about life after the White House, often poking fun at himself. He recalled jogging at Presque Isle State Park in Erie with former Gov. Tom Ridge during a previous visit to the region. Ridge went on to become the country's first secretary of homeland security, under Bush.
Bush took questions, which were sent by e-mail to the association and were read by a moderator. The friendly business audience cheered his answer to a question about what could be done to keep the manufacturing sector vibrant.
Without hesitation, Bush answered low regulations, no frivolous lawsuits and expansion of export markets. He also said there should be more emphasis on research and development tax credits.
Bush demurred when asked who could lead Republicans in the 2012 presidential election, saying he needed to at least wait until next year's midterm elections took place.
"Invite me back; I'll give you my opinion," he said to laughs.
A Bush spokesman declined comment when asked how much Bush was paid for the appearance.
The Associated Press contributed to this report.