Budget pick Mulvaney acknowledges payroll tax lapse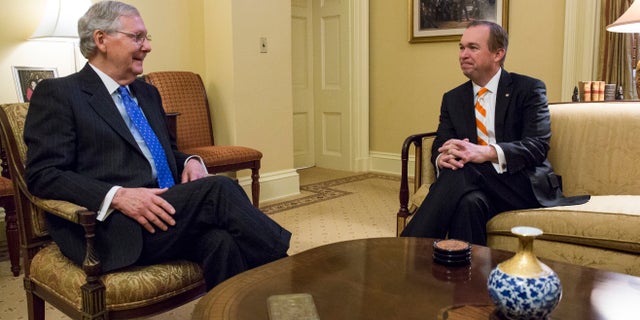 NEWYou can now listen to Fox News articles!
WASHINGTON – Rep. Mick Mulvaney, President-elect Donald Trump's choice to run the White House budget office, failed to pay more than $15,000 in payroll taxes for a household worker more than a decade ago, prompting the Senate's top Democrat to issue a statement saying the lapse should disqualify his nomination.
"I have come to learn, during the confirmation review process, that I failed to pay FICA and federal and state unemployment taxes on a household employee for the years 2000-2004," Mulvaney, R-S.C., stated in a response to written questions from the Senate Budget Committee.
It was not immediately clear whether the lapse would have any effect on the confirmation of Mulvaney, a staunch conservative elected in the 2010 tea party wave. A hearing before the budget panel is scheduled for next week. Democrats opposing Mulvaney no longer retain the filibuster power that could block him.
But Senate Minority Leader Charles Schumer quickly pounced, saying that tax problems have forced previous Democratic nominees for both President Bill Clinton and President Barack Obama to drop out and that Mulvaney should, too.
"When other previous Cabinet nominees failed to pay their fair share in taxes, Senate Republicans forced those nominees to withdraw from consideration," Schumer said shortly after The New York Times initially reported the story. "If failure to pay taxes was disqualifying for Democratic nominees, then the same should be true for Republican nominees."
The Trump transition team provided a statement supporting Mulvaney and attacking Schumer.
"Congressman Mulvaney raised the issue surrounding the care of his premature triplets immediately upon being tapped for this position, and has taken the appropriate follow-up measures," said transition official John Czwartacki. "President-elect Trump fully stands behind Rep. Mulvaney."
In 2009, failure to pay taxes sunk Obama's choice to head the Health and Human Services Department and nearly derailed his nominee for treasury secretary. Former Sen. Tom Daschle withdrew his nomination for HHS after failing to pay back taxes of more than $100,000 he owed for a chauffeur and car service.
But former Treasury Secretary Tim Geithner said he made a careless mistake when he didn't pay all his taxes while working at the International Monetary Fund. He ended up paying some $40,000 in back taxes and interest. A host of top Republicans supported Geithner, including Orrin Hatch of Utah and John Cornyn of Texas.
The Trump transition statement called Schumer a "complete hypocrite" for defending Geithner eight years ago but opposing Mulvaney now.
Top Senate Republican Mitch McConnell of Kentucky opposed Geithner in 2009, however, noting "the questions that still remain." McConnell's office had no comment regarding Mulvaney.
Earlier, during the Clinton years, nominees Zoe Baird and Kimba Woods were forced to withdraw for failure to pay taxes for household help.
Mulvaney said he repaid more than $15,000 before interest and IRS penalties and that state amounts had yet to be determined.