Buck Opens Narrow Lead in Tight Colorado Senate Race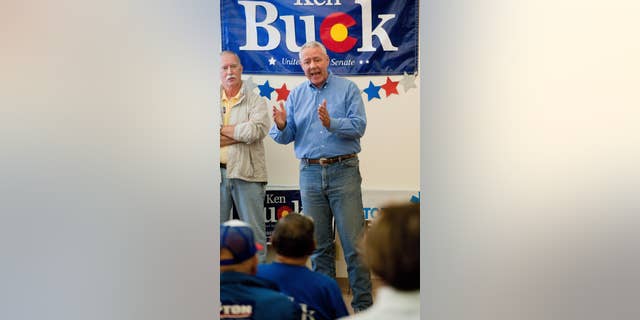 In one of the tightest Senate races in the country, Republican challenger Ken Buck has opened a small lead in the polls over incumbent Democratic Senator Michael Bennet. A Fox News Poll conducted Oct. 30 by Pulse Opinion Research shows Buck with 50% compared to 46% for Bennet, with a 3% margin of error.
The Fox poll is the third major non-partisan poll conducted in the last week that shows Buck up by 4 points. A McClatchy/Marist poll conducted Oct 26-28 showed Buck with 49%, Bennet with 45%. And a Rasmussen Reports poll conducted Oct 25th had Buck with 48% to Bennet's 44%. A Denver Post/SurveyUSA poll, taken just days earlier, had shown the race tied at 47%.
The Colorado electorate is almost evenly divided between Republicans, Democrats and those registered as Unaffiliated. Of those who had already voted by Friday, Republicans had an edge 41% -35% over Democrats. Only 23% were Unaffiliated, with many of those independent voters still seemingly undecided.
The battle for independents has turned vicious, and incredibly expensive. The Colorado Senate race is number one in the nation when it comes to outside expenditures for or against the candidates. The roughly $30-million spent on this race has voters like Jon Kaiser of Denver disgust.
"It's gotten to the point where both sides have lost their credibility and it's become a negative debacle. People are sick of it. They say that negative ads don't work but I don't buy it."
Nancy Watzman of the Sunlight Foundation, which has been tracking outside spending in races nationwide, says those putting up the money obviously feel the negative ads work.
"These people don't spend money unless they think it's going to work. You know it's not some charitable enterprise; they're out there to win. It's just come so fast and furious here it will be interesting to see what the results are."
Both candidates spent the weekend and Monday travelling the state, campaigning for the support of undecided voters, and reminding those who have decided to get out and vote. Many of the latter have already done so. By Friday almost a million Coloradans had already cast their ballots by mail-in and other early voting options. The Colorado Secretary of State's office predicts that more than half the votes in this election will have already been cast by the time the polls open on Tuesday.