Brewer Signs Bill Giving Tea Party-Backed Flag Same Status as U.S. Flag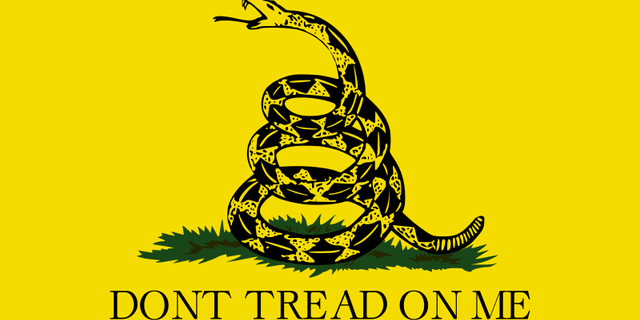 NEWYou can now listen to Fox News articles!
Arizona Gov. Jan Brewer signed into law this week a bill that prevents homeowners associations from banning the black-on-yellow Gadsden flags -- the Tea Party-favored banners displaying the coiled rattlesnake and "Don't Tread on Me" message.
Under the new law, the flag has the same protected status as the American flag, the flags of any military branch, the state flag, the POW-MIA flag and the flag of any Arizona Indian nation. But homeowners associations can still prohibit residents from flying more than two flags at once and restrict a flag pole to the height of the resident's roof.
The flag is named after American statesman Christopher Gadsden who designed it in 1775. It was originally used by the U.S. Marine Corps during the American Revolution and was meant to represent the 13 original colonies and their battle for independence from the British monarchy. Since then, it has been reintroduced by numerous groups as a symbol of American patriotism. The Tea Party movement is the latest group to adopt the flag for its message against big government.
The flag became a flashpoint in Arizona last summer after a suburban Phoenix homeowner refused to bow to his homeowners association's demands that he remove his flag within 10 days for face a $25 fine. Andy McDonel of Leveen, Ariz., said he wouldn't take his flag down unless a judge ordered him to.
During debate in the Arizona Legislature, critics of the bill said support for the flag was a slippery slope.
"Are we next year going to be voting to allow our peace sign flag to be allowed," Democratic Rep. Ruben Gallego said, according to the Arizona Daily Star.
But Republican Rep. David Gowan rejected that argument.
"The Tea Party may use the flag. But it is a United States flag," the newspaper quoted him as saying.