Brazil's top court suspends House speaker, Rousseff's foe, amid accusations of corruption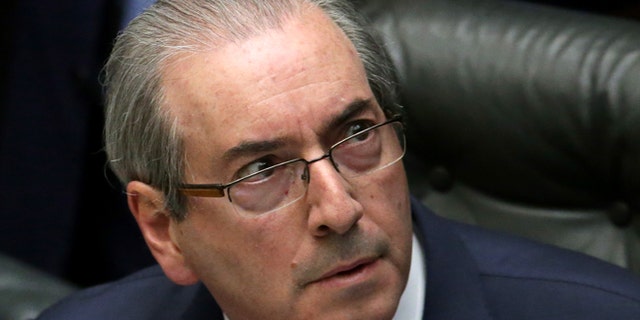 NEWYou can now listen to Fox News articles!
Brazil's top court on Thursday voted unanimously to suspend Chamber of Deputies Speaker Eduardo Cunha, one of the most powerful politicians in Brazil, amid accusations of corruption and obstruction of justice.
A nemesis of President Dilma Rousseff, Cunha began the impeachment case that now has the Senate considering whether to put her on trial.
Justice Teori Zavascki stripped Cunha of his duties early in the day, then the 10 other justices voted to back that move.
Cunha said at a news conference that he will appeal the decision and won't resign. He called the decision "strange" and "a political retaliation" for his opposition to Rousseff and her Worker's Party.
"It is obvious that there is a political process behind this," Cunha said. "But, God willing, we will end this next Wednesday. God willing the president will have to step away."
The Senate is scheduled to vote Wednesday on whether to put Rousseff on trial for possible removal from office, which would result in her suspension during the proceeding.
The Supreme Court's decision was based on a request made in December by chief prosecutor Rodrigo Janot.
Janot, who called Cunha "a criminal" in his accusation, alleges the speaker used his position to obstruct investigations against him involving corruption at state-run oil giant Petrobras and at the lower house's ethics committee.
Justice Luis Roberto Barroso said the decision to interfere in another branch of government was harsh, but needed. "I don't want to live in a different country. I want to live in a different Brazil," he said while casting his vote.
Outside the Supreme Court, fireworks erupted as the majority vote needed to suspend Cunha was reached.
Zavascki said that because the speaker is under investigation, he is unfit to be in line for the presidency should Rousseff be impeached.
If the Senate accepts charges against the embattled leader next week, Vice President Michel Temer, an ally of Cunha's, is set to take over. The speaker is next in line, but the Supreme Court's ruling prevents Cunha from filling in if needed.
Cunha has been leading the effort to oust Rousseff over allegations she used budget tricks to hide government deficits that have contributed to the worst recession in decades for Latin America's largest economy.
An impeachment measure passed overwhelmingly last month in the Chamber of Deputies, much thanks to Cunha's lead, and is now before the Senate.
The speaker's suspension has no direct impact on the vote, but Solicitor General José Eduardo Cardozo said he would cite it as the basis for a new appeal to the Supreme Court seeking to annul the impeachment process. Cardozo said he will argue that Cunha abused his office to seek revenge against adversaries, including Rousseff.
Speaking earlier at a dam inauguration in the Amazon state of Para, Rousseff called Cunha "shameless" for leading the impeachment process against her.
"Better late than never," she said of his suspension.
While the decision might have come too late for supporters of Rousseff and her Worker's Party, it's sure to be celebrated in many circles.
"Cunha is the only person that brings Brazil together" in shared contempt, said Francisco Fonseca, a political analyst at the Fundacao Getulio Vargas think tank.
A poll by the respected Datafolha institute in April found 77 percent of Brazilians wanted Cunha to step down or be stripped of his mandate. That was even more than the percentage of Brazilians who wanted to see Rousseff (61 percent) or Temer (58 percent) impeached.
A group of Cunha-allied lawmakers signed a letter of support saying the speaker's suspension caused "a great institutional crisis." But other legislators celebrated the suspension in a raucous session.
A few have started talking about Cunha's succession, since his deputy Waldir Maranhao is also accused of corruption.
Besides obstruction of justice charges, Cunha faces several corruption allegations. In March, prosecutors accused him of corruption and money laundering for his role in negotiating contracts for drill ships, including a payment of $5 million.
Swiss prosecutors say Cunha owned secret bank accounts at Julius Baer bank, which he has never declared to Brazilian officials. In December, those accounts had 2.4 million Swiss francs, according to local reports.
Brazilian investigators say they believe those funds are connected to corruption with a Petrobras oil field operation in Benin. Cunha has said the funds came from selling canned meat in African countries in the 1980s and he is only the beneficiary of the account, not its owner.
Brazilian investigators say Cunha also has held undeclared accounts in the United States since 1990, with funds of more than $20 million.
A senator-turned-government witness said Cunha and the Brazilian Democratic Movement Party were paid more than $10 million by BTG Pactual bank to get an executive order approved by the lower house.
In court testimony from a lobbyist who pleaded guilty in the case, Cunha is accused of being paid bribes worth more than $12 million from constructors Odebrecht, OAS and Carioca to renovate Rio's port area ahead of the Olympic Games.
Despite all these charges, Cunha managed to stall the Chamber of Deputies' ethics committee, which has not gone far in investigations against him.
Based on reporting by the Associated Press.
Like us on Facebook
Follow us on Twitter & Instagram