Boehner invites Netanyahu to address Congress on Iran, after Obama veto threat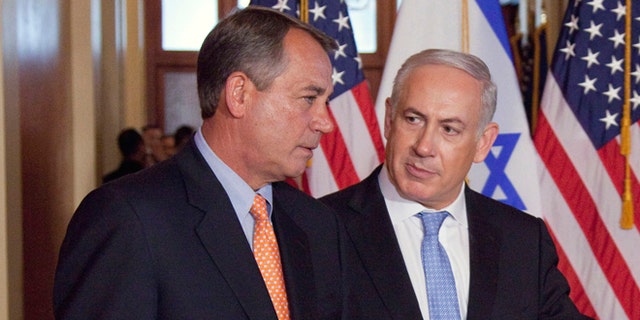 NEWYou can now listen to Fox News articles!
House Speaker John Boehner announced Wednesday he is inviting Israeli Prime Minister Benjamin Netanyahu to address Congress next month about the threat from Iran, in a sharp rebuke to President Obama.
Such invitations typically are coordinated with the White House and State Department, but this one was not. The House speaker's office said Netanyahu will be invited to speak Feb. 11 before a joint session of Congress. The invitation comes as lawmakers weigh legislation, supported by Republicans and some Democrats, to tee up more sanctions against Iran in case negotiations fail to curtail the country's nuclear enrichment program.
Obama vowed Tuesday during his State of the Union address to veto any such legislation. But Boehner signaled he wants Netanyahu to explain the stakes of the debate, as he pledged to press ahead with the legislation.
"Prime Minister Netanyahu is a great friend of our country, and this invitation carries with it our unwavering commitment to the security and well-being of his people," Boehner said in a statement. "In this time of challenge, I am asking the prime minister to address Congress on the grave threats radical Islam and Iran pose to our security and way of life."
Asked about the invite, White House Press Secretary Josh Earnest described it as a breach of typical protocol since the White House wasn't involved. But he said the administration would reserve judgment until they speak with the Israelis.
Critics of Obama and his foreign policy say the president has failed to keep close ties to Israel, a long-time U.S. ally and a key country in providing Middle East stability. Among their concerns is that the Obama administration has not done enough to curb Iran's suspected pursuit of a nuclear weapon.
In his State of the Union address, Obama warned that legislation setting new potential sanctions would "all but guarantee that diplomacy fails."
But Boehner told members of the GOP House Conference on Wednesday morning: "The president warned us not to move ahead with sanctions on Iran, a state sponsor of terror. His exact message to us was: 'Hold your fire.' He expects us to stand idly by and do nothing while he cuts a bad deal with Iran. Two words: 'Hell no'."
He said: "Let's send a clear message to the White House – and the world – about our commitment to Israel and our allies."
Aside from the sanctions bill, a Senate committee was considering a separate bill on Wednesday that would give Congress a vote on any nuclear deal.
The United States and five other world powers have reached a tentative deal with Iran. The countries are trying to reach a final deal by June 15.
If Netanyahu accepts the invitation, it would be his third appearance before a joint session of Congress and his second during Boehner's speakership.
His previous addresses were in July 1996 and May 2011. Other Israeli prime ministers to address Congress include Ehud Olmert, Shimon Peres and Yitzhak Rabin, according to Boehner's office.
Fox News' Mike Emanuel contributed to this report.