Boehner Facing Unrest in Caucus Over Payroll Tax Cut Deal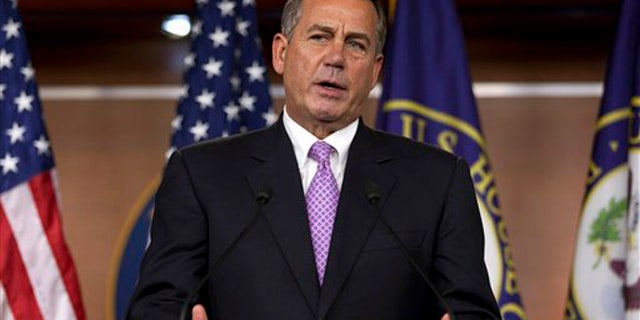 House Speaker John Boehner is facing the ire of his caucus after striking a deal over their heads to extend the payroll tax cut for two months.
But whether those complaints could imperil his speakership remains to be seen, as the veteran lawmaker and GOP leader projects the message that he did the best he could in tough political circumstances.
In striking the deal with Senate Democratic Leader Harry Reid, Boehner effectively acknowledged that House Republicans were in danger of taking the fall for a tax hike on Jan. 1. Ron Bonjean, a former top aide to ex-Speaker Dennis Hastert, credited Boehner with giving his members a chance to make their case but said he had to strike a balance.
"When their position became unsustainable, the speaker took a leadership position," Bonjean said.
Whether Boehner's members will see it that way is another matter.
After Boehner unveiled the last-minute deal with Republican rank-and-file late Thursday in a curt conference call, members were incensed.
"He may have a hard time keeping his speakership after this," one GOP lawmaker said. "He's got a big problem when he comes back."
Other members said they felt "hung out" by the party leadership, claiming Boehner cut a deal they could not support.
One source close to Boehner told Fox News in an email, "I fear he may be ousted in '12."
Republicans had wanted to reject the Senate's two-month extension bill and instead press for immediate negotiations on a yearlong package. Democrats wanted the House to accept the Senate-passed bill immediately and agree to negotiate on a longer package first thing in 2012.
For all intents and purposes, Democrats got their way.
The disappointment for House Republicans -- particularly freshman Tea Party-aligned Republicans -- follows a difficult year, one marked by mostly symbolic stands on everything from regulation to health care to spending and taxes. Tea Party leaders outside Washington had earlier raised questions about Boehner's leadership during the chaotic debt ceiling debate, though Republicans were able to extract cuts from that debate.
Still, Boehner's been in office for two decades and is nothing if not a survivor. He has managed to claw his way back into leadership after losing his GOP conference chairman post following the 1998 election.
While Boehner is taking heat from some rank-and-file members now, his friends probably number more than his enemies.
"I don't think he'll get challenged. I think he maintains a lot of goodwill in the caucus," Democratic strategist Dan Gerstein said.
Karl Rove, former adviser to former President George W. Bush, said the same.
"I think the speaker retains the enthusiastic support of the vast majority of the people in his caucus," Rove told Fox News. "And the people who ... in the last couple of days who have been upset with him are in no place to mount any kind of a coup or a leadership attempt."
Larry Sabato, director of the University of Virginia Center for Politics, also questioned whether the party as a whole would want anyone else in the speakership, suggesting Boehner projects a better, more practical and reasoned image for Republicans on Capitol Hill than would someone like GOP Leader Eric Cantor.
"They would be handing Democrats a mallet to beat them over the head with," Sabato said. "The more unfriendly the face of the House GOP caucus, the more Republicans will be playing into Obama's hand."
Sabato said he doubts Boehner would face a middle-of-his-term challenge, though a poor Republican showing in November 2012 could prompt one when his term is up.
"The instant (Cantor) knows he has the majority of the caucus, he will make a move," Sabato said.
House speakers and other congressional leaders typically lose their jobs over outside scandals or poor election performances. Former House Speaker Jim Wright resigned in 1989 over an ethics scandal. Former House GOP Leader Tom DeLay resigned over money laundering charges.
Former House Speaker Newt Gingrich resigned from leadership and the House after GOP losses in the 1998 elections.
Gingrich, though, was able to survive an earlier attempt by House Republicans including Boehner to push him out. That Boehner is now where he is despite his rocky history in the House is a testament to his staying power, Sabato said -- and a warning to those who might challenge him.
"I think they'd be wrong to underestimate him," Sabato said. "He came back after having been exiled."