Boehner Ends Debt-Limit Talks With White House, Turns to Senate Leaders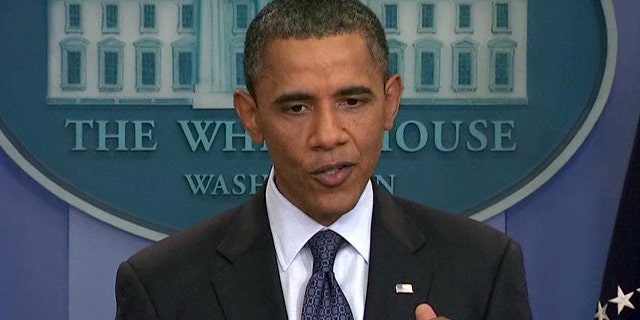 House Speaker John Boehner on Friday pulled out of negotiations with President Obama on raising the nation's legal limit to borrow money, just days before the Aug. 2 deadline when the Treasury says the government will no longer be able to pay all its bills and possibly faces its first-ever default.
"The White House moved the goal post," Boehner said Friday evening in a news conference, claiming that the talks broke down when the White House demanded an additional $400 billion in new revenues, on top of the $800 billion that had been agreed on -- "which was going to be nothing more than a tax increase on the American people," Boehner said.
"They refused to get serious about cutting spending and making the tough choices that are facing our country on entitlement reform," he added.
Boehner's comments followed Obama's comments at a hastily arranged news conference in the White House briefing room.
"It's hard to understand why Speaker Boehner would walk away from this deal," a visibly irritated Obama said. "This was an extraordinarily fair deal.
He said the White House offered more than $1 trillion in cuts to discretionary spending, both domestic and defense and $650 billion in cuts to Medicare, Medicaid and Social Security in exchange for $1.2 trillion in new revenues without increasing individual tax rates.
After informing the president in a phone call of his decision to walk away, Boehner sent a letter to lawmakers saying, "In the end, we couldn't connect. Not because of different personalities, but because of different visions for our country."
Boehner will now work with Senate leaders "to find a path forward," he wrote in the letter to lawmakers. But Obama said he wants to see congressional leaders at the White House Saturday to figure out how to avoid a government default.
"We have now run out of time," Obama said.
Boehner said he will attend that meeting, and added that he's "confident" they can "act next week and not jeopardize" the country's sterling credit rating.
If Congress fails to raise the debt limit, economists say it would be a financial disaster that could plunge the country back into recession.
According to a GOP leadership aide close to the talks, the sides were moving forward toward a total package that would cut $3 trillion to 3.5 trillion over a decade. It would have included an incremental increase in the $14.3 trillion debt ceiling now and force another one late next winter.
But the aide said a disagreement over revenues "blew this up."
When the bipartisan group of senators known as the "Gang of Six" released on Tuesday its deficit-reduction plan, which drew support from both political parties, including the White House, administration officials pulled back when the revenue numbers didn't match theirs.
There was a discussion about a potential trade of tax revenue for health care if spending targets weren't reached.
"There needed to be something on the other side of the ledger," the GOP aide told Fox News, adding that administration officials wanted to make this "onerous" if they were unable to reach the spending reduction goals, calling it "shared sacrifice."
Senate Republican leader Mitch McConnell said in a statement, "it's disappointing that the talks with the White House did not reach a favorable conclusion, and I appreciate the speaker insisting on reduced spending and opposing the president's call for higher taxes on American families and job creators."
"As I've said before, it's time now for the debate to move out of a room in the White House and on to the House and Senate floors, where we can debate the best approach to reducing the nation's unsustainable debt," McConnell said.
House Majority Leader Eric Cantor said in a statement that "Democrats' insistence on raising taxes on small businesses and working families" has stalled months of negotiations. But he expressed confidence the country will not default on its financial obligations.
"America will pay its bills and meet its obligations, and in coming days we will offer a path forward that meets the president's request for a debt limit increase, manages down the debt, and achieves serious spending cuts," he said.
But Democrats, of course, had a different take on the latest development.
"Republicans have once again proven unable to overcome their ideological opposition to ending taxpayer-funded giveaways for millionaires, corporate jet owners and oil companies," Senate Majority Leader Harry Reid said in a statement.
"I applaud President Obama for insisting that any deal to reduce our deficit be balanced between cuts and revenues," he added. "We must avert a default at all costs, so it is time to reengage in bipartisan talks on an agreement that at least accomplishes that goal."
House Democratic leader Nancy Pelosi said, "Our economy, our children's education, our seniors' security and our nation's fiscal soundness require that we act without further delay.
"We are prepared to compromise consistent with our values, but we will not accept a short-term extension that compromises our economic security," she said.
Fox News' Chad Pergram and Trish Turner contributed to this report.