Black Republicans Win First Congress Seats Since 2003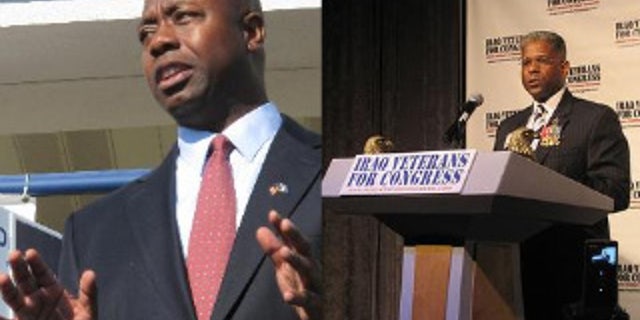 Two black Republican victories tonight mark the first time African-Americans will represent the GOP in Congress in seven years.
Retired Lt. Colonel Allen West's win in Florida's 22nd District and South Carolina State Rep. Tim Scott's victory in that state's 1st Congressional District is also the first time two black GOP members will serve in Congress since 1996.
Scott defeated Democrat Ben Frasier in an open contest to replace retiring Republican Rep. Henry Brown to the first black GOP in Congress since former Oklahoma Congressman J.C. Watts retired in 2003.
West defeated incumbent Democratic Rep. Ron Klein shortly after Scott's victory Tuesday. It was West's second contest against Klein, losing to the incumbent in 2008.
Watts, elected to office in 1994's sweeping GOP congressional gains, became the lone black Republican Member when former Congressman Gary Franks of Connecticut lost reelection in 1996, and Watts held the helm for three more terms before deciding not to seek reelection in 2002.
Watts notably did not join the Congressional Black Caucus given its overly Democratic leanings, and he balked at the suggestion among racial peers that he sold out his race. In 1997 the congressman famously denounced black leaders with archaic agendas, dismissing them as "race-hustling poverty pimps" on Fox News's "Hannity and Colmes."
An Atlanta native, West served in the Army for 22 years, including tours of duty in both Iraq wars and in Afghanistan. His campaign platform, "Restoring American Exceptionalism," echoed this election cycle's popular conservative sentiments of limited government, creating a business-friendly tax environment, and extending the Bush era tax cuts.
Scott hails from South Carolina and served the state in local office for 15 years. Scott's agenda reflects many of the same views, including strengthening the borders against illegal immigration and focusing our military efforts to defeat violent Jihad.
Both men won tonight despite historically low black participation in the GOP and constant efforts by the left to discredit conservative movements like the Tea Party as racist. But the Republican Party had 14 viable candidates in House races this cycle, and the party intensified its outreach efforts to the black community this cycle.
"The people have spoken clearly, it is now time to restore honor, integrity and character to Washington," West said in a statement released shortly after midnight Wednesday. "This seat once again belongs to the people."