Black Leaders Chide Obama White House, 'Right-Wing Press'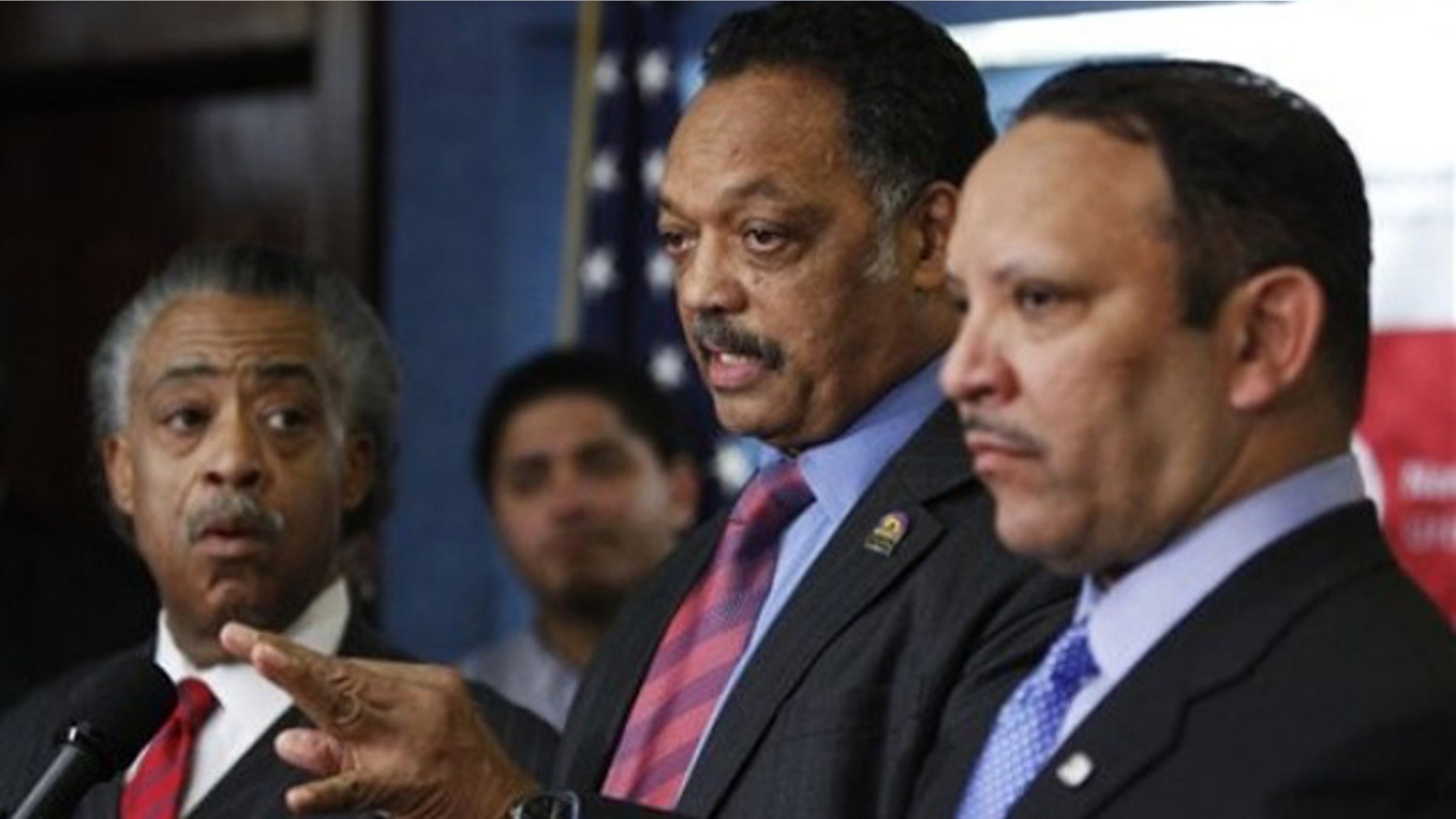 WASHINGTON -- Aging heroes of the civil rights movement and younger African-American leaders on Wednesday offered differing views of the challenges most urgently confronting black America -- with some calling for a continued push to reform the U.S. criminal justice system and others emphasizing economic achievement.
At the annual conference of the National Urban League, which turns 100 this year, the group's president, Marc H. Morial, challenged the notion that the country should be entering a "post-racial" period.
"I would ask: Is the objective a post-racial America? Or is the objective a multi-racial America that is post-racist?" Morial said.
Decrying inequities in the status of black men as measured against whites, the Rev. Jesse Jackson also pointed out the dire straits of federal and state budgets.
"They're cutting back on public transportation," Jackson said during a morning panel discussion, "cutting back on public housing, cutting back on public ed[ucation]; and the result is [we] have built the largest jail-industrial complex in the world, of which 55 percent [of the inmate population] are black. To me that's the heart of the civil rights struggle."
But Andrew Young, the former mayor of Atlanta and U.N. ambassador, shifted the emphasis to financial improvements for black America.
"We have to hold on to the politics, hold on to the judiciary," Young said during the panel, "but if we don't understand some of the economics, we'll lose them both."
Vernon Jordan, who served as League president for 11 years until 1982 and is now its elder statesman, noted in his keynote address the rise of a formidable black middle class.
"Black buying power in 2008 was $913 billion, and is projected to reach $1 trillion in three short years," he said, before adding: "Today more black men are in jail than in college….Go back to the 1980 Census and you will find that there were three times as many black men in college as there were in prison; but by the 2000 Census it had flipped."
For these reasons, Jordan invoked Charles Dickens in asserting that for black America, these are the best of times and the worst of times.
He noted that in 1970, fewer than 1,500 blacks held public office, a figure that now exceeds 10,000.
"Black men and women are chairmen and CEOs of huge multinational corporations and presidents of major colleges and universities," Jordan said. "[They] serve as corporate directors and [in] significant management positions. We have had two black national security advisors who served as secretaries of state. We have served in the Cabinet at HUD, HEW, Transportation, Commerce, and Labor. Three blacks have been ambassadors to the United Nations. We have had three blacks on the Federal Reserve Board and two on the Supreme Court. We have today a black attorney general, appointed by a black president. Almost every door that was once closed to black Americans is now open."
For all that progress, however, Jordan cited the fact that black unemployment stands over 15 percent - well over the national rate of 9.5 percent -- as evidence of how much the black community must still do to achieve its goals.
"Black people still -- in 2010 -- have to go to work earlier, stay later, work twice as hard, to stay even," he said, adding to laughter and applause: "Don't complain about it; don't file a lawsuit; just do it!"
For many at the conference, a focal point was the controversy involving Shirley Sherrod, the former Agriculture Department official whose dismissal last week, over remarks misconstrued as racist, earned her an apology from President Obama.
Rep. Kendrick Meek, D-Fla., said he was "proud…that Ms. Sherrod was the chosen one" to lead a national dialogue on race. Meek also praised the octogenarian land owner, Roger Spooner, who vouched for Sherrod's character.
"To then have this white farmer, a veteran in the South, sitting on a couch with his wife, saying if it wasn't for [Sherrod] -- not the USDA, but if it wasn't for her -- we wouldn't have our farm today, that's education, ladies and gentlemen," he said.
For Rep. Maxine Waters, D-Calif., however, the Sherrod affair held dramatically different meaning. She appeared to fault the Obama White House -- which maintains it played no role in Sherrod's firing -- for mishandling the incident due to excessive racial sensitivity.
"They responded to a video that was done by the enemy, the same enemy that just killed the ACORN," Waters said during the panel discussion, referring to conservative activist Andrew Breitbart, who initially posted the edited video on his website.
"We have to say to folks in leadership, whether it is the White House or anybody else: 'Don't be so afraid of white folks that you treat black people bad,'" she said. "Whether it is the White House or the NAACP, you cannot live in the moment of responding to the right-wing press, who is using that platform to literally do their organizing, to intimidate you and basically run this country!"
Addressing directly the "enemy" that she said confronts black America, Waters, a 10-term lawmaker known for her colorful outbursts, shouted: "Bring it on! Bring it on!"
Noted scholar Cornel West chided Obama for paying more attention to Wall Street than black Americans on the streets.
"Just as you're devoted to rescuing investment bankers," West said during an afternoon panel discussion, "you ought to be interested to rescuing Lateesha, Jamal, and the others." He added a spirited nod: "Mr. President, love your brother!"
Later, after remarks by the Rev. Al Sharpton, West returned to the theme that Obama must do more to help African-Americans, and included a cautionary note about the chief executive's electoral fortunes.
"His shine is only going to last as long as folk on the ground believe that he's doing something," West said. "And as the conditions get worse, their belief in his capacity to do something will wane, no matter what we do, because the conditions are real. It hurts."