Bill Clinton Rallies Behind Democrat Alex Sink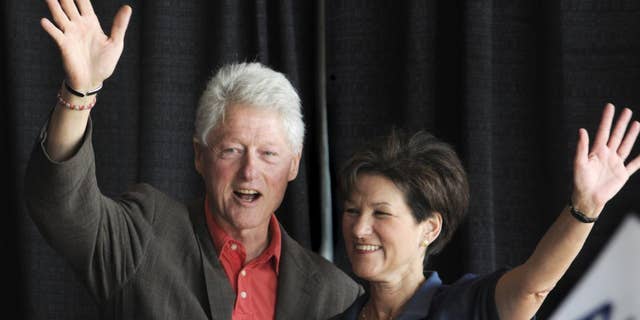 Miami, Fla. - Former President Bill Clinton urged Florida college students to vote for the Democrat for governor because her business background would produce jobs in a state that has seen double-digit unemployment numbers.
"She is the only person with an economic plan," Clinton said of Alex Sink to the predominantly student-filled crowd at Miami-Dade community college. "If you want more jobs in Florida, you have to vote for Alex Sink for Governor."
Sink is locked in a tight slugfest of a race with Republican Rick Scott. The latest Real Clear Politics average of recent polls show Sink, the state's chief financial officer, just barely leading Scott, the former head of a private hospital chain, by 1 point and within the margin of error.
"The other fellow's campaign is a name calling contest paid for by 70 million dollars," Clinton said of Scott, who has invested tens of millions of his own money and has tried to frame Sink as a liberal extremist in political ads. "He's spending a fortune telling you she's an Obama liberal."
"Don't believe the attacks on her," Clinton added."(Scott's campaign) is a name calling contest hoping people won't think, and hoping that you won't hear and won't vote," Clinton told the students in downtown Miami. "On election day, I want you to show Mr. Scott that you were paying attention."
Clinton has spent several days in Florida, an important battleground state in 2012.
He spent two days campaigning for Rep. Kendrick Meek, the Democratic candidate battling against Republican Marco Rubio and independent Gov. Charlie Crist for the open U.S. Senate seat.
"Appearances with high-level Democrats like Clinton only serve to remind Florida's voters of the failed economic policies of the Obama-Pelosi liberal agenda," Rachel Bauer Taylor, the Republican National Committee's press secretary for Florida said in an email. "Voters are fed up with Democrats leading our country, our economy, and the state of Florida in the wrong direction, and Obama-liberal Alex Sink is going to hear that message loud and clear come Nov. 2."
Clinton has been a political rock star, of sorts, for Democrats in the 2010 election cycle. He has crisscrossed the country campaigning, generating large crowds for his party's candidates, many who are trying to overcome what political analysts are predicting to be a banner year for Republicans.
The Cook Political Reports current outlook has Republicans gaining at least 40 seats in the House alone and predicts as much as an eight-seat net gain in governor's races.
Fox7/WSVN contributed to this report