Bernie Sanders' young Latino supporters still skeptical of Hillary Clinton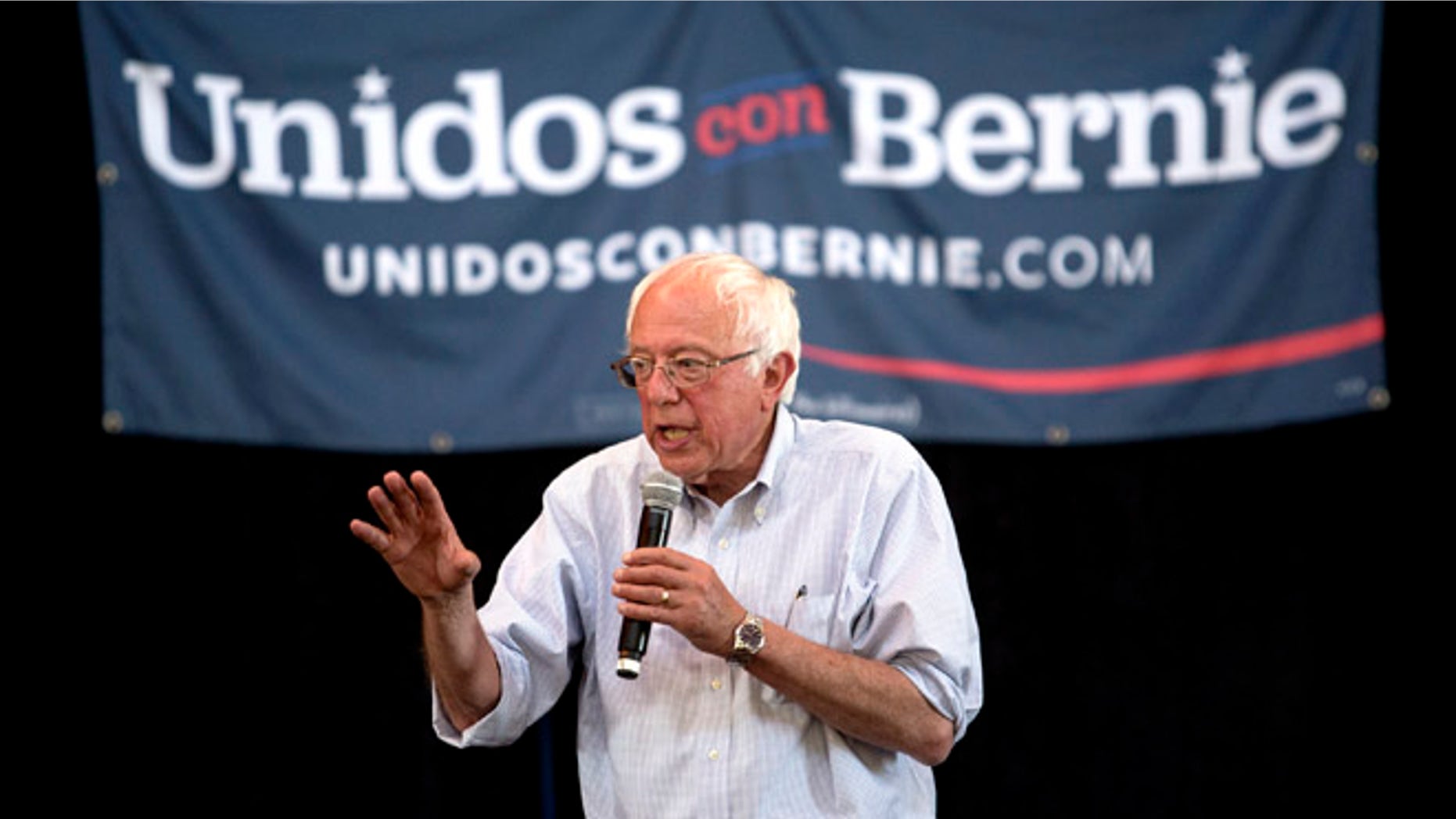 Up until last fall, Richard Aviña did not consider himself a particularly political person.
Disillusioned by what he called "a corrupt political system," the 24-year-old Los Angeles native felt like his concerns were not being addressed by lawmakers in the Washington Beltway and he saw no candidate in the presidential race who spoke to what mattered most to him.
That all changed, however, after Aviña saw a video on Facebook of Vermont Sen. Bernie Sanders.
"I saw a political system that was not working for the people," Aviña told Fox News Latino. "And then I saw a video of Sanders giving a speech and it resonated with me."
Aviña added: "His ideals just feel in line with mine."
Aviña - who quickly joined up with the Sanders campaign and has become, as one campaign staffer said, "one of our super volunteers in East L.A." – is part of a large contingent of young, politically active, Latino voters who have felt the Bern and helped make the Vermont lawmaker a household name this election season.
But with former Secretary of State Hilary Clinton accepting the title as the presumptive Democratic nominee after her big wins earlier this week in California and New Jersey, Aviña now becomes part of a key demographic that Clinton must win over as she heads toward a general election battle against Donald Trump.
Hillary Clinton has a lot of ways to solve the problem with younger Latinos by November. Donald Trump does not.
"They're feeling the sting," Joe Trippi, a longtime Democratic strategist who managed Howard Dean's 2004 presidential campaign, told FNL of Sanders' young, Latino supporters. "Clinton can't just rely on them to now vote for her in November. She has some work to do to win them over."
In the 2008 Democratic primary, Clinton fared well with Latinos – with Hispanics voting for Clinton by a margin of nearly two-to-one over Barack Obama, according to the Pew Hispanic Center. But this around, Clinton is struggling with that same core group of voters.
A recent poll from Fox News Latino found that while both Democratic candidates would easily beat Trump in a head-to-head match-up for the Latino vote, Sanders got the support of 73 percent of Latino millennials to Trump's 21 percent. Clinton only grabbed 61 percent with the group against the presumptive Republican nominee.
This data follows another poll by Latino Decisions, a firm that does work for the Clinton campaign, which found that young Latinos by margins of two-to-one see Sanders more pro-immigrant than Clinton and are more likely to vote for him because of his immigration stance.
"Hillary Clinton is not someone I would support even if she is the nominee," Giancarlo Tello, an undocumented immigrant and Sanders' supporter who just graduated from Rutgers University told FNL. "I don't trust her. She represents what people distrust in American politics."
Both Tello and Aviña stated Clinton's flip-flopping stance on deporting children as a major reason for their distrust in her candidacy and said that the former secretary of state is motivated by politics, not ideals. In January, during a Democratic forum, she defended the administration's stance on deporting children. During a debate two months later, she told moderator Jorge Ramos, an anchor for Univision, that she would not deport children or family members.
"She has never been consistent with how she stands on certain topics," Aviña said. "She's just about the politics."
Clinton may a have a tough road to climb if she hopes to win over fervent Sanders' supporters, but she has one person who could really help her with that effort: Donald Trump.
While some have argued for a third party candidate or for writing in Sanders or sitting out this election cycle, experts seem to agree that if it comes down to a battle for the presidency between Clinton and Trump, supporters of the Vermont senator would be more apt for keeping the boisterous businessman out of the White House than they would of denying Clinton the win.
Trump's hardline immigration stance – calling for the deportation of all undocumented immigrants and proposing a massive wall along with the U.S.-Mexico border – and his recent comments about a federal judge's Mexican-American heritage have soured many Latinos feelings toward the GOP and made the party's attempt to reach Latino voters more difficult.
"If there was a [Florida Sen. Marco] Rubio or a [former Florida Gov. Jeb] Bush in the race it would be a different story," Trippi said. "But Trump actually helps the Democrats with Latinos."
And, he said, Clinton has time to smooth over ruffled feathers.
"Hillary Clinton has a lot of ways to solve the problem with younger Latinos by November," he added. "Donald Trump does not."
Trump may be help Clinton in wooing young Latinos, but that doesn't mean she's going to win them over so easily.
Case-in-point being Aviña.
"I don't see any difference between Trump and Clinton."