Benetton Backpedals Over Ads Featuring World Leaders Kissing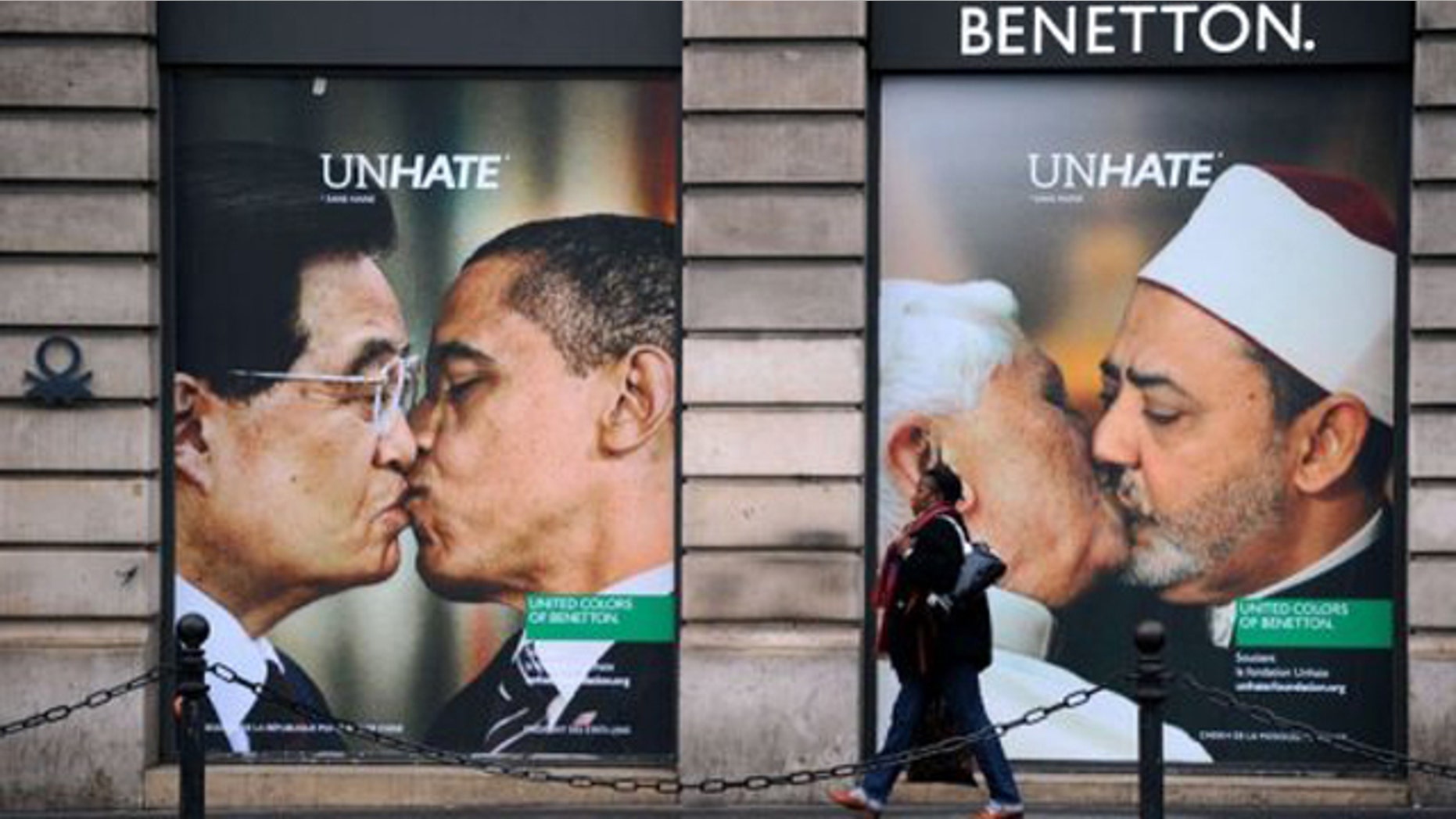 Italian fashion company Benetton is backpedaling after launching an ad campaign that showed world leaders, including the pope and an imam, kissing one another -- and not on the cheek.
The company had to quickly take down an ad featuring a fake photo of Pope Benedict XVI kissing a top Egyptian imam on the lips after the Vatican denounced it as an unacceptable provocation.
That wasn't the only startling image in the campaign. One showed President Obama in a lip-lock with Venezuela's Hugo Chavez; another showed Israeli Prime Minister Benjamin Netanyahu and Palestinian President Mahmoud Abbas smooching; another showed Obama kissing Chinese President Hu Jintao.
Benetton says its campaign, which launched Wednesday, is aimed at fostering tolerance and "global love."
But the photo of the pope kissing Sheik Ahmed el-Tayeb of Cairo's al-Azhar Institute, the pre-eminent theological school of Sunni Islam, was pulled about an hour after the Vatican's protest.
Al-Azhar suspended interfaith talks with the Vatican earlier this year after Benedict called for greater protections for Egypt's minority Christians.
A Benetton spokesman confirmed that the pope-imam ad was no longer part of the campaign. But the rest of the ad campaign remains in doubt.
A White House spokesman told Reuters that it has a "longstanding policy disapproving of the use of the president's name and likeness for commercial purposes."
With the president traveling abroad in Australia and Indonesia, the campaign might make things a bit uncomfortable.
Cynthia Lett, executive director of the International Society of Protocol & Etiquette Professionals, called the campaign "incredibly disrespectful."
"This is not how leaders of countries interact with one another," she said. "That would make every leader of every country furious at the least."
Lett said the ads could reflect an environment where world leaders and the offices they hold are not afforded the respect they deserve. She speculated Obama might have to find a delicate and humorous way to address the controversy while abroad.
"While we get along well, I don't think it has come to this yet," she said, as an example of what Obama could say.
Dr. Keith Ablow, a Fox News contributor, questioned the ad campaign, suggesting it was trying to "change our collective psyches" so that "sex and narcissism" somehow represent freedom.
"The only psychological interpretation of these images that makes sense is that corporate leaders at Benetton have decided that it is acceptable to suggest that the best route to world peace would be if the Pope and our President were to have homosexual, erotic relationships with world leaders," he said. "This is meant to be an assault on organized religion and on heterosexuality, and it is being perceived and felt as such."
It wasn't clear if the pope-imam ad had been published anywhere; on Wednesday images from the campaign were unfurled briefly in Milan, New York, Paris, Tel Aviv and Rome but were quickly taken away.
Vatican spokesman the Rev. Federico Lombardi called the ad an "unacceptable" manipulation of the pope's likeness that offended the religious sentiments of the faithful.
"It shows a serious lack of respect for the pope," Lombardi said in a statement that warned that the Vatican was studying measures to protect the pontiff's image.
Shock ads have long been a part of Benetton's publicity strategy, with photographer Oliviero Toscani's famous campaigns featuring death row inmates and people dying of AIDS.
Benetton said the photos of political and religious leaders kissing were "symbolic images of reconciliation -- with a touch of ironic hope and constructive provocation -- to stimulate reflection on how politics, faith and ideas, when they are divergent and mutually opposed, must still lead to dialogue and mediation."
In a statement, the Treviso, Italy-based clothing manufacturer said it was sorry that its image had offended the faithful and that as a result "we have decided with immediate effect to withdraw this image from every publication."
The Associated Press contributed to this report.