Ben Carson praises Alabama Senate candidate Roy Moore in apparent break with Trump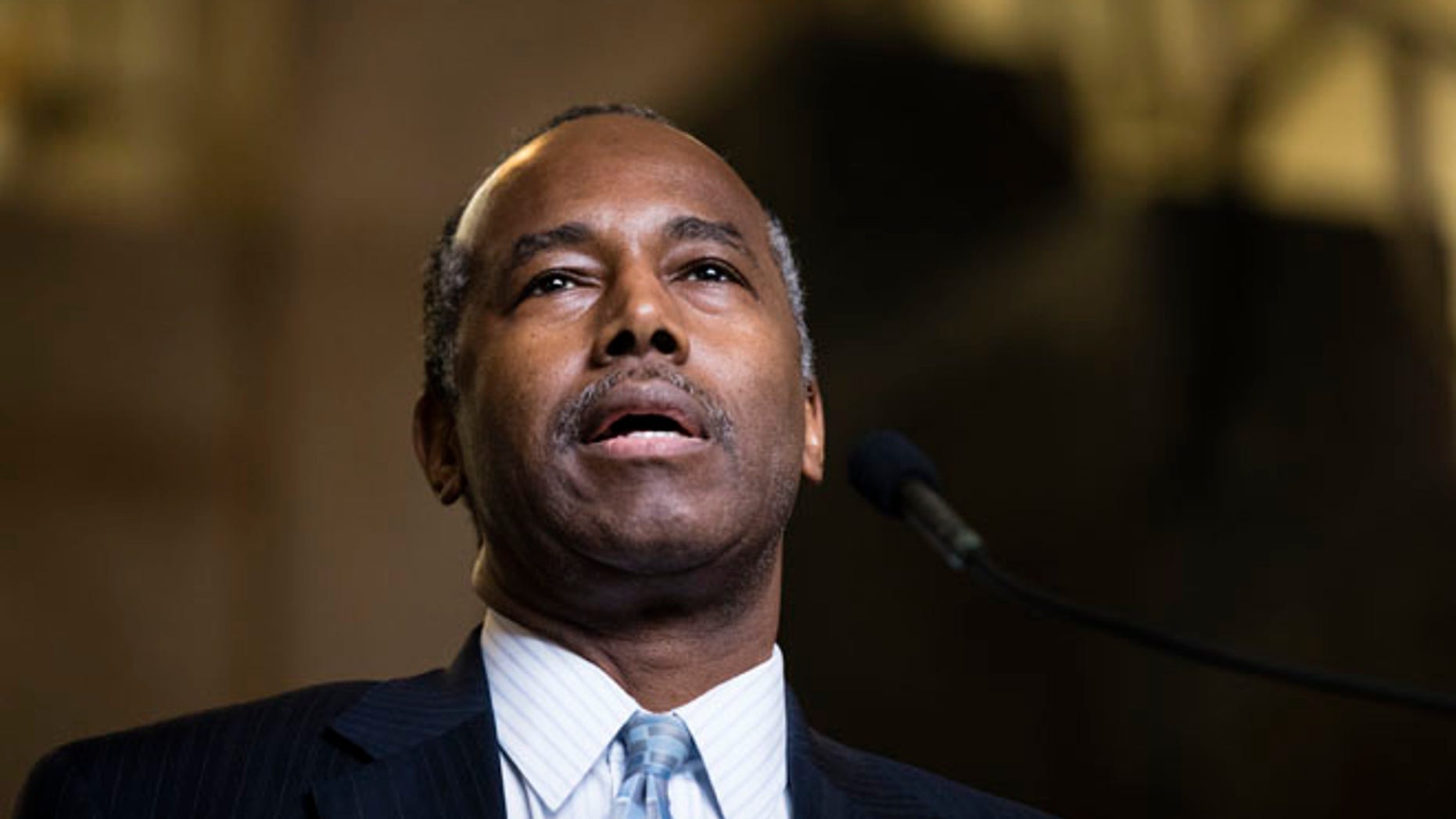 Dr. Ben Carson, secretary of the Department of Housing and Urban Development, on Friday praised Alabama Senate candidate Roy Moore in the state's contentious runoff, an apparent break with the president who is backing another candidate.
"Judge Moore is a fine man of proven character and integrity, who I have come to respect over the years," Carson said in the statement released by the Moore campaign. "I was delighted to hear he is running for the U.S. Senate. He is truly someone who reflects the Judeo-Christian values that were so important to the establishment of our country."
Carson added: "It is these values that we must return to in order to make America great again. I wish him well and hope everyone will make sure they vote on Tuesday."
REPUBLICANS SPAR IN ALABAMA SENATE DEBATE OVER TRUMP'S ENDORSEMENT OF INCUMBENT
It was released just hours before President Trump was set to take stage in Huntsville for a rally in support of the other Republican in the race, incumbent Sen. Luther Strange, who was appointed to the post when Jeff Sessions stepped down to become the U.S. attorney general.
Despite Trump's endorsement, some of the president's usual allies, including former senior adviser Steve Bannon, are supporting Moore. Former Alaska Gov. Sarah Palin headlined a post-debate rally for Moore after Thursday's debate.
Moore, Alabama's former Supreme Court justice, has been polling ahead of Strange, who is favored by Senate majority leader Mitch McConnell. The runoff takes place Tuesday.
It's uncommon for Cabinet officials to wade into political races, as the Hatch Act limits political activities of federal employees.
According to the U.S. Office of Special Counsel, federal employees are not allowed to engage in political activity while on duty, in the workplace or in any official capacity.
Carson's statement was carefully worded and did not identify Carson as a Cabinet secretary, but rather as a doctor. It also did not claim to be an endorsement.
In 2012, Health and Human Services Secretary Kathleen Sebelius was found to have been in violation of the Hatch Act after the Office of Special Counsel determined that she made "extemporaneous partisan remarks" during a speech. The speech had come during an official trip.