Barbara Bush Recalls Miscarriage Differently than Son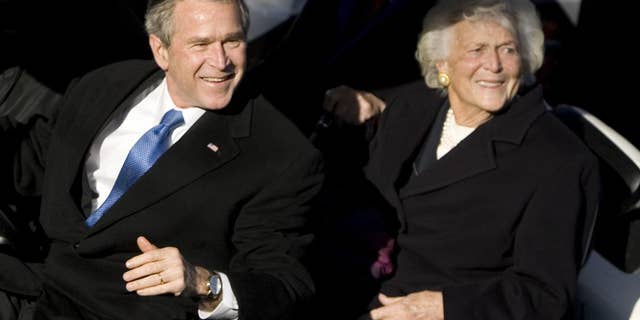 Former President George W. Bush recalls his mother showing him a jar containing the remains of her miscarried fetus as a formative moment in his memoir "Decision Points," released earlier this month. But Barbara Bush on Monday night had a few distinctions to share about the story.
"It's not in the library," the elder Mrs. Bush said with a chuckle when asked about the jar anecdote in an interview with CNN's Larry King alongside her husband.
In his memoir, the former president recounts driving his mother to the hospital after she miscarried, the remains enclosed in a jar for transport. He has said he included the painful moment from his teenage years in the memoir to show how his relationship with his mother developed, and that she gave him special permission to write about it.
Mrs. Bush did not dispute how the story came to be included in her son's book. "He asked permission, and I gave him permission," she said. But the often frank matriarch of the Bush family said she did not recall showing her son the jar, as he remembered. "Paula put it in a jar, and I was shocked when she gave it to him," she said.
The former first lady did not provide more details about Paula's identity. The Bushes had a daughter, Pauline, nicknamed "Robin," who died of leukemia at the age of three, but Larry King did not press Mrs. Bush to continue the story.
"I think he was trying to say that he and I have a very special relationship," she said of her son. "We tease all the time, and that's not very nice of me, but - you know, you've got to tease a little bit. And he teases me unmercifully. But we're very close."
In the interview, the Bushes also touched on how rumors of a rift between the elder Bush and his son drove them "crazy," and expressed approval of their son's memoir. "I loved the book," Mrs. Bush said. "I thought it was very frank. And he's not trying to write a biography...he's trying to tell how it is in the White House."