Bachmann Memoir Assails Bush's Embrace of 'Socialism'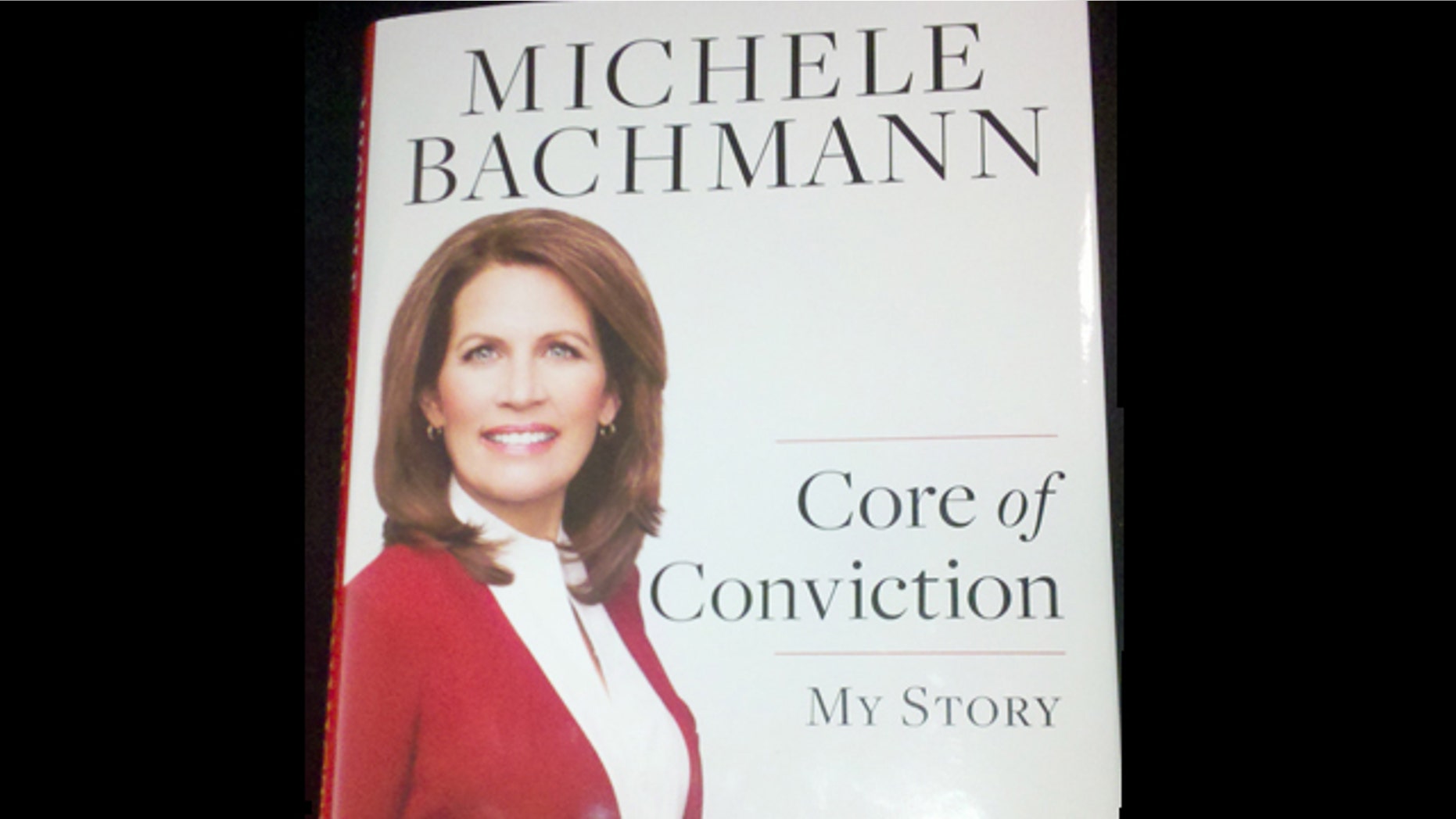 A new memoir to be published later this month by Republican presidential candidate Michele Bachmann faults President George W. Bush for having come to embrace, late in his second term in the White House, "a kind of 'bailout socialism.'"
The Minnesota congresswoman's portrait of Bush, which is otherwise reverential, appears in "Core of Conviction: My Story," which is set to be published by Sentinel, a division of Penguin Books, on Nov. 21. Fox News obtained a copy in advance of the publication date at a Washington bookstore.
In a chapter entitled "A Rebel in Speaker Pelosi's Congress," Bachmann recounts her opposition to the Troubled Asset Relief Program, or TARP, which President Bush signed into law in October 2008. The highly controversial $700 billion measure was enacted in response to the financial crisis brought on by faulty mortgages and securities, and encompassed a bailout of selected major financial institutions. (By October 2011, roughly $245 billion had been disbursed to banks, and roughly $258 billion in principal and interest had been recouped, for a $12.6 billion profit for taxpayers.)
"The Bush administration, which had always professed faith in the free-market system, was now reversing its course," Bachmann wrote, adding that the president and Treasury Secretary Hank Paulson were "embracing a kind of 'bailout socialism.'"
She adds that it was "painful" for her when she learned that Arizona Sen. John McCain, the 2008 Republican presidential nominee, also supported the measure, and "disappointing" when then-House Minority Leader Rep. John Boehner of Ohio followed suit.
"I believe that had McCain opposed the bailout -- if he had made a clean break, opposing Paulson and standing for principle at that crucial moment -- he could have changed the 2008 election," Bachmann wrote.
Earlier, recalling how Bush and Vice President Dick Cheney stumped for her in Minnesota in 2006, during her first campaign for Congress, Bachmann describes Bush as "an eminently decent man ... a good listener ... kind, affable, the opposite of egocentric."
Hewing to her mother's advice to appear "ladylike" in public, Bachmann had donned a pink suit and pink gloves. At one point along their campaign route, the 43rd president asked Bachmann, "with a crinkly smile," why she was wearing gloves. After she explained, Bush said gently: "Lose the gloves."
Bachmann also recalled the president telling her of the decision thrust upon him by his wife, Laura, years before: "It's either Jack Daniels or me."
Her memories of Cheney are not as personal. "The vice president, of course, is no backslapper," she wrote, noting that he carries a "serious demeanor." Cheney "wasn't (in Minnesota) to win a warm-and-fuzzy contest, but he won my respect."
Bachmann also recalls getting to know "the charming and charismatic" Sarah Palin during the 2008 election season. During a meeting in Alaska that summer, arranged as part of a GOP congressional trip to the state, the two women found they had much in common: devout Christian faith, five biological children each, and their political careers.
Yet when Bachmann speculated that McCain might select Palin to be his running mate, Palin dismissed the idea: "Oh, that's not going to happen."
Of Boehner, the GOP congressional leader whose will she has sometimes bucked with her votes, Bachmann remembers him coming to St. Cloud to campaign for her in 2006.
"As he lit up a cigarette on the porch," she wrote, "I suddenly realized who he reminded me of -- the TV singer and movie star Dean Martin!"
Elsewhere the three-term Republican castigates President Obama for presiding over a "gangster government" marked by "Beltway arrogance, economic incompetence, and ... the self-indulgence of the ruling class." She accuses the Obama administration of launching a "wide-ranging assault on our constitutional system" of government and driving America towards a "third world lifestyle."
Writing about the battle over the $787 stimulus program the president signed into law in February 2009, Bachmann argues the president and his advisers cared less about the ultimate uses of the money than about its systematic disbursement.
"Those in the Obama administration didn't care where the stimulus money was going," she wrote, adding, "what really mattered was spreading money to their friends and political allies -- the big-city liberal mayors, the Saul Alinksy nostalgists, the ACORN activists, the taxpayer-subsidy-dependent green-jobs propagandists, and all the other moochers, hustlers and rent seekers demanding 'a place at the table' when liberals control the White House."
The book's chronology continues into the current campaign, but becomes noticeably more vague in its account of these most recent days. Bachmann recounts at some length her declaration speech in her native Waterloo, Iowa, but omits any mention of her gaffe that day -- when she mistakenly asserted the town to be the birthplace of actor John Wayne. Nor is there any mention of Bachmann's ill-conceived effort to wish Elvis Presley a happy birthday on Aug. 16 -- the day the King of Rock and Roll actually died, in 1977.
And although she does not mention GOP frontrunner Mitt Romney by name, Bachmann warns obliquely, near her book's end, that Republican primary voters can cast a ballot for Romney only at their own peril.
"I believe that a conventional, play-it-safe campaign will ensure that America has to endure another four years of Barack Obama and his wrecking-crew policies, Bachmann wrote. "If the Republican presidential nominee fails to energize key constituencies, or worse, if the nominee is seen as insincere, he will lose."
Although she won the Ames, Iowa, straw poll in mid-August, Bachmann has since struggled in public opinion polls. The most recent average of major, reputable polls compiled by the website RealClearPolitics.com shows Bachmann commanding only 3.6 percent of the GOP primary electorate.