Author Provides Evidence of 'Hostile' Workplace Claim in White House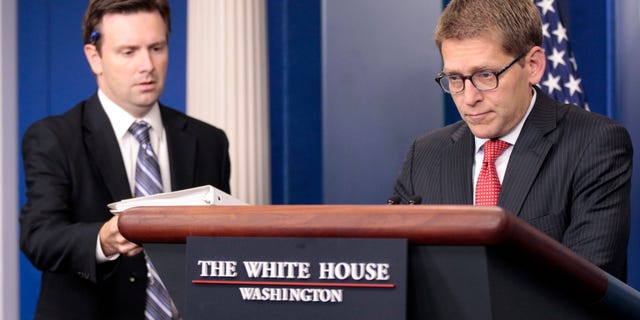 The author of an explosive new book offering an inside account of the Obama presidency is fighting back against charges that he plagiarized material and falsely accused the White House of creating a "hostile" work environment for women.
Pulitzer Prize-winning author Ron Suskind's book, "Confidence Men: Wall Street, Washington, and The Education of A President," was released Tuesday amid a firestorm of controversy over the depiction of a dysfunctional White House fueled by testosterone at the expense of top female advisers who said they felt outgunned at meetings and excluded from key conversations.
On Tuesday, Suskind described the book as "solid as a brick."
"The book was pushed through with great effort and the fact is, is that this book, like all the books that I've written, is densely sourced and the analysis is picture-perfect," Suskind told NBC's "Today" show.
According to a Washington Post account of the book, former White House communications director Anita Dunn is quoted as saying, "This place would be in court for a hostile workplace. Because it actually fits all of the classic legal requirements for a genuinely hostile workplace to women."
But Dunn, who is married to former White House counsel Bob Bauer, told the newspaper in an interview on Friday that she told Suskind "point blank" that the White House "was not a hostile environment."
"The president is someone who when he goes home at night he goes home to a house full of very strong women," she said. "He values having strong women around him."
But Suskind allowed a Post reporter to listen to a recorded excerpt of the original interview, which occurred via telephone in April, that includes Dunn's "hostile" remark.
"With Anita, The Washington Post this morning confirms the quote," Suskind said. "I had to do something that I've never done before, but I said it's a special occasion, which is I let The Washington Post listen to the tape. "They're like, there it is clear as a bell."
Dunn made the comment as she recounted for Suskind a conversation she had with senior White House adviser Valerie Jarrett, the newspaper reported.
Jarrett told the newspaper in an interview on Monday that senior female aides had grown so frustrated about their treatment in the White House that she requested Obama reassure them that he appreciated their roles and contributions.
The urging came after the president held a dinner with several of the senior females aides in November 2009 at which they directly aired their grievances, Jarrett said. She said she urged Obama to promote more women into senior White House positions, recognize them more during staff meetings and increase their ranks in the upper echelons of the re-election campaign.
"There were some issues early on with women feeling as though they hadn't figured out what their role was going to be on the senior team at the White House," Jarrett told the newspaper. "Most of the women hadn't worked on the campaign, and so they didn't have a personal relationship with the president."
Outgoing White House deputy communications director Jen Psaki, who has worked for Obama since 2007, defended the president's treatment of women.
"The big secret is there is an incredible bond between the senior women in the White House and there is no bigger advocate for having more women in senior positions and at the table than the president," she told Fox News on Tuesday.
"These are women who I have had the pleasure of getting to know and across the board they see themselves as policy makers, communicators and problem solvers first -- but they also take pride in being women in high pressure, high demand and high stakes jobs," she said.
Although Jarrett acknowledged the Obama White House had a problem with women, White House spokesman Jay Carney still questioned the accuracy of the book overall.
"What we know is that very simply things, fact that could be ascertained, dates, titles, statistics, quotes are wrong in this book," he said on Monday, charging that one passage appeared to be lifted from Wikipeida.
"I think, based on that, I would caution anyone to assume that, if you can't get those things right, that you suddenly get the broader analysis right," he said. "That analysis is wrong."
Carney acknowledged he has yet to read the book.
According to the Post, which got an advanced copy of the book, White House advisers were also divided over how large a stimulus was necessary to revive the economy and how aggressively to deal with financial institutions that had become "too big to fail."
Larry Summers, former chairman of the National Economy Council, is quoted as lamenting that he and others felt "home alone" and that mistakes made under Obama would not have happened under President Clinton, for whom Summers also served. Interviewed by Suskind, Summers initially denied making such comments, then acknowledged them, saying he was frustrated at having "five issues" of major importance to deal with at once and not "five times as many" officials to handle them.
The book also claims that Treasury Secretary Timothy Geithner ignored Obama's order in March 2009 to consider breaking up banking giant Citigroup, while continuing stress tests on banks, which were weighed down with toxic mortgage assets.
In the book, Geithner rejected allegations contained in White House documents that his department had been slow to enact the president's plans.
"I don't slow walk the president on anything," Geithner told Suskind. On Monday, he added that Suskind's descriptions are false.
"I lived the original, and the reality I lived, we all lived together, bears no relation to the sad little stories I heard reported from that book," he said.
Former White House economics adviser Austan Goolsbee backed up Geithner on Tuesday, calling the claim "just factually wrong." Appearing on CBS' "The Early Show," Goolsbee said the allegation is "ridiculous."
Goolsbee added that "nobody was talking about dissolving anyone." He also said that when Obama directed aides to take action, "they'd do it."
But Suskind told "Today" that the individuals named in the book were given a chance to respond before it went to print.
"Everyone in the White House was confronted with this early, they responded in the book, and this is really a portrait, a first portrait of this White House and this president. When this happens, when the curtain is pulled back they often respond vigorously. They are, and I think that's testimony to the fact that this is really who they are," he said.