Aug. 28 primary results: Arizona and Florida
With the pivotal midterm elections just a few months away, all eyes were on the sunbelt Tuesday as voters headed to the polls in Arizona and Florida.
Gubernatorial primary results:
Republican Gov. Doug Ducey defeated former Secretary of State Ken Bennett, earning 69.9 percent of the votes compared to Bennett's 30.1 percent in Tuesday's primary.
Education professor and military veteran David Garcia bested fellow Democratic challengers state Sen. Steve Farley and former CEO of the YWCA Southern Arizona Kelly Fryer, to secure his party's nomination.
Both Ducey and Garcia announced they will suspend campaign gatherings later in the week to pay respects to Arizona Sen. John McCain, who died on Saturday after a yearlong battle with brain cancer.
GOP Primary – Doug Ducey Votes: 342,868 Vote Percentage: 70.5%
Dem Primary – David Garcia Votes: 185,449 Vote Percentage: 49.2%
U.S. Senate primary results:
Rep. Martha McSally defeated former State Senator Kelli Ward and former Maricopa County Sheriff Joe Arpaio to advance to the November election as the Republican nominee.
McSally will face Democratic challenger Rep. Kyrsten Sinema to decide who will replace the seat vacated by retiring Sen. Jeff Flake, in what is expected to be a tough election for the GOP.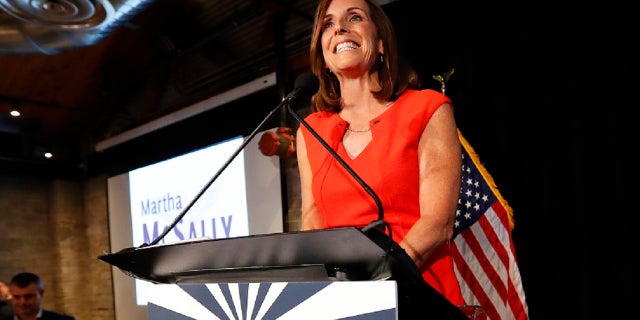 Gov. Ducey said he would nominate a replacement for McCain after the late Senator's funeral on Thursday.
GOP Primary – Martha McSally Votes: 256,115 Vote Percentage: 52.7%
Dem Primary – Kyrsten Sinema Votes: 306,593 Vote Percentage: 80.6 %
U.S. House of Representatives
There are two open seats up for grabs in Arizona that Democrats are looking to win as they try to regain control of the House in November.
Republican Lea Marquez Peterson, CEO of the Tucson Hispanic Chamber of Commerce, earned her party's nomination and will face former Rep. Ann Kirkpatrick, who beat out a handful of candidates in a competitive Democratic primary.
The two candidates are vying for a seat in Arizona's 2nd District, which was vacated by McSally who earned a GOP bid for Senate on Tuesday.
Former Navy chief medical officer Stephen Ferrara won the Republican nomination in state's 9th Congressional District, and will face Greg Stanton, who was unchallenged. The seat was vacated by Rep. Kyrsten Sinema, who won the Democratic Senate primary.
Arizona had a handful of other Congressional races as well:
District 1: Dem Primary – Tom O'Halleran Votes: 48,672 Vote Percentage: 100%
GOP Primary - Wendy Rogers Votes: 23,089 Vote Percentage: 43.36%
District 2: Dem Primary – Ann Kirkpatrick Votes: 28,046 Vote Percentage: 41.4%
GOP Primary – Lea Marquez Peterson Votes: 20,153 Vote Percentage: 33.6 %
District 3: Dem Primary – Raúl Grijalva Votes: 15,781 Vote Percentage: 100%
GOP Primary – Nicolas "Nick" Person Votes: 10,409 Vote Percentage: 51.1%
District 4: Dem Primary – David Brill Votes: 15,467 Vote Percentage: 52.9%
GOP Primary – Paul Gosar Votes: 74,670 Vote Percentage: 100%
GRN Primary – Gregor Knauer Votes: 277 Vote Percentage: 100%
District 5: Dem Primary – Joan Greene Votes: 19,763 Vote Percentage: 60.4%
GOP Primary – Andy Biggs Votes: 54,788 Vote Percentage: 100%
District 6: Dem Primary – Anita Malik Votes: 15,131 Vote Percentage: 40.5%
Heather Ross Votes: 14,848 Vote Percentage: 39.7%
GOP Primary – David Schweikert Votes: 57,910 Vote Percentage: 100%
District 7: Dem Primary – Ruben Gallego Votes: 20,742 Vote Percentage: 74.6%
GOP Primary – N/A
District 8: Dem Primary – Hiral Tipirneni Votes: 39,680 Vote Percentage: 100%
GOP Primary – Debbie Lesko Votes: 53,910 Vote Percentage: 77.1%
District 9: Dem Primary – Greg Stanton Votes: 40,173 Vote Percentage: 100%
GOP Primary – Stephen Ferrara Votes: 21,022 Vote Percentage: 59.1%
Florida
Gubernatorial primary results:
In a shocking upset, Andrew Gillum, a young black mayor of Tallahassee, defeated a crowded Democratic field to earn his party's nomination Tuesday. Gillum, who spent the least of the major candidates and appealed to the far left of the party, received the backing of Vermont Sen. Bernie Sanders.
On the Republican side, U.S. Rep. Ron DeSantis came from behind with the help of the president's support to beat Agriculture Commissioner Adam Putnam.
DeSantis and Gillum will square off in November to decide who will replace current Gov. Rick Scott, who has reached his term limit.
GOP Primary – Ron DeSantis Votes: 913,679 Vote Percentage: 56.5%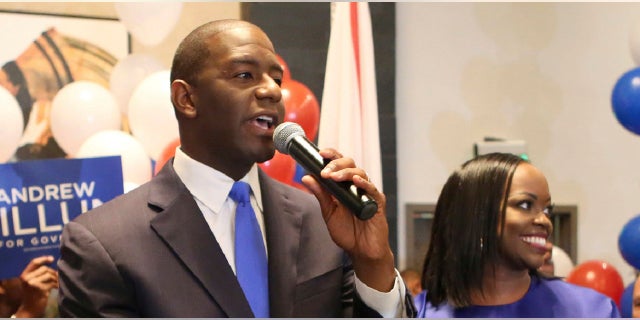 Dem Primary – Andrew Gillum Votes: 517,417 Vote Percentage: 34.3%
U.S. Senate primary results:
Florida Gov. Rick Scott cruised to victory in the Republican primary, defeating California Businessman Roque "Rocky" De La Fuente with nearly 90 percent of the votes.
Scott will meet Democratic incumbent U.S. Sen. Bill Nelson in a crucial November election that could decide which party controls the Senate. Nelson was first elected to the U.S. Senate in 2000.
Dem Primary – Bill Nelson UNCONTESTED
GOP Primary – Rick Scott Votes: 1,452,554 Vote Percentage: 88.6%
U.S. House of Representatives
Florida held more than a dozen Congressional primaries on Tuesday, but Democrats are eyeing one seat in particular that they believe could flip from GOP control.
Former Clinton administration Cabinet member and university president Donna Shalala won the Democratic primary, and will face Spanish-language broadcaster Maria Elvira Salazar to decide who will replace retiring Longtime incumbent Republican Rep. Ileana Ros-Lehtinen.
Although Ros-Lehtinen won re-election in 2016, presidential candidate Hillary Clinton had about a 20 percentage point advantage of Trump.
In the other races, no incumbents were defeated. Democratic Rep. Frederica Wilson was re-elected after winning her primary because she has no challengers in the general election.
District 27: Dem Primary – Donna Shalala Votes: 14,153 Vote Percentage 31.9%
GOP Primary - Maria Salazar Votes: 15,812 Vote Percentage: 40.5%
The Associated Press contributed to this report.