Attorney in hijab defends call for other women at 9/11 hearing to wear 'appropriate' clothing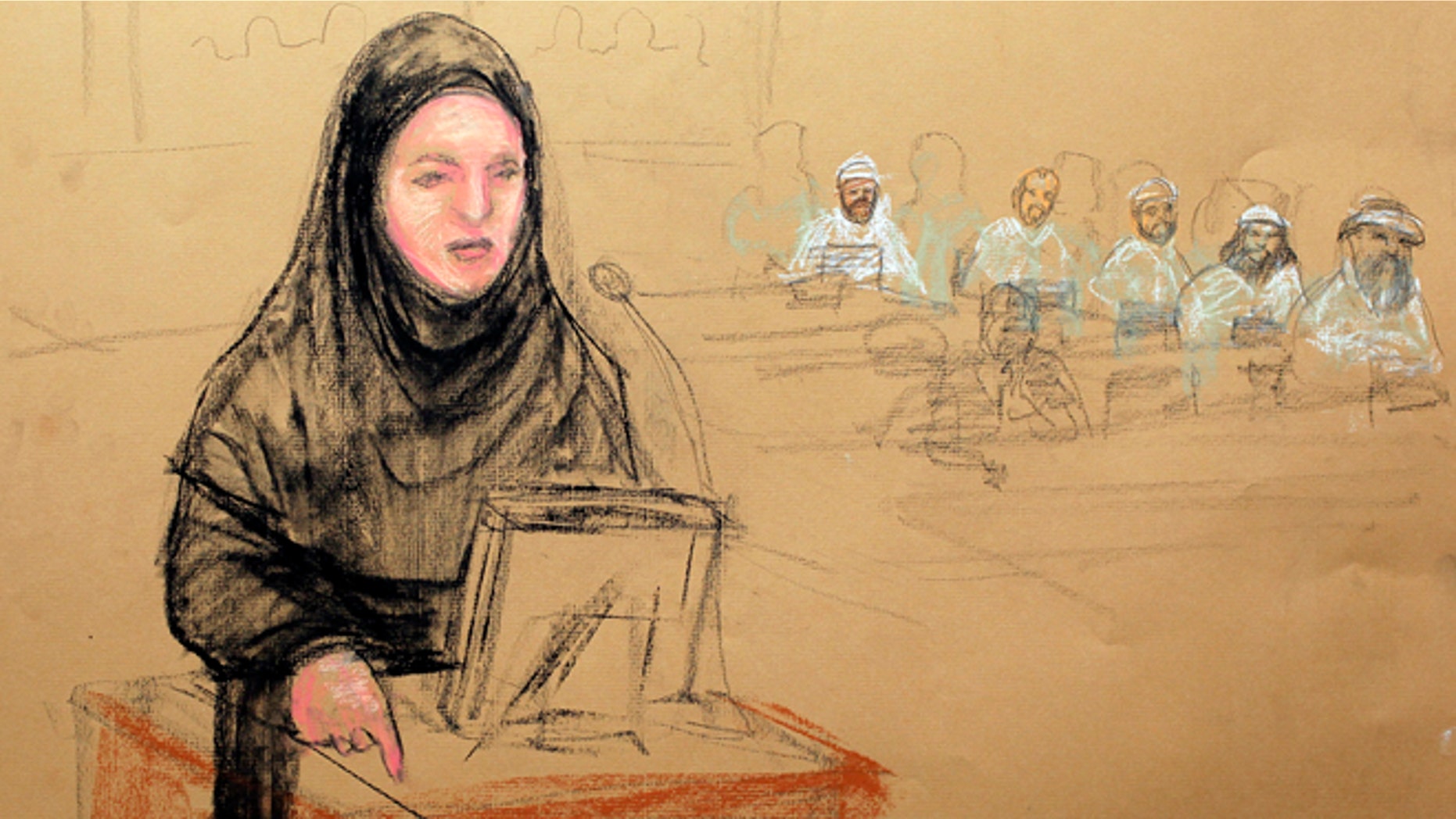 The defense attorney who wore a traditional Islamic outfit during the rowdy arraignment of the accused Sept. 11 terrorists is defending her courtroom appeal that other women in the room wear more "appropriate" clothing to the proceedings -- out of respect for her client's Muslim beliefs.
Cheryl Bormann, counsel for defendant Walid bin Attash, attended the arraignment Saturday dressed in a hijab, apparently because her client insisted on it. She further requested that the court order other women to follow that example so that the defendants do not have to avert their eyes "for fear of committing a sin under their faith."
At a press conference Sunday at Guantanamo Bay, Bormann said she dresses in a hijab at "all times" when she meets with her client "out of respect" for his beliefs. Asked why she requested other women do the same, Bormann said, "When you're on trial for your life, you need to be focused."
Bormann, who is not Muslim, claimed the issue came up several years ago, when a paralegal wore "very short skirts" and it became a distraction for the defendants. She said that on Saturday, "somebody" was also dressed "in a way that was not in keeping with my client's religious beliefs."
"If because of someone's religious beliefs, they can't focus when somebody in the courtroom is dressed in a particular way, I feel it is incumbent upon myself as a counsel to point that out and ask for some consideration from the prosecution," she said. "Suffice to say it was distracting to members of the accused."
The clothing request was just one of several unusual moments during Saturday's lengthy and chaotic hearing.
The court hearing for Khalid Sheikh Mohammed and his four co-defendants should have taken a couple of hours at most. Instead it lasted almost 13 hours, including meal and prayer breaks, as the men appeared to make a concerted effort to stall Saturday's hearing.
They knelt in prayer, ignored the judge, wouldn't listen to Arabic translations over their head sets and one even insisted on having the more than 20 pages detailing the charges against them read aloud, rather than deferred for later in their case as the judge wanted, which added more than two hours to the proceedings.
Defense lawyer James Connell said Sunday that a tentative trial date of May 2013 is a "placeholder" until a true date can be set for the trial.
"It's going to take time," said the chief prosecutor, Army Brig. Gen. Mark Martins, who said he expects to battle a barrage of defense motions before the case goes to trial. "I am getting ready for hundreds of motions because we want them to shoot everything they can shoot at us."
The defendants' behavior outraged 9/11 family members watching on closed-circuit video feeds around the United States at East Coast military bases. One viewer shouted, "C'mon, are you kidding me?" at the Fort Hamilton base in Brooklyn.
A handful of people who lost family members in the attacks and were selected by a lottery to attend the proceedings watched in the courtroom.
"They're engaging in jihad in a courtroom," said Debra Burlingame, whose brother, Charles, was the pilot of the plane that flew into the Pentagon. She watched the proceeding from Brooklyn.
The defense attorneys in the case have complained repeatedly about the proceedings and about the military tribunal system itself. Human rights groups and defense lawyers say the secrecy of Guantanamo and the military tribunals will make it impossible for the defense. They argued the U.S. kept the case out of civilian court to prevent disclosure of the treatment of prisoners like Mohammed, who was waterboarded 183 times.
A family member of one 9/11 victim spoke to reporters Sunday and said he has respect for the defense attorneys.
"They're doing their job," said Eddie Bracken of Staten Island, New York, whose sister Lucy Fishman died at the World Trade Center in 2001.
Bracken also read from a prepared statement which was directed at Mohammed. "You never killed the American spirit. Let freedom ring, let freedom ring, let freedom ring -- and that's what I have to say," he said.
Mohammed, the admitted 9/11 architect, and the four men accused of aiding the 9/11 conspiracy put off their pleas until a later date. They face 2,976 counts of murder and terrorism in the 2001 attacks that sent hijacked jetliners into New York's World Trade Center and the Pentagon. The charges carry the death penalty.
Earlier Saturday, Mohammed cast off his earphones providing Arabic translations of the proceeding and refused to answer Army Col. James Pohl's questions or acknowledge he understood them. All five men refused to participate in the hearing; two passed around a copy of The Economist magazine and leafed through the articles.
Bin Attash was confined to a restraint chair when he came into court on Saturday, released only after he promised to behave.
Ramzi Binalshibh began praying alongside his defense table, followed by Ali Abd al-Aziz Ali, in the middle of the hearing; Binalshibh then launched into a tirade in which he compared a prison official to the late Libyan leader Muammar Qaddafi and declared that he was in danger.
"Maybe they will kill me and say I committed suicide," he said in a mix of Arabic and broken English.
The Associated Press contributed to this report.