As Trump derides Dems for using DACA, a battle for Hispanic votes reignites
The fate of an estimated 700,000 illegal immigrants from Mexico and elsewhere around the world is quickly growing from a largely Washington policy debate into a politically charged 2018 election matter, with President Trump now saying Democrats are merely using efforts to protect such immigrants from deportation as a "campaign issue."
Washington lawmakers have tried for years to fix the country's immigration system and agree on what to do with the tens of thousands of immigrants brought illegally to the United States by their parents and known as "DREAMers."
But the debate has intensified since last fall, when Trump announced that by March 5 he would end the Obama-era Deferred Action for Childhood Arrivals, or DACA, program, which has allowed the DREAMers to work in the U.S. and avoid immediate deportation.
The bipartisan wrangling over what to do next led to a three-day government shutdown last month and played a role in this week's overnight shutdown.
"Republicans want to fix DACA far more than the Democrats do," Trump tweeted Saturday. "The Dems had all three branches of government back in 2008-2011, and they decided not to do anything about DACA. They only want to use it as a campaign issue. Vote Republican!"
Top congressional Democratic like House Minority Leader Nancy Pelosi, of California, and Senate Minority Leader Chuck Schumer, of New York, have disagreed with such comments.
But at least some rank-and-file Democrats have quietly raised similar arguments, while liberal-minded political groups have openly criticized the leaders for not doing enough recently to get immigration reforms in exchange for their support of spending bills to keep the government running.
"What are they thinking? They're giving up their leverage," Angel Padilla, policy director for the liberal group Indivisible, asked between the first and second shutdown.
Schumer was skewered by Indivisible and similar groups after the first shutdown for supplying votes to reopen the government, after Senate Majority Leader Mitch McConnell, R-Ky., vowed to hold a full floor vote on DACA, with the expectation of a bipartisan agreement before the fast-approaching March deadline.
Pelosi faced similar criticism, even from within her own party, despite an eight-hour floor speech Wednesday to demand a promise like Schumer got, in exchange for supporting the two-year budget deal that passed Friday.
"If I said something on the floor for eight hours and then didn't do something about it, well, the speech is nice," said Democratic Rep. Luis Gutierrez.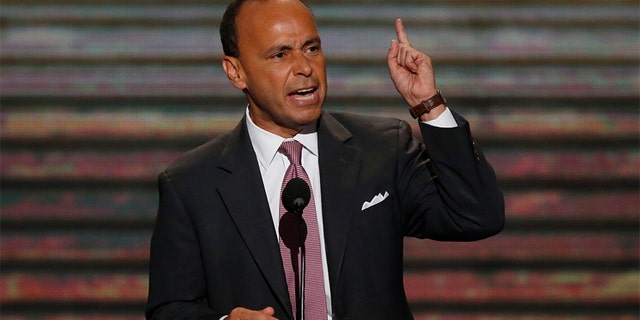 The retiring Illinois lawmaker, perhaps the most outspoken of the rank-and-file House Democrats on the immigration issue, also has purportedly complained that party leaders put issues like health care reform and climate change ahead of the DREAMers, despite, as Trump argued, having controlled the White House and both chambers of Congress from 2008 to 2011.
Neither Pelosi nor Schumer's office responded Saturday to a request for comment.
"The president is correct that Democrats haven't done enough, but we have a chance to right that wrong now," California Democratic Rep. Lou Correa, a member of the Congressional Hispanic Caucus, said Saturday. "Whether Democrats or Republicans take credit is secondary to helping these young people. If it means giving DREAMers a pathway to citizenship, I'll be happy to let my Republican colleagues take credit."
One argument about why Democrats have not made immigration reform a priority is that the issue is a major concern largely to just California and Texas voters, not a national issue. Another is that Hispanics typically don't turn out in large numbers on Election Day.
Exit poll information gathered by the Pew Research Center shows that less than half of Hispanics eligible to vote in 2016 cast ballots --- roughly 12.7 million of the estimated 26.7 million.
Pew reports also show that 2016 Democratic presidential nominee Hillary Clinton got roughly 66 percent of the Hispanic vote, compared with 28 percent for Trump.
The numbers were essentially the same as those in the 2012 White House race between Democrat Barack Obama and Republican nominee Mitt Romney, and in the 2008 contest between Obama and Republican John McCain, who got 31 percent of the vote.
About 90 percent of DREAMers came from Latin America, with roughly 79 percent of them from Mexico. And nearly half live in either California or Texas.
Democrats have high expectations about taking control of the House this year and have set their sights on winning GOP-held seats in California's Orange County, where the state's Hispanic population is growing. Two GOP House incumbents from that region -- Reps. Ed Royce and Darrell Issa -- have already announced they will not seek re-election this year.
Democrats need to win a totally 24 House seats to control the chamber, with historical data showing the political party that controls the White House loses about 32 seats in the following midterm election.