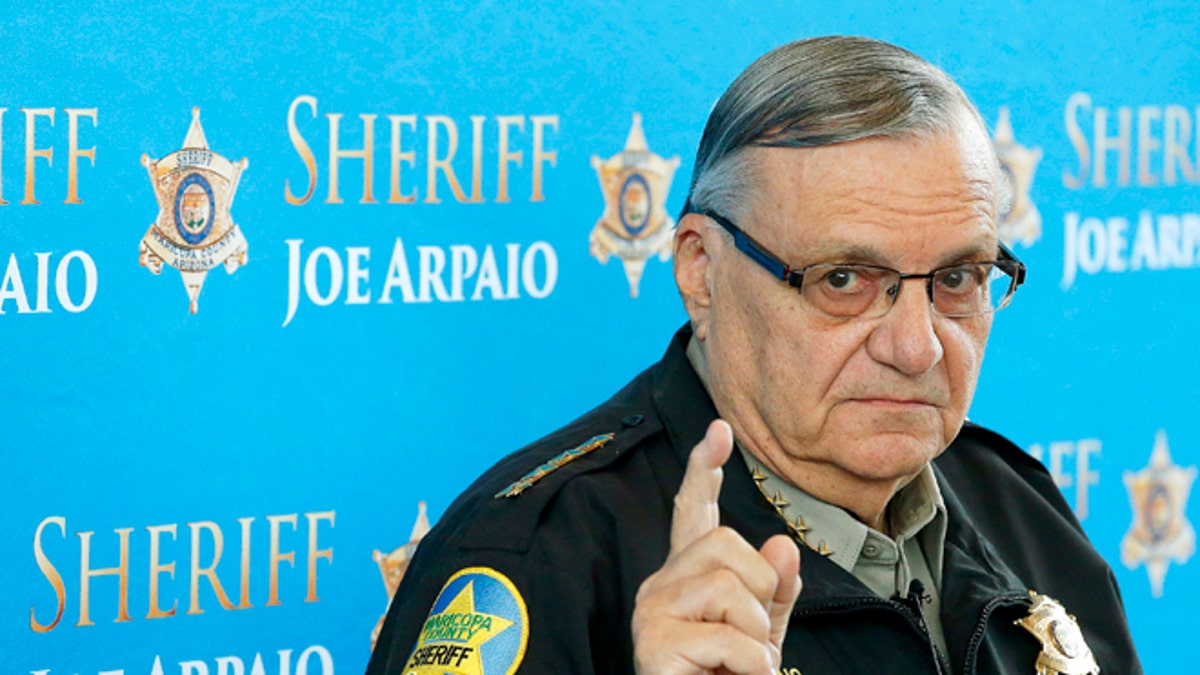 PHOENIX (AP) – An Arizona sheriff known for clashing with the federal government and cracking down on illegal immigration will face a civil contempt-of-court hearing because his office repeatedly violated orders issued in a racial-profiling case, a U.S. judge said Thursday.
U.S. District Judge Murray Snow ruled in 2013 that Maricopa County Sheriff Joe Arpaio's office had systematically singled out Latinos in regular traffic and special immigration patrols.
The judge scheduled an evidentiary hearing for April 21-24 on allegations Arpaio and his top aides acted in contempt during the case. If Arpaio is found in contempt, he could face daily fines.
Tom Liddy, an attorney representing Arpaio, said Friday that his team was prepared for the hearing.
"We look forward to the opportunity to appear before the court and provide the information the judge deserves that shows Sheriff Arpaio and all his employees are fully engaged to comply with all the court's orders," Liddy said.
Snow said attorneys for people who claim they were illegally pulled over provided sufficient evidence that the agency violated court orders. The office conducted immigration enforcement activities in defiance of an injunction and botched an effort to collect videos of traffic stops, according to the judge.
The court granted a preliminary injunction in December 2011 that prohibited the Maricopa County Sheriff's Office from detaining anyone solely on suspicion of being in the country illegally. According to court documents, Arpaio and chief deputies failed to inform rank-and-file officers of the injunction. As a result, officers were violating the order for 18 months.
Nearly a year after Snow made his 2013 ruling, the case heated up again when IDs and items belonging to others and bags of evidence were found at the home of then-Deputy Ramon Charley Armendariz, who was suspected of shaking down people who were in the country illegally. Videos of his traffic stops were discovered after his arrest. Armendariz killed himself in May 2014.
The videos prompted a call for Arpaio's office to work with a court-appointed monitor on a confidential plan to collect past video recordings from MCSO officers. But the Sheriff's Office and its legal team went ahead with their own plan without discussing it with the monitor, Snow wrote.
The judge also said Arpaio and the other defendants failed to meet requests from the plaintiffs for documents and copies of audio and video records from past traffic stops.