Arizona's Jan Brewer Uses Obama Spat in Reelection Bid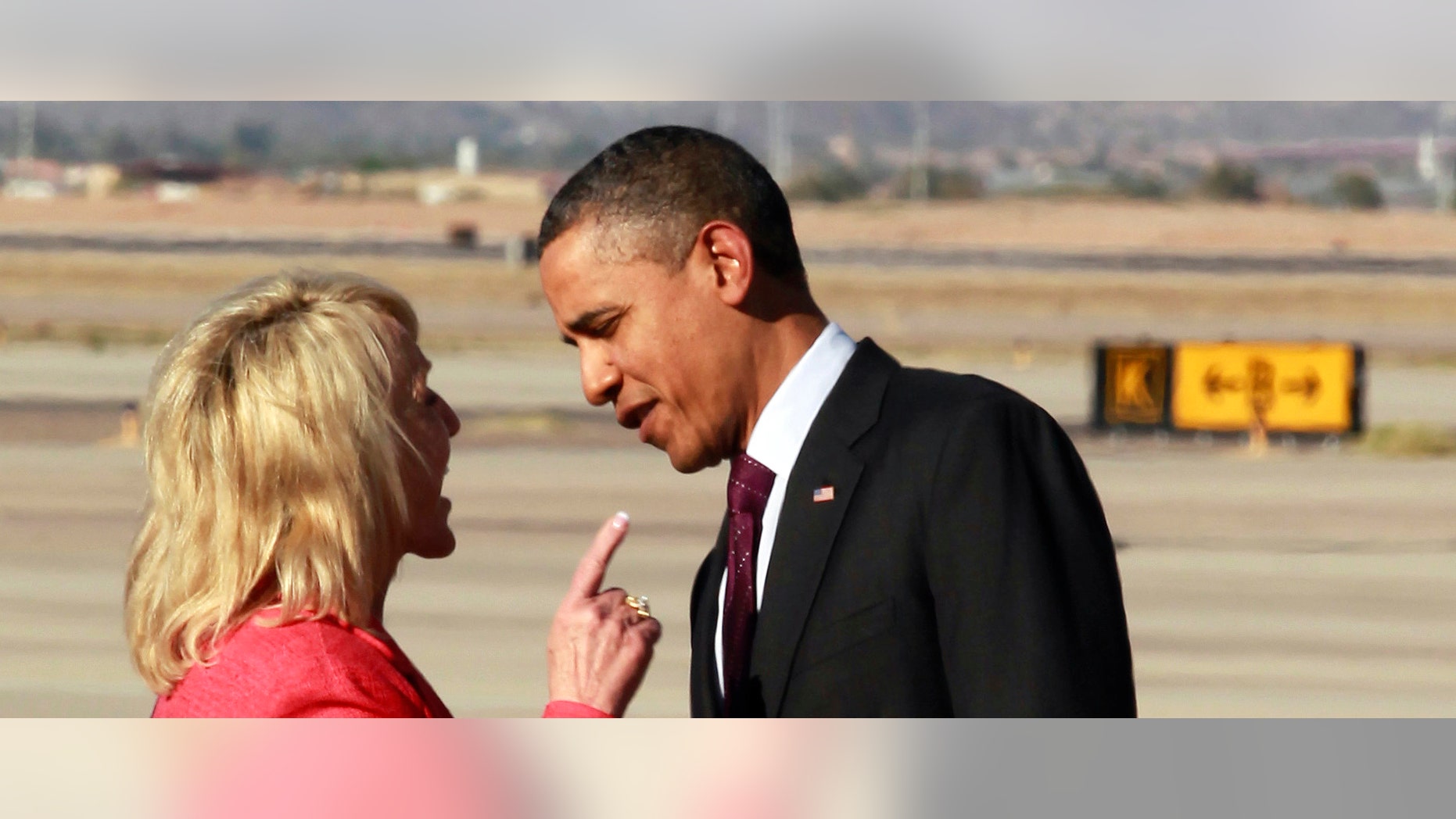 Pictures and footage of their animated exchange were splashed all over the news last week and now Arizona Gov. Jan Brewer is using her tarmac tiff with President Barack Obama to help her get re-elected.
Brewer has posted a photo of her pointing her finger at the president -- after meeting him when Air Force One touched down outside of Phoenix on Wednesday -- on her political action committee website, Jan PAC.
However, she seems to be singing a new tune about what was captured in the photo.
"I was telling him, 'You have ONE more year,'" she writes on the website.
"The president needs to be reminded that he is the president of the FEDERAL REPUBLIC and not a KING lording over state governors."
But last week Brewer said the president had been upset about her portrayal of him in her book.
At one point in the exchange, they were seen talking at the same time, seemingly over each other. Then Obama appeared to walk away from her while she was still talking.
"He was a little disturbed about my book, 'Scorpions for Breakfast,'" Brewer said afterwards.
Asked what part of the book he had disagreed with, Brewer went on, "He didn't feel that I had treated him cordially.
"I said I was sorry he felt that way but I didn't get my sentence finished. Anyway, we're glad he's here. I'll regroup."
The confrontation has already given Brewer's book sales a sizable boost.
Celebrities Who Were Once Undocumented
Prior to the incident, the book ranked 276,665th in sales according to Amazon.com's rankings. By Monday night it was 35th.
Read more stories like this from MyFoxPhoenix.com.
Follow us on twitter.com/foxnewslatino
Like us at facebook.com/foxnewslatino