Arizona Sheriff Agrees to Meet With Billboard Owner Over 'Offensive' Image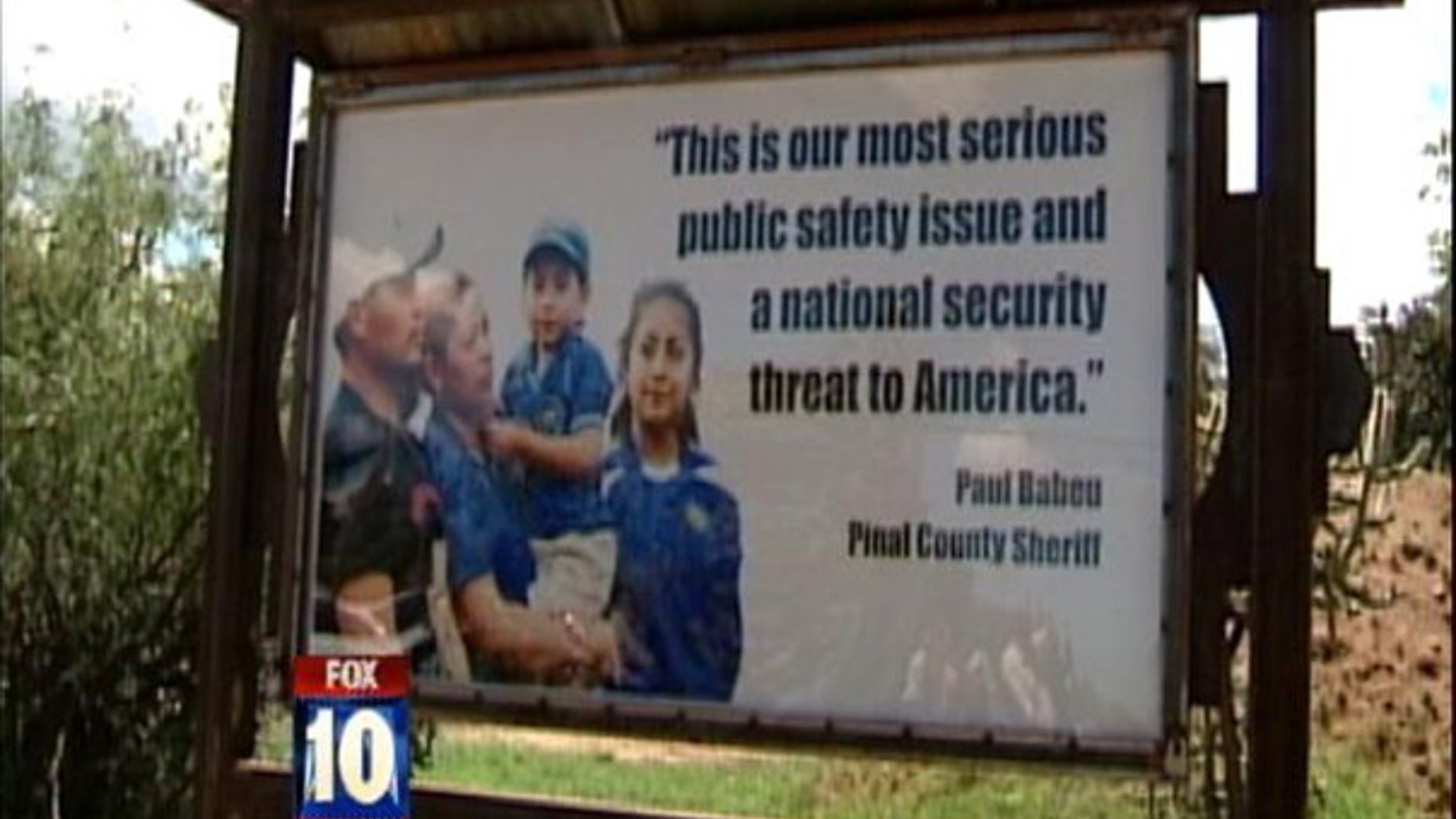 Pinal County, Ariz., Sheriff Paul Babeu said Sunday he'd be willing to meet with the owner of a billboard who displayed an image of an Hispanic family with a quote by Babeu that the sheriff says portrays him as racially motivated.
"I'm the sheriff for everybody. I'm happy to meet with you or anybody else," Babeu told billboard owner Frank Pierson. "The best way to do that is call me. Don't put up an offensive billboard like this that slanders me and slanders" law enforcement.
Pierson posted the billboard of the family of four next to a quote of Babeu saying, "This is our most serious public safety issue and a national security threat to America."
Pierson said he displayed the image because he wants citizens to "step up" and tell Congress to enforce immigration laws.
"The truth is that we have been betrayed by our Congress that have let this kind of thing go on and forced people like me and Sheriff Babeu, who basically agree on almost everything, to look like we are kind of adversaries," Pierson told Fox News.
Pierson, who described the photo as a "beautiful, holy image of a wonderful and radiant family," added that he also posted the billboard because he wanted to show that millions of illegal immigrants are not in the U.S. to do harm.
"Most immigrant families are in the country to make a better life and to maybe raise a family, certainly contribute to the community," Pierson said, adding that he hopes the dialogue would change so as to "balance the clear need to get the bad guys and get them out of our society but also to pay attention to the human dignity of individuals and families who have come here seeking a better life as many of our forebearers did."
But Babeu said the effort to depict him as racist not only is inaccurate, the photo is of an El Salvadoran family that is in the country legally.
"I find it to be highly inappropriate and blatantly false to put my quote there with a picture of a very innocent, obviously Hispanic family," Babeu said. "I would respectfully ask Mr. Pierson to respect these innocent people who this is their image whether you got their approval or not -- we know you did not -- to take the statement down."
The issue of national security has been a recurring theme in the debate over Arizona's porous border. Arizona Gov. Jan Brewer has been criticized for overstating the statistics on drugs and violence pouring in from Mexico.
But Babeu said that border patrol officers have apprehended hundreds of people from countries that are listed as state sponsors of terrorism. He added that by casting a racial pall over the border security issue is to do a disservice to national security and law enforcement.
"I'm trying to stand up for the rules of law and it is a constant battle with the opposition trying to portray me and any law enforcement that tries to secure the border -- even the president made this a racial issue and it is not. This isn't about race. We profile criminal behavior and criminal conduct," Babeu said.