Anti-Abortion Groups Slam Administration Over Federal Funding for Pa. Health Plan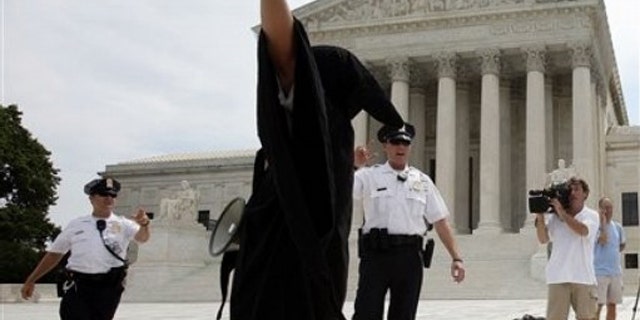 NEWYou can now listen to Fox News articles!
Anti-abortion groups are claiming that millions of federal dollars are about to go into a Pennsylvania health care plan that would cover abortion, contrary to lawmakers' pledge to erect a virtual wall between such coverage and taxpayer funds.
The Pennsylvania Insurance Department announced at the end of June that the federal government had approved $160 million to set up a high-risk insurance plan for thousands of Pennsylvania residents with pre-existing conditions. Though the announcement made no reference to abortion and the policy itself says "elective abortions" are not covered, the National Right to Life Committee claimed it would cover abortions in almost every circumstance.
"What their plan actually does is say if it's legal, it's covered," said NRLC Legislative Director Douglas Johnson. "Abortion ends up being covered if it's not explicitly excluded."
The Pennsylvania policy says it covers "only abortions and contraceptives" that fall under Pennsylvania law. Johnson said that the "elective abortion" restriction in the Pennsylvania policy is "not a legal term," and so any abortion procedure legal in Pennsylvania could be covered under the high-risk plan.
The Susan B. Anthony List echoed that concern. President Marjorie Dannenfelser said in a written statement that assurances to keep taxpayer money away from abortion coverage amounted to a "false promise."
"If there was any doubt that the health care reform bill included taxpayer-funded abortions, those doubts are now laid to rest," she said.
President Obama in March signed an executive order meant to ensure that federal dollars are separated from elective abortions. The promise of that order had helped win elusive support from anti-abortion Democrats for the health care overhaul.
The Pennsylvania Insurance Department said Wednesday that the state will be in compliance with federal law. Spokeswoman Melissa Fox said there has been some "confusion" about the wording in the policy, but that "we would not and could not use the federal dollars" for elective abortion coverage.
"It was never, ever the intent to cover abortion," she said, adding: "We're trying to work through the confusion."
But anti-abortion organizations that earlier in the year claimed the executive order would do little to enforce the policy reiterated those concerns after learning about the Pennsylvania plan.
Johnson said the state plan is an "illustration" of what was wrong with the executive order. He said a similar plan in New Mexico will have the same issue and predicted that other states will follow.
"This is the boldest admission yet from the Obama administration that the president's executive order on taxpayer-funded abortion was a sham," House Republican Leader John Boehner said in a written statement.
Charmaine Yoest, president of Americans United for Life Action, released a statement saying the Pennsylvania plan "reinforces the need" for Congress to pass new legislation establishing stronger health care law restrictions on abortion coverage.