Anthony Scaramucci: A look at the former White House communications director
NEWYou can now listen to Fox News articles!
Anthony Scaramucci rose through the financial ranks of New York, ardently defending Wall Street and founding a global hedge fund to eventually wind up as the White House communications director.
But his latest project only lasted a little over 10 days.
Scaramucci was tapped as the next communications director for the White House on July 21. But by the afternoon of July 31, Scaramucci already was removed from his position.
"Mr. Scaramucci felt it was best to give Chief of Staff John Kelly a clean slate and the ability to build his own team," the White House said in a statement. "We wish him all the best."
The ascension of the Goldman Sachs alumnus to the Trump administration created turmoil in the White House and resulted in the resignations of Press Secretary Sean Spicer and Chief of Staff Reince Priebus.
Retired Marine Gen. John Kelly was sworn in as President Donald Trump's new chief of staff Monday morning, just hours before Scaramucci left his position.
Read on to find out more about Scaramucci, known to friends as "The Mooch."
Financier
Named Wall Streeter of the Year by Yahoo Finance in 2016, Scaramucci founded and co-managed SkyBridge Capital, a group of hedge funds with a reported $11.8 billion in assets.
He's also hosted a variety of financial conferences and programs, including Fox Business Network's "Wall Street Week" and the glitzy SALT Conference, an annual gathering of prominent financiers and politicians.
RESIGNATIONS, CHANGES ON TRUMP LEGAL TEAM
Scaramucci, 53, sold his SkyBridge Capital in January in preparation for a role in the Trump administration. The price of the sale was not disclosed, but the firm was thought to be valued at more than $200 million, the Financial Times reported at the time of the sale.
Fundraiser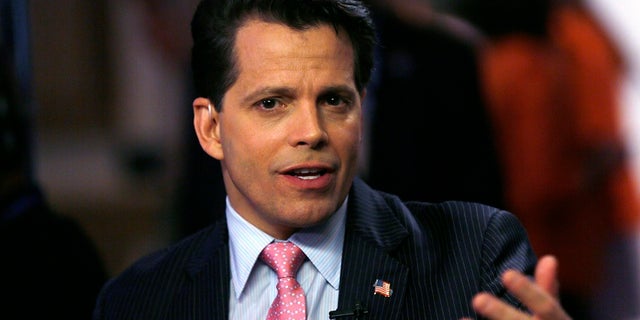 A Republican in New York, Scaramucci has donated to politicians in his party for a long time – but Trump, a fellow wealthy New Yorker, didn't catch his eye right away.
Scaramucci initially backed Wisconsin Gov. Scott Walker and then former Florida Gov. Jeb Bush in the 2016 Republican presidential primary.
While he was supporting Walker, Scaramucci said he was a "team Republican" but had a difficult time communicating with Trump.
"When I talk to Donald and he talks to me, I guess we don't understand [each other]," Scaramucci told Fox Business Network in 2015. "I may need to get an interpreter in the room to talk to Donald."
SCARAMUCCI ACCEPTS CNN'S APOLOGY FOR RETRACTED RUSSIA STORY
Ultimately, the Long Island native kept his promise to support the Republican presidential nominee and threw his full support behind Trump, eventually serving on his transition team.
At the SALT Conference in May, Scaramucci contended that he is "ready to serve" in the current administration.
"And so, to the extent the president needs me, I will be available to him," Scaramucci said then.
"I remain loyal to the president and to the cause," he added.
On Friday, White House senior counselor Kellyanne Conway sang Scaramucci's praises, saying that he has been "an incredible asset to President Trump during the campaign, transition" and now.
Scaramucci made headlines in 2010 when he asked Obama during a televised town hall meeting when he was going to "stop whacking at the Wall Street piñata."
Scaramucci has also contributed to scores of Democratic politicians, including Obama.
Spokesman
In his first weekend as the communications director for the White House, Scaramucci gave interview after interview and promised it's time for the Trump administration to hit the "reset button" with the press.
Scaramucci told Fox News Sunday that he wanted to bring "an era of a new good feeling" and hopes to "create a more positive mojo" in his new role. He also promised to crack down on information leaks and pledged to better focus the message coming out of the White House.
"As far as I'm concerned, there will be a new start for everybody on the team," he said.
On the Russia stories, Scaramucci said that a "two-pronged approach" was needed, saying that "in some ways we want to deescalate things and have there be a level of diplomacy. In other ways, we want it to be very hard-hitting and war-like."
Scaramucci also told CNN Sunday that an unnamed person told him that "if the Russians actually hacked this situation and spilled out those e-mails, you would have never seen it."
He then said he was quoting the president, adding that "he basically said to me, hey, you know, this is – maybe they did it. Maybe they didn't do it."
"A person that's going to be super, super tough on Russia is President Donald J. Trump," Scaramucci said.
Scaramucci also deleted some of his old tweets that had resurfaced in the wake of his new appointment.
Those tweets showed that Scaramucci was often at odds with Trump during the campaign – and one even praised Democratic presidential nominee Hillary Clinton for her competence.
Other tweets expressed support for stronger gun laws, which he tweeted about in August 2012. In May 2016, he expressed displeasure with individuals who believe climate change is a hoax. Trump has at times referred to global warming as a hoax.
When it comes to Trump's tweets, Scaramucci told CBS' "Face the Nation" that "if he thinks it's helpful to him, let him do it."
The Associated Press contributed to this report.