Analysts: No such thing as 'typical Latino voter,' but immigration is the unifier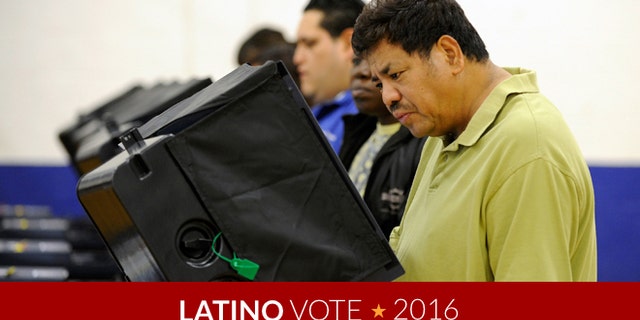 Even before the dust settled on Election Day in 2012, the pundits were talking about how the so-called Latino vote helped guarantee Barack Obama his second term in the White House and doomed Mitt Romney's bid for the presidency.
Latinos – 71 percent of whom voted for Obama compared to only 27 percent for Romney – played a historically similar role to that of Catholics in electing John F. Kennedy or African-American voters with Bill Clinton, and when the election results were tallied both parties immediately took notice.
With the Iowa Caucus now less than 90 days away and the heart of the campaign season fast approaching, Democrats and Republicans are making active efforts to court Latino voters in key voting states.
But candidates are running into one problem: there is no such thing as a typical Latino voter.
"It's not a monolithic community and different communities within the overall Latino community have vastly different feelings on issues," Alfonso Aguilar, head of the conservative American Principles Project's Latino Partnership told Fox News Latino. "For example, Puerto Rican voters in Florida are very different from Puerto Rican voters in New York or Connecticut. And also in Florida older Cuban-Americans vote differently than younger Cuban-Americans."
This lumping of Latinos into one voting bloc, while easy for pollsters and pundits, is poor planning for candidates hoping to pull in voters from the elusive voting demographic, observers say. Instead, a more nuanced approach should be taken.
This is no more evident than in the key swing states and early voting states with large Latino populations, such as Florida and Nevada.
While Florida has 1.7 million registered Hispanic voters, for decades a candidate out on the hustings in the Sunshine state catered their message to the sizeable Cuban-American population in places like Miami and Tampa – railing against the Castro government in Havana and supporting the U.S. embargo against the island.
But recently, Florida's Latino demographics has changed to include a large number of recently arrived Puerto Ricans in the central part of the state and Mexicans in the southern Hardee and Hendry counties – two groups who have little concern about the U.S.'s polices toward Cuba and more interest in issues such as Puerto Rican statehood and immigration reform, respectively.
And then there is even a growing generational divide within the Cuban community itself.
"There are older Cubans – people who lived on the island – who are still very concerned about the embargo, but for younger Cubans who grew up in the U.S. the issue is not as important as things like the economy and jobs," Aguilar said.
Political observers in the Florida say that they have seen halting efforts by candidates to speak to the issues affecting specific Latino groups, but that there is still much work to be done to understand the intricacies of Hispanic communities.
During his 2012 campaign, Romney ran into a number of these snafus while on the stump courting Latino voters – including mistakenly associating Fidel Castro's trademark slogan "Patria o muerte, venceremos! " with a free Cuba, and wrongly attributing it to late Venezuelan President Hugo Chávez.
"I think that the candidates do try, but one of the biggest problems is that there are very few political strategists who actually know how multicultural we are," Evelyn Pérez-Verdia, a political analyst at Florida's Political Pasión, told Fox News Latino. "This is apparent when you see an ad in Miami catering to Cubans but the guy is speaking Spanish with a Mexican accent."
Over 2,500 miles from Florida, one the most important early prizes in the presidential primary season – Nevada – has also seen candidates flummoxed about how to appeal to its varied Latino community.
In recent elections, Nevada's Latino community has become a bellwether in a bellwether state, with the group coming in just below 28 percent of the state's total population. Latinos are slated to be a major factor in both the primary and general elections.
While the Democrats have had a lock on Nevada's Hispanics in recent years – thanks to the state's large union and Mexican-American population – Nevada's expanding number of immigrants from Central America could throw the Democratic hegemony into flux.
"Mexicans tend to vote for Democratic candidates," Fernando Romero, the president of the Las Vegas-based Hispanics in Politics told FNL. "Central Americans, however, given the situations in their home countries in terms of things like security and crime, are generally more conservative voters."
For both groups, however, immigration is a top priority when it comes to voting.
"Everything falls under the umbrella of immigration reform," Romero said. "People kid themselves saying that immigration is fourth or fifth on the list of issues that are important to Latinos, when really it is No. 1."
Experts across the country say that immigration is an issue – along with the economy and jobs – that crosses barriers within the Latino community. They say White House hopeful have to have an immigration plan that appeals to the entire community.
But even within the Latino community, there are differences on how to solve the country's immigration problem. While many disagree with Donald Trump's rhetoric on immigration, some Latinos do agree that something major needs to be done to close and protect the porous border.
"What unites everyone in the community is immigration," Aguilar said. "This is the one topic we all tend to be concerned about, even though in reality we are not a monolithic voting bloc."