Alaska's Murkowski says she backs repeal of ObamaCare individual mandate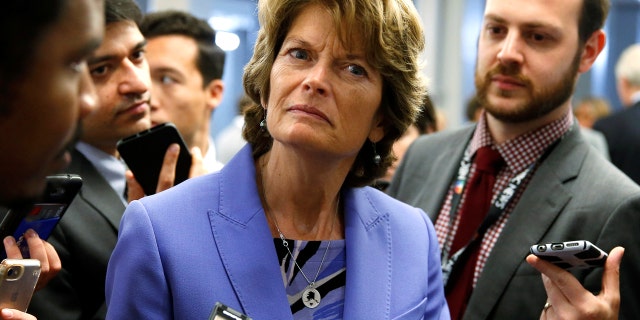 NEWYou can now listen to Fox News articles!
In an op-ed published Wednesday, U.S. Sen. Lisa Murkowski, R-Alaska, writes that she backs the Republican effort to repeal ObamaCare's individual mandate, a position that might offer her party hope when it comes to the tax plan vote.
Republican senators have said they intend on repealing the individual mandate requirement as part of their tax legislation. A spokesman for Murkowski told Politico that her column does not mean she supports the tax bill.
"I have always supported the freedom to choose. I believe that the federal government should not force anyone to buy something they do not wish to buy in order to avoid being taxed," Murkowski writes in the Fairbanks Daily-Miner. "That is the fundamental reason why I opposed the Affordable Care Act from its inception and also why I cosponsored a bill to repeal the individual mandate tax penalty starting as early as 2013. And that is why I support the repeal of that tax today."
She explained that she didn't support the Republican efforts to repeal ObamaCare this past year because "all those bills went far beyond the fundamental problems presented by ACA and would have unnecessarily taken away access to care from those who need it most."
Under ObamaCare, those without coverage are forced to pay a fine of $695 -- or 2.5 percent of their household income, the Washington Post reported.
President Trump is looking for his first major legislative victory and, once again, every vote in Senate counts. Politico reported that Trump can only lose two Senate Republicans on the tax legislation, and Sen. Ron Johnson, R-Wis., has already spoken out against the bill.
Murkowski said she supports repealing the individual mandate but, once again, voiced her support for a bipartisan compromise: the Alexander-Murray legislation.
The Sen. Lamar Alexander, R-Tenn., and Sen. Patty Murray, D-Wash., deal would continue the insurer payments for two years, while establishing new flexibility for states under former President Obama's 2010 law.
"This would allow the Senate to continue its debate about the long term of health care, but over the next two years I think Americans won't have to worry about the possibility of being able to buy insurance in counties where they live," Alexander said in announcing the deal after a closed-door lunch where he presented it to GOP senators.
The Associated Press contributed to this report.