Al Franken hit with groping allegation from second woman
Days after a photo surfaced of Sen. Al Franken grabbing a woman's breasts as she slept, a second woman has come forward with allegations the Minnesota Democrat inappropriately touched her in 2010.

The woman alleges Franken grabbed her buttocks while posing for a photo with her at the Minnesota State Fair, according to CNN.
The woman, Lindsay Menz, first tweeted about the alleged incident last Thursday, in response to explosive claims by Los Angeles radio anchor Leeann Tweeden that Franken forcibly kissed and groped her during a 2006 USO tour.
"In August 2010, @alfranken grabbed me while taking a photo together at the Minnesota State Fair. I felt violated & embarassed. I 100% believe your account of him & his actions, @LeeannTweeden. Thank you for sharing your story," Menz tweeted.
The incident would have occurred while Franken was in the Senate, unlike the 2006 incident, which happened before he was elected.
Menz contacted CNN and provided more details on Thursday, hours after the first allegation was made public, according to the cable TV news network.
FRANKEN SPOKESMAN SAYS SENATOR WON'T RESIGN
The 33-year-old woman alleged the incident occurred at a booth at the fair where elected officials, political candidates and celebrities stopped by and had their pictures taken.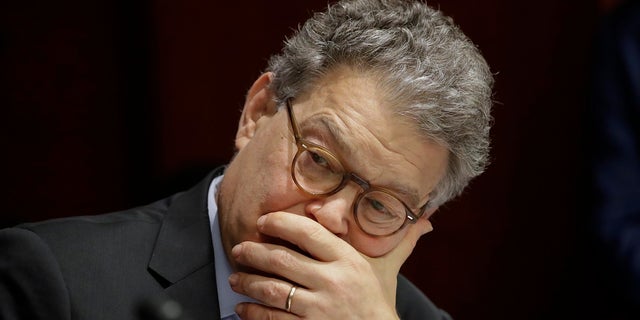 Menz told CNN that as her husband took a photo, Franken "pulled me in really close, like awkward close. … He put his hand full-fledged on my rear. It was wrapped tightly around my butt cheek."
The allegations come after Tweeden said Franken, over her protests, kissed her while rehearsing a sketch. And later on the tour, Franken was photographed with his hands over Tweeden's breasts, grinning at the camera, as she slept wearing a flak vest onboard a military aircraft.
Franken immediately apologized, saying he felt "disgusted with myself" for the photo, though he disputed Tweeden's recollection of the skit rehearsal. He has since apologized directly to Tweeden.
Franken reportedly said this weekend, before the most recent allegation surfaced, that he won't resign.
Congress is officially on Thanksgiving break, and Franken's Capitol Hill office did not immediately return a message left Monday morning by Fox News. The phone at Franken's district office in St. Paul, Minn., gave a busy signal.
Franken said in a statement to CNN he did not remember taking the photo with Menz.
"I take thousands of photos at the state fair surrounded by hundreds of people, and I certainly don't remember taking this picture," Franken reportedly said. "I feel badly that Ms. Menz came away from our interaction feeling disrespected."
Fox News' Joseph Weber and The Associated Press contributed to this report.