Airline Fee Hike Discussed as Part of Debt Ceiling Talks, Industry Warns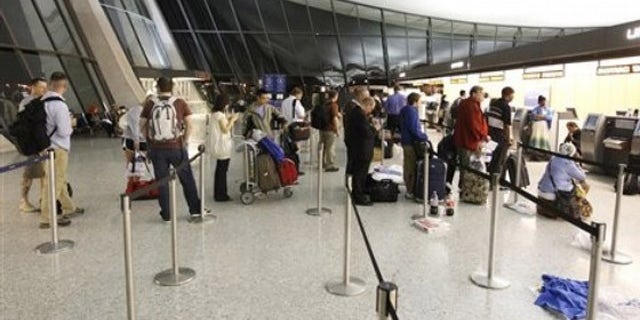 The traveling public could unwittingly play a role in closing the budget deficit, as lawmakers weigh whether to hike airline fees as part of a deal to raise the debt ceiling.
The airline industry's Air Transport Association is raising alarm about what they claim is a proposal to double the $2.50-per-flight passenger security fee as well as impose a new departure fee on airlines.
There have been a host of possible plans floated on Capitol Hill in recent weeks. Lawmakers hit the reset button once again Friday evening as House Speaker John Boehner walked away from talks with the White House, and it's unclear how seriously an airline fee hike is still being considered.
But ATA spokesman Steve Lott said it was still being discussed over the weekend.
The group is working "vigorously" to try and stop it, he said.
"The passenger is going to take a hit if this tax increase goes through, and it'll make travel more expensive," Lott told FoxNews.com. "Unfortunately, a lot of politicians see airlines and their passengers as a cash cow."
The current $2.50 fee was imposed after the Sept. 11, 2001, terror attacks and was meant to help fund the Department of Homeland Security's operations. But Lott expressed concern that a hike would amount to a tax on passengers solely for the purpose of deficit reduction.
The idea apparently was hatched during the now-defunct talks led by Vice President Biden.
A July 12 slideshow from House Republican Leader Eric Cantor's office -- obtained by FoxNews.com -- lists aviation fees in a category under "Biden Framework Details." The chart estimated the potential savings from aviation and a separate pension program at $27 billion over 10 years.
According to the ATA, $15 billion of that would come from increasing the security fee to $5. Another $3 billion would come from a proposal to impose a $25-per-flight departure charge on commercial and general aviation flights, according to the ATA. That fee would be charged to the airlines directly.
Nicholas Calio, president of the ATA, warned that the pair of fees could end up hurting the aviation industry as a whole, in addition to costing passengers.
"The two new proposed taxes will hinder travel demand, limit infrastructure investment, reduce global competitiveness and ultimately cost jobs -- a bad outcome for our industry, our passengers and our country, and needs to be stopped," he said in a written statement.
However, the push for more revenue ostensibly is what broke up the latest round of White House-led talks. House Republican leaders did not return requests for comment on whether the airline security fee might still be on the table as lawmakers try to cobble together a new deficit-reduction plan.
Some lawmakers repeatedly have called for shared sacrifice in the search for a deficit-reduction deal. Under the original framework in which the aviation fees were included, several other programs and sectors were slated to take a hit as well. The chart also listed "Fannie and Freddie Fees" and "Civilian/Military Retirement" and food stamps as possible sources of savings -- it's unclear whether those particular savings are still being discussed.
But the ATA says the airline industry already is overtaxed. According to the group, a typical $300 domestic flight includes $61 in federal taxes and fees.