Afghan Exit Strategy Relies on Tribal Police Units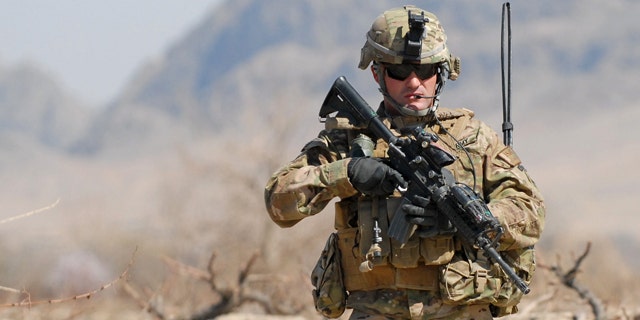 KABUL, Afghanistan -- The quickest ticket home for American troops in Afghanistan may be the new Afghan Local Police, a controversial program that relies on arming the nation's tribesmen and entrusting them with holding the areas wrested from Taliban control by NATO forces.
During a visit to Combat Outpost Kowall, north of Kandahar City in southern Afghanistan, Defense Secretary Robert Gates said he was pleased to see more Afghans getting into the fight.
"Having more Afghans involved in their security is absolutely essential to the people, so the Afghans can take better charge of their own security. It's important for the Afghan security and for Afghan sovereignty," Gates said.
But the program is not without its detractors. Afghan president Hamid Karzai had to be convinced the U.S. wasn't arming local militias that could eventually turn the central government in Kabul.
Gates said the Afghan Local Police program is designed to be closely connected to the Afghan National Police and the Afghan army. That fact, he said, "should allay concerns about militias."
One of the biggest successes in the last year is the ramped up training of Afghan security forces led by Lt. Gen. William Caldwell. Seventy thousand additional recruits have been trained in one year. Lt. Gen. David Rodriguez, deputy commander of all allied troops in Afghanistan, said that the success in training is a direct result of the nearly 40,000 troops sent to the country as part of President Obama's 2009 surge.
The only problem is cost. The Pentagon requested $12.8 billion this year to train the Afghan security forces. The Afghan Local Police is a cheap program by comparison -- its members live at home and each village only requires 10-20 recruits.
But at a press conference here on Monday, a local Afghan reporter told Karzai she had just been with a unit of Afghan Local Police who had guns, but no ammunition. That's because there are still some problems getting resources from the central government's Interior Ministry.
Karzai asked her to brief him after the press conference on what she had seen, adding, "This is our country. If we have to fight with our bare hands, we will."
It seemed like a set-up for Karzai to ask for more money for training and equipping his forces. But the U.S. taxpayer already pays $12.8 billion a year to train the Afghan forces. That's more than 10 times the size of Afghanistan's economy and nearly 10 times the U.S. aid given to the largest recipient of U.S. foreign assistance: Israel.
American critics of the plan also complain that the U.S. Special Forces units being used to train Afghan Local Police will be stretched too thin if they have to train local militias across Afghanistan.
But Rodriguez says the tribal forces will help them rebuild Afghan society from the bottom up and connect security bubbles from Helmand to Kandahar and eventually up to Kabul. He said 4,500 Afghan local police are currently being trained.
He also said that one year ago, the ratio of U.S. to Afghan forces in Helmand was five to one. Now it's one to one.
The southern town of Argandab was a Taliban-controlled ghost town 18 months ago, Gen. Rodriguez said. But as Gates walked down the village streets without body armor, children played and laughed, peeking out from the doors of their mud homes as.
In the poppy-rich heart of what was once Taliban territory, the Afghan Local Police have dug in and cut off a major source of enemy funding.