Administration Transfers 12 Gitmo Detainees Overseas, Despite Concerns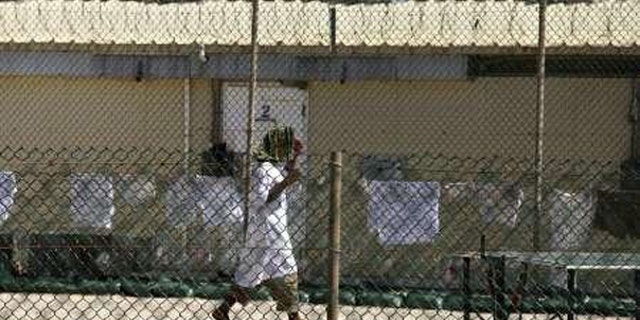 NEWYou can now listen to Fox News articles!
The Obama administration has transferred 12 Guantanamo Bay detainees to their home countries in Yemen, Afghanistan and the Somaliland region, despite concerns that many former prisoners are returning to terrorism.
The Justice Department said in a written statement that the transfers were carried out under "appropriate security measures" and that "consultations" with the host countries would continue.
Six Yemeni detainees went to Yemen, four Afghan detainees went to Afghanistan, and two more Somali detainees went to the Somaliland region.
The announcement came after Rep. Frank Wolf, R-Va., sent a request to President Obama on Friday to stop the release. The nearly 100 Yemenis remaining at the Cuba facility make up the largest group there. But releasing more detainees to Yemen is raising concerns, because of the country's security problems and lack of resources.
"I have written you and others in your administration on three occasions imploring you to halt the release of detainees to these countries due to the deteriorating security situations and the dangerous potential for recidivism," Wolf wrote in his letter.
"I am deeply concerned that American lives will be at risk because of this terrible decision," he said.
Wolf noted that the Defense Intelligence Agency may have upwardly revised its recidivism numbers on former Gitmo detainees that have returned to terrorism -- information that has not been provided to most members of Congress.
In July, the agency reported that 18 percent of the detainees sent home or to another country are confirmed or suspected of what the Pentagon calls "terrorist activities."
"I hope your administration will not suppress this information," Wolf wrote. "The American people have a right to know the facts about the danger posed by released detainees."
According to the Justice Department, more than 560 detainees have left Guantanamo for other countries since 2002. The administration is looking to transfer remaining detainees to a prison in Thomson, Ill., though making its January 2010 deadline for closure is virtually impossible.